No land in sight
For several years, I take part in the web supported e-learning of Norwegian Cruise Line, the so-called NCL U.(Hier geht es zum deutschen Blog.) That makes a lot of fun and on top of that you learn something about the ships and life on board. A day before Christmas Eve, I receive a mail from NCL. I think it is one of the numerous Christmas mails that flood the mailbox before the holidays.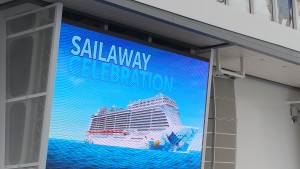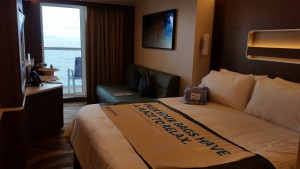 Congratulations I can read there and that I have won a 7 days cruise. No matter which route and which ship! Wow! I cannot believe it and get my colleague, who is supposed to read the email. She confirms the content and congratulates me. Now I should believe it…
I am already the second day
aboard Norwegian Escape
. A huge ship that can accommodate 4,200 passengers. Our cruise will take us from Miami via St. Thomas, Tortola and the Bahamas back to Miami.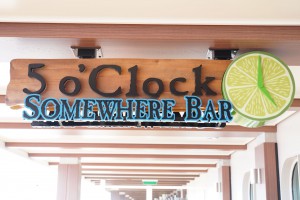 Today it is a day at sea. That means, we do not dock anywhere and so there is plenty of time to explore the ship in detail. My husband and I get our breakfast in the Gardenrestaurant. It is on deck 16 and a buffet restaurant.
Emergency stopp
We're almost done when the captain makes an announcement. There would be a medical emergency and we would make an an unscheduled stop in Nassau to transport the sick person to the hospital. Oh no. What a quick end of the journey for someone. What might the person got that a treatment in the on-board hospital is not possible?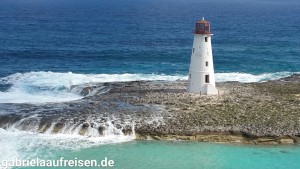 Already we see the Bahamian island appear in the distance and rapidly become larger. The harbor of Nassau is huge, the old lighthouse there defies the always high impact waves for almost 150 years. Already in the port is the even larger Oasis of the Seas. Carefully the captain maneuvers our vessel alongside the other ocean liner. A makeshift bridge to the ship is quickly laid and a strecher is pushed from the waiting ambulance inside. Just a few minutes takes this docking maneuver, then we are on the move again.
Sports on board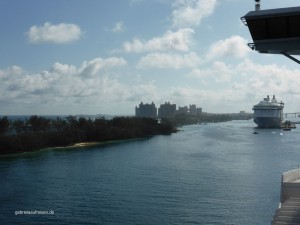 We agree to practice sports. Not in the gym or on the jogging track, not mini golf, bowling or in the swimming pool. No, we go climbing. On board of the three largest NCL vessels you`ll find climbing parcoures. We have something like that already done a few times ashore, but up here on deck 18 the wind is blowing quite strong . Roped to walk over a barely 10 cm wide plank, that is something special. The plank or zipline that extend over open water is not for people with vertigo or weak nerves.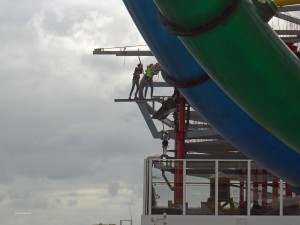 A few meters away children shriek in the water park and others are in a line to use the giant water slides. Who does not know what to do here is certainly simply overwhelmed with so many activities going on.
Relax and eat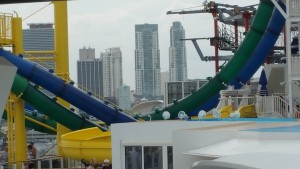 We do not want to participate at the pool games, so we look for a free beach chair on the quiet sun deck. From the library I have already borrowed an exciting book, the sun is shining, what do I want more?!
Already I am a bit hungry again. The O 'Sheeans Bar and Grill are the solution. I try the chili hot dog and nachos. This is just right for a little snack.
Later in the cabin I brew a coffee that we enjoy on our balcony while far below us the occasional pling can be heard of shuffle board gambling fellows. Flying fish float elegantly just above the waves. Then I hear someone play the guitar. Someone else sings. That is just beautiful!
Online from home I have already booked 2 seats in the theater for tonight. The show is called "After Midnight". The excellent dancers and singers give us amazing 90 minutes.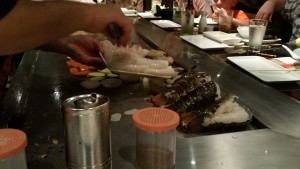 In the evening we eat in the Teppanyaki Restaurant. That needs to be experienced! Always 18 people sit around two hearths where 2 chefs hit not only the rhythm to songs they sing with knives and other cutlery, but also perform tricks with it. During their performance they cook us Japanese delicacies. After this witty and artful cooking demonstration, we have a night cap before we lay down in our bunk bed or better in our comfy bed.
A filled first day aboard Norwegian Escape. Let's see what the next few days will bring.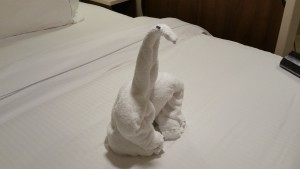 On my facebook site or on Instagram there are always the most current updates, photos and information. I am pleased to see you there as well! Below is space for comments!