Working and fun in the German Capital Berlin
Because of my profession, travel consultant at the TUI Travel Center in Hamburg-Harburg and my private travel blog, I recently started blogging for TUI.com. TUI is one of the biggest tour operators in Europe. (Zum deutschen Blog)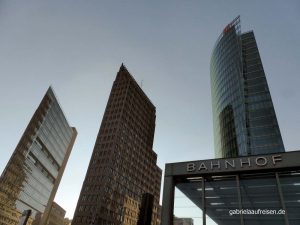 Now all bloggers were invited to a workshop in Berlin. It's been a long time since I was there, so all the more I'm glad I can go there.
After a daylong seminar I go by train on a Thursday evening from Hamburg to Berlin. Our hotel for two nights is the Scandic Kurfürstendamm, they got some rooms, which were painted individually. My room has got the jungle as a subject.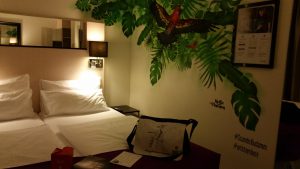 Together we sit down in the bar for a while and get to know each other a bit.
Friday, after breakfast, we get picked up by black limousines. Nobody knows where we´ll go to. We drive all over Berlin and stop in the blog factory after a while. Here, participating bloggers can exchange ideas, collaborate on projects, or simply write their own blogs.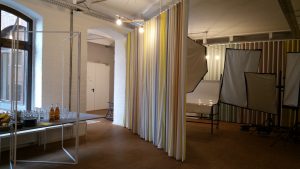 We are shown around and get informed about all the news. Around noon we continue.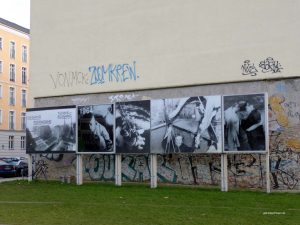 A very special city tour is waiting for us, the Gourmetliner. A bus with a kitchen! For two hours we go through Berlin, get delicious little things to eat and drink and get off at interesting points to take photos. That is a great idea!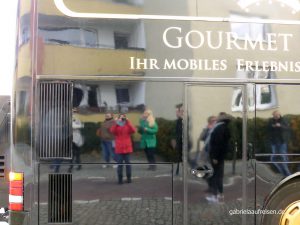 After a bit of leisure the evening program starts for us. Only one person knows where we are heading to. This time on foot, so it cannot be too far away. In fact, we only go for a few minutes. We are guided to the Europa-Center. And off to the 20th floor! Here a festively laid table is waiting for us in the Puro, actually a nightclub. It is dark outside and we have a great view over the brightly lit streets of Berlin. We are quite alone here, other guests will come later. We taste the cocktails and take about the day. Thanks to the organizing team, a great event you have given us!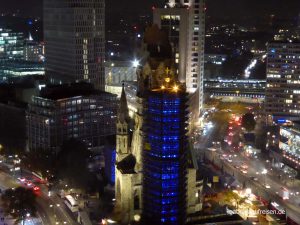 Then it's time for food. Appetizer, soup and gander as the main course, phew, I'm fed up. And then a warm apple crumble as dessert. Who rolls me back to the hotel and into my bed?
Sigthseeing
The official program is over now, so my leisure program starts on Saturday morning. My husband picks me up and we move to another hotel.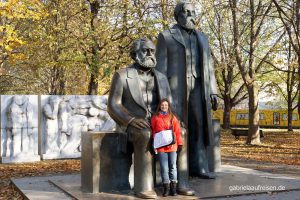 A few miles further it goes to the Alexanderplatz. Here the huge Park Inn is situated. The room is small but the view is good. We only enjoy it for a short time, because we want to see more of Berlin.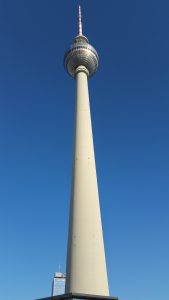 It is really cold outside, but wonderfully sunny. So we decide to walk. The huge ball of the TV tower glitters in the sun, next door one of the many Christmas markets in Berlin is built up. The weather is too good for the Human Museum, but the St. Marien church next to the television tower we visit for some minutes.
We follow the Karl-Liebknecht-Str. toward downtown. We pass the Sea Life Berlin, that we have already visited at an earlier stay. It's really worth seeing especially with kids.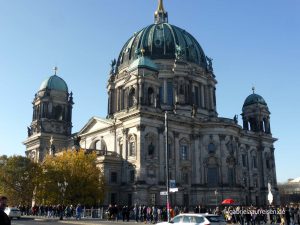 Then we are standing in front of the Berlin Cathedral. The gold on the roof shines in the sun. Opposite is still a huge construction site, because here the City Palace Berlin gets recreated. A bit of the facade can be seen behind the house-high advertisement.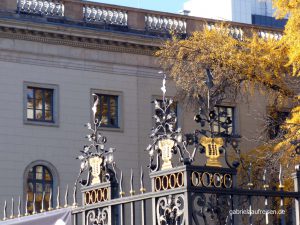 I like the fence of the Humboldt University; in front of it many booths with used books are built up. One or the other is sure to find his personal treasure here. We walk by souvenir and mundane shops, meanwhile the street is called Unter den Linden. Is there a celebrity in front of the noble Hotel Adlon? No, not today, but Mario Adorf I've actually seen there before.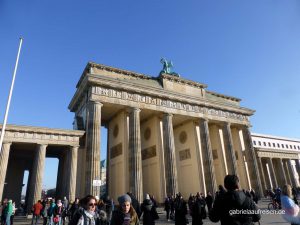 In front of the Brandenburg Gate people demonstrade, we walk through and then to the left, to the Monument to the Murdered Jews in Europe. Many people walk through, children play hiding places, some young men jump from one stone to the next. Nevertheless, it has a partial oppressive effect. Naked concrete, more or less high rectangles, for me they look very much like coffins or sarcophagi, but that is probably intended.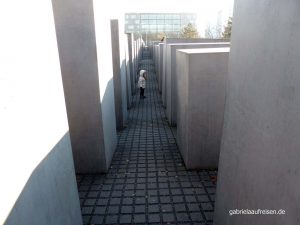 The Sony Center is not far away. Slowly my feet start to hurt. Here again is a big Christmas market, the ski run for tobogganing is already released and gets used by small and big children.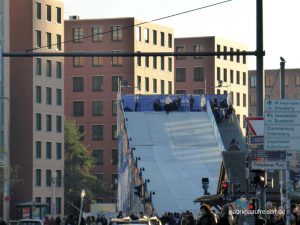 A hot coffee encourages me a little, then we take the bus number 200 and drive to the final station. Right now the moon rises, in two days it will be the night of the Supermoon. Even today it is quite big.
A few days ago we actually got tickets for the Quatsch (nonsense) comedy club. So we end up the day laughing and happy!
A Sunday morning in Berlin
Sunday starts as sunny as Saturday has ended. Nevertheless, I would like to visit the Pergamon Museum today. The whole museum island is a construction site at the moment, also inside the museum. The famous Ishtar Gate however is largely free to be seen, as are the other exhibition halls. This is really worth it!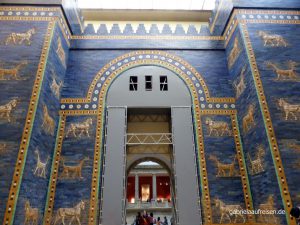 Unfortunately the weekend is now over. On the way back to our car we stroll a bit through the Hackescher Markt and Höfe where even on Sundays most stores are open.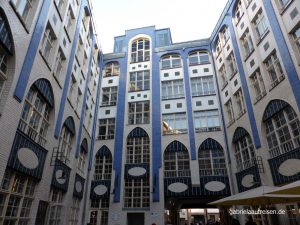 72 hours with limousines, buses (the app of the BVG = Berliner Verkehrsbetriebe is very helpful here) and on foot through Berlin, that is pure culture!
You want to know where I am going to next? Then simply "like" my Facebook site or my Instagram account. I am happy about comments and suggestions from you!