From Cape Horn to Buenos Aires
I spend 14 days on the Celebrity Infinity, sailing "Around Cape Horn". (Zum deutschen Blog.) The next destination will be Puerto Madryn with the peninsula Valdés, after Cape Horn lies behind my customers and me, whom I once again accompany.
As soon as Cape Hoorn lays behind us, we head north again and because we are in the southern hemisphere of our beautiful earth, that means towards the warmth. The ship needs two days at sea to dock in the harbor of Puerto Madryn. After the cold in Ushuaia and at the Cape, the warmth here feels really good. It´s t-shirt weather again !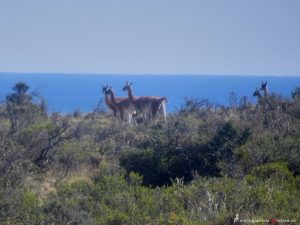 The Peninsula Valdés
Seadane, our tour operator with whom we are traveling, booked a full day excursion to the peninsula Valdés for us. The whole peninsula Valdés is a nature reserve and UNESCO World Heritage and there is an entry fee to get in there. A small information center not far from the entrance is a good source of information on the local flora and fauna of the peninsula Valdés.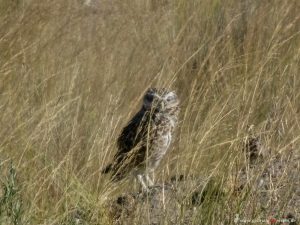 On the road we soon see owls, guanacos, this cute lama species, and nandus, an ostrich species. Soon we stop at a parking lot where we can observe seals. In the Argentine spring, many whales can be seen here, including Orcas that are seal-hunting here, almost swimming up to the beach. Unfortunately, no whales can be seen in January anymore.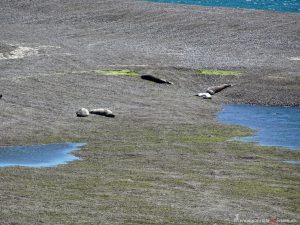 But we observe the cute and cuddly Magellan penguins, whose chicks are already almost as big as their parents and their front already got the adult plumage. On the back they are still very fluffy and brown. On the cliffs of the peninsula Valdés many fossilized mussels can be found, which of course cannot be taken.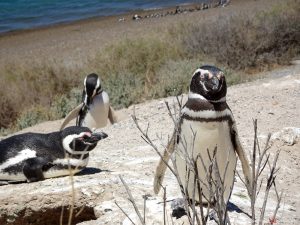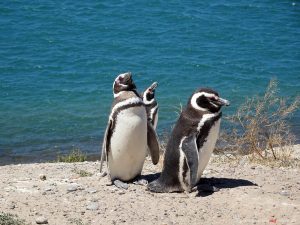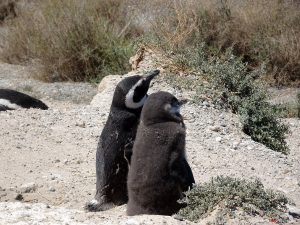 It's a great day! During whale season, the huge marine mammals can even be seen from the city, so close to the coast they come. I think I have to come here sometime in spring …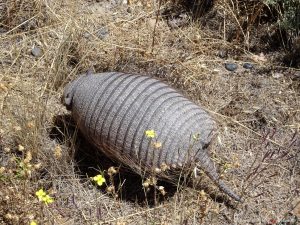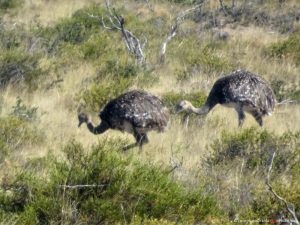 Our cruise goes on and we dock in Uruguay at
Punta del Este
In the main season, now in summer, this actually small town with about 20,000 inhabitants is a sophisticated resort with a multiple of mostly Argentinean residents. Up to 700,000 come annually.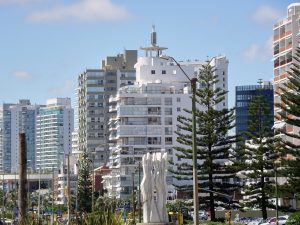 After we have tendered to the port, I walk with my fellow travelers through the town and come quickly from the harbor to the other side of the spit of land, where we find the landmark of the place. A huge hand sticking out of the sand of Playa Brava beach.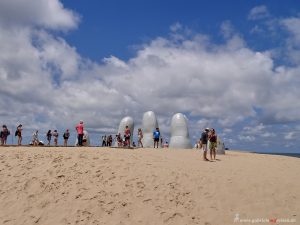 Punta del Este is not particularly interesting for me, for my taste there are too many skyscrapers. But the boat ride to our ship is pleasant, a light, warm breeze on the skin, salty taste on the lips, that feels good.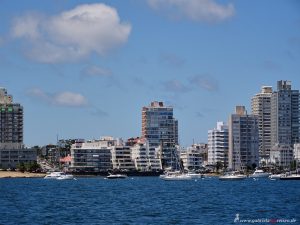 The penultimate port of my cruise is
Montevideo
in Uruguay. It's a city of a million, but I wouldn´t notice. We take a city tour and visit very different neighborhoods. What strikes me most is that Montevideo is a very green city, with many small and larger parks and some ancient trees. Of course, we also look at one of the most famous monuments. La Diligencia, the bronze monument depicting a wagon train pulled by horses, was designed by the famous artist José Belloni.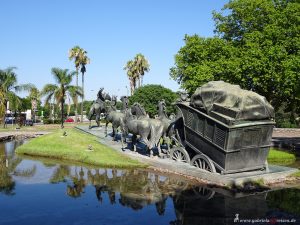 There is also an old part of Montevideo right on the sea and if I wouldn´t know it any better, I would say, I'm in an old German village with half-timbered houses. At the Rambla México, corner Costa Rica we stop and get out. It is hot, it is almost noon and in front of me is an eternally long, wide, very smoothly beach and warm, sky blue sea water. What do the half-timbered houses interest me now, which in Germany we have lots of. I want to put at least my feet into the sea, because we don´t have a break right here. Gorgeous, the warm sand and the lukewarm water. Here I would like to be on a vacation!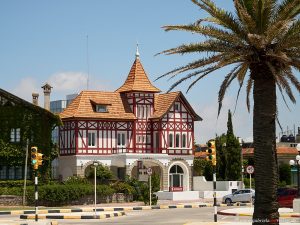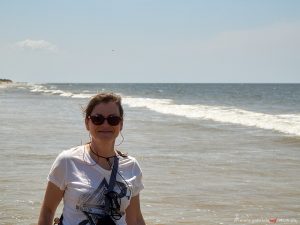 Our lunch break we take at the Montevideo Agricultural Market. A market hall with small stalls and shops and many different small restaurants. Here everyone will find something suitable for his taste.
Then it's back to the Celebrity Infinity, which has docked in the center of the old town at the harbor. Since there is still a bit of time until we have to be on board again, I walk to the old town. Here I find some car-free streets with many small shops. Local craftsmen and artists sell their works here, as well as the usual tourist kitsch.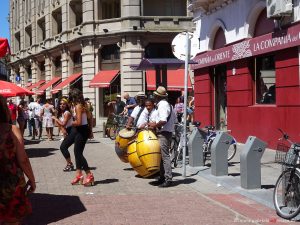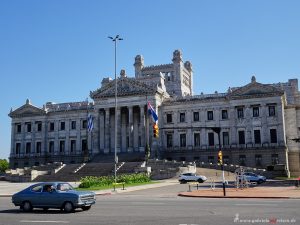 For breakfast on the penultimate morning we are already in the port of
Buenos Aires
It´s the industrial port, so we have to take a shuttle bus to the passenger terminal.
Here a bus awaits us for a city tour. A lot is very familiar to me from my last stay here in December 2016. Again it is incredibly warm. Buenos Aires is a city with a huge amount of cultural opportunities. The tango of course is very important, but as we were told in Uruguay, it was invented there. I don´t know if that is right or wrong and I don´t care, as at home my husband and I have an Argentine dance teacher, who tries to teach us to dance the Tango.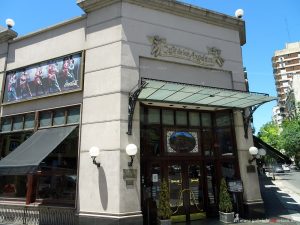 Again and again we cross the Avenida 9 de Julio with the big obelisk, because many cross streets are one-way streets. On the Avenida Alicia Moreau de Justo 1500 we cross to a branch of the river, presumably there was a floodgate. The view over a newly built neighborhood is great, because old elements, such as load cranes have been left here.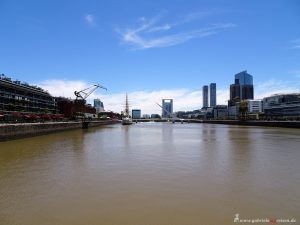 The old quarter of La Boca with its colorful houses, the Tango bars and its artists particularly appeals to me. I would like to stroll along here a little longer and continue to enjoy this special atmosphere of dilapidated charm, but we have to go on.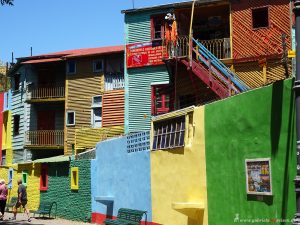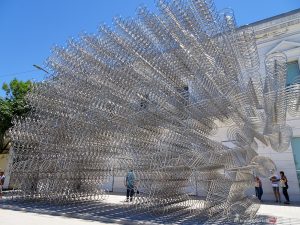 Of course we also visit the famous cemetery La Recoleta, where among others Eva Perón was buried in the family grave of her parents.
Sweaty and full of new impressions, we return to the ship just in time to get ready for dinner.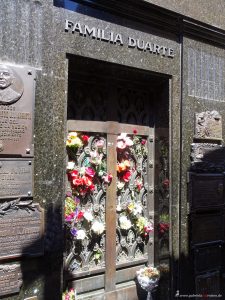 So that's the last night on board of my trip "Around Cape Horn" with Celebrity Infinity. It was amazing and there was so much to see.
Would you like to see more photos and news? Then follow me on Instagram, Pinterest, Facebook and most recently also on Vero (you find me here as Gabriela Kern ).