Lüneburg, still very young, founded over 1000 years ago
(Hier geht es zur deutschen Version)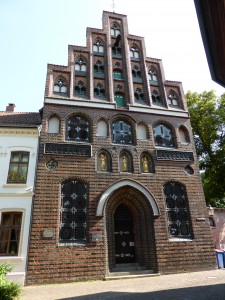 Probably this should have been my very first blog post, it´s about my hometown, but maybe I´m a bit prejudiced. And maybe, this post doesn´t fit into my blog, as Lüneburg is not a place that I travel to, but I´, always coming back here from all my travels, so it might fit anyway… Decide for yourself!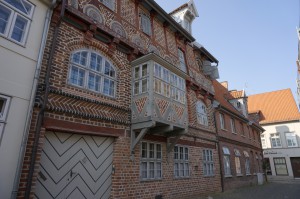 Lüneburg was founded in 956, at least it was documented for the first time. I won´t bore you with year dates, others are much better with this topic, but I try to tell you, why I love to come back to this city and why it is worth while visiting for a day or two, when you are already in Germany.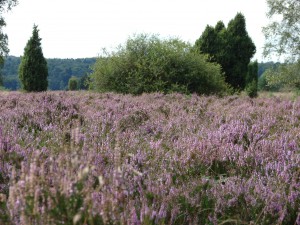 Lüneburg is situated near the nature sanctuary Lüneburger Heide, which is a big region of heath. It´s an amazing view when it´s blooming violet in August. In between you see the green color of birch trees and forests and if you´re lucky, you see a shepherd with his flock. And not to be forgotten, the horse coaches that drive tourists around, that are not willing to hike or bike. I agree, the picture is cheesy, but beautiful!
Lüneburg.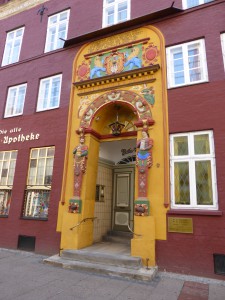 My hometown has got an ancient city centre, some of the houses are older than five or six hundred years. It is very sad, that some of them were destroyed in the sixties or seventies of the last century. The reason is that they were situated in the subsidence site of the old city. Today they are able to compensate and safe the old houses.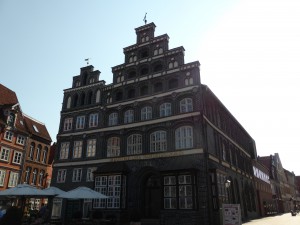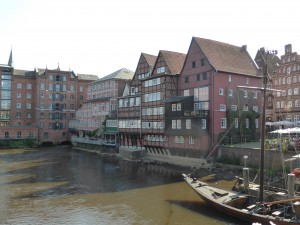 My hometown got its former wealth from liquid salt (natural brine) that was found under the earth. It was boiled so that the water came out and only the salt was left. It was shipped all over the Old World. That´s why Lüneburg became a member of the "Hanse", although we have only a small river that could be used to ship the salt to the Baltic Sea. This way the "White Gold" was brought to Lübeck where it went on bigger ships to many different countries. We still have an old crane at our little harbor.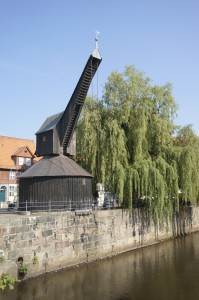 The city centre today has got a buzzing pedestrian area with lots of bigger or smaller shops, lots of cafés, restaurants and bars. It is said that Lüneburg has the most bars in Germany in relation to the inhabitants. Who knows…?
But it could be. When I was a teenager, the city had some barracks. The border to the GDR was not too far, so many young soldiers were living here temporarily. This is long gone, now some of the buildings are used by the Leuphana University and many other businesses. So there are still many more young people living here and the bars are well needed 😉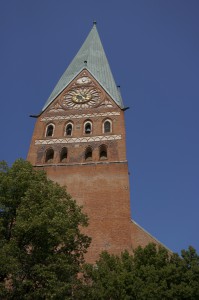 Lüneburg has also got a crooked tower, not as much as the one in Pisa, Italy, but you can see it. It´s the bells tower of the St. Johannis church. (The legend goes that the architect fell down (suicidal) after it was completed in the 14th century because of his miscalculation.)
The place "Am Sande" is said to be one of the nicest places in whole northern Germany. I think so too, but as I already mentioned, I might be prejudiced. All these different houses mostly made of bricks with their different gables.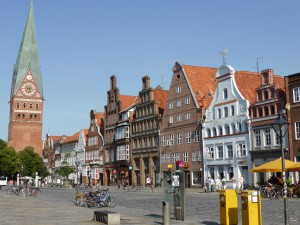 But this is not the market place, which we have as well. On Wednesdays and Saturdays many farmers sell their fresh products in front of the town hall. It was built over some centuries, so there are different stiles built in the structure. You´ll find beautiful ceiling paintings (not only here but also in old private houses, some of them came out during renovations).
In the town hall they exhibit an old bone of a wild boar that should have found the liquid salt. A hunters man saw the boar that was white and not black, followed it and found the salt that came out of the earth.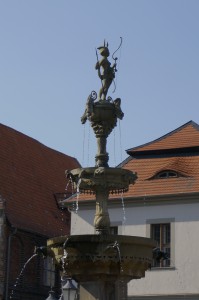 There are a lot of old stories around my home town. If you do a walk around Lüneburg with one of the guides you can listen to many of them. The walk with the night-watchman is a very special one and I highly recommend it!
Do you feel like visiting Lüneburg now? Go ahead, give this old and still so young city a try. Even as a caravan fan you are very welcome here. There is a caravan park right in the city!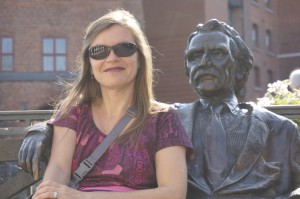 So, if you come during summer time, grab yourself one of the delicious ice creams from one of the many ice cream parlors and walk around my home town. You´´ like it, I´, sure of that!
If you want to know more about Lüneburg, leave a comment and I will be happy to answer it!
See you in the city and on my blog! Here you find even more about my travels, pics and news: facebook.com/gabriela.aufreisen
On Pinterest and Instagram you´ll find even more pics. And for those, who´ll like to know a bit more about some other interesting smaller cities, you´ll find it here.