Old city with young people
(Hier geht es zur deutschen Version.)
After a short flight from Chengdu to Lijiang we arrive at our new destination the Golden Path Hospitality Hotel.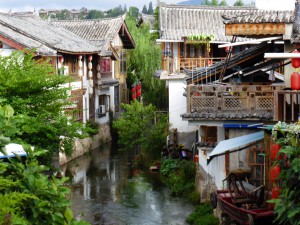 It is in the middle of the night and very dark, no lights are on at this part of  the city and our hotel is situated in the old part of the city, no cars or busses are allowed there.  So we carry our luggage over the uneven pavement. Always afraid to fall into one of the small canals that go through the city.
When we arrive at the hotel we are amazed how beautiful it is. Inside and outside nearly everything is carved out of wood. What an amazing piece of woodcraft! And one of the canals passes right through our hotel.
The sun is our for breakfast. The hotel is even more beautiful at light and we enjoy the ambience. Until we have to go…
For two hours our bus drives us over the high plateau. Lijiang is situated about 2400 m over sea level and has a real good climate. We go down to 1800m. for a while we drive on the road to Shangri-La, an autonomic part of Yunnan, mostly inhabited by Tibets and Naxi people. The country side looks very nice, with high mountains and lush meadows.
Finally we arrive at the entrance to the famous Tiger Leaping Gorge. It is the world´s deepest gorch, the Yangtze river leaps through it with a loud roar.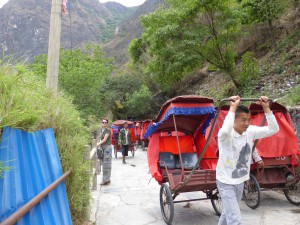 Only about 2,5 km walking distance separate us from the tight gorge. People who can´t walk that far can hire a rickshaw. I pity all these poor men who have to pull the tourists. Most of them weigh a multiple of their own weight. It seems so that we are the only "long noses" here. International tourists do not come that often to this region of Yunnan.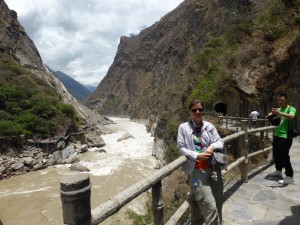 It is very hot and I´m happy about my sun hat. The foot path is well maintained and it often gos through a tunnel. At the beginning of the path the river Yangtze is still flowing quite smoothly, but the further we go, the louder it gets until we arrive at the gorge.
What a view it is! What a brute force must have formed this gorge. The river seems to boil. Now we can see that there are a lot more people on the other side of the gorge. A street that is built into the mountain passes the gorge and people can climb down a very steep stair.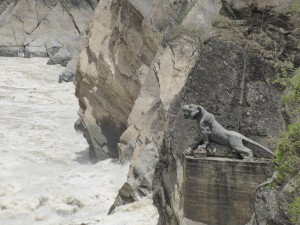 We are very proud that we got this amazing view by walking through the heat. And here are a lot less people. Our local guide Mr. Wu carries a heavy rucksack and presents us tea or coffee. What a nice way to say "you're welcome"! (Here you´ll find a video about the gorge.)
Back at the entrance we buy some fresh fruit and nuts from the farmers women.  We are all hungry, it is already early afternoon.
So we drive on through the beautiful country to the first 180 degrees curve of the Yangtse river. (See a short video here.)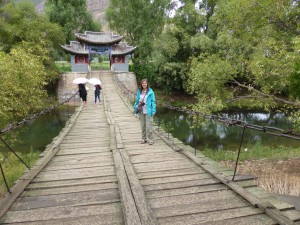 Then we go on to a over 150 years old suspension bridge that we try out.
Finally we head back to Lijiang. We are all very hungry and very happy to get a nice meal in a restaurants in one of the about 300 years old houses. In most houses of the Old city we find little shops, bars and restaurants.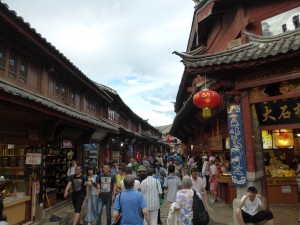 Lijiang is not only popular because of the good climate, during summer time it is seldom warmer than 28 °C  and during winter time the temperature falls seldom under -5°C, but it is very popular with young people who come here from all over China to meet other young people.
At night in most parts of the Old City young people are partying, loud music comes out of the full bars. Now I know why there are condoms on every night stand…
Today we are all very happy to be back at the hotel. We had quite a lot of activity.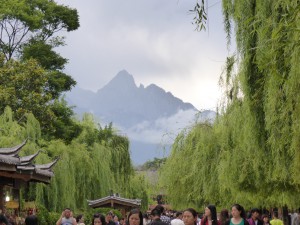 I am very much looking forward to the next day! Let´s see what it brings!