A Cruise on the world's largest cruise ship
Before we embark the newest vessel of Royal Caribbean Cruise Line (zum deutschen Blog) , the Harmony of the Seas in Barcelona, we leave our AirBnB that is located right at the Plaza Real, next to the Ramblas. We walk down to the Columbus Statue, where nearby the shuttle bus to the harbour starts.( Write me a note if you need  further directions right under this blog !)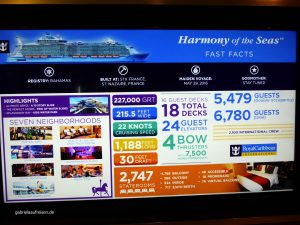 I have made quite a few cruises with Royal Caribbean, but never was the embarkation process  easier. We had to transmit our photos in advance and so one of the agents with a tablet computer only needs to scan our documents and that's it. The sea pass cards lay in our stateroom.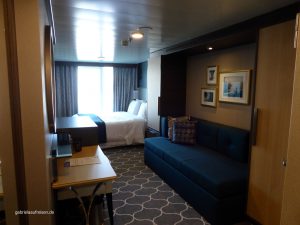 We arrive on deck 5 and I feel like being in a kind of shopping mall. First I see  a huge silver head  that can turn around in different Segments; then many shops and restaurants. Above I get a glimps of the "Central Park", a kind of garden with thousands of plants. That's located on the eights deck.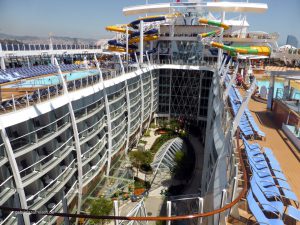 Entertainment
It's so much to see and do that I will describe only the things which are outstanding or different to the facilities on other ships.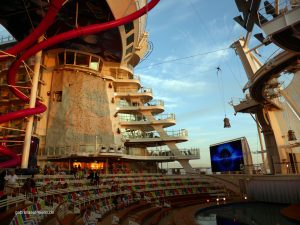 I can't watch all offered shows, but I do make it to "The Fine Line", an acrobatic dancing, music and water show, where the artists really jump from high up into a really small pool. Amazing! And I am happy that I made an online reservation for this show and all the others long ago, as they are often fully booked. For this reservation I am most glad, as the other water shows are postponed due to technical problems.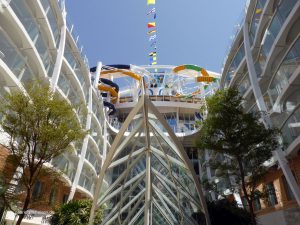 That happens all the time on brand new ships and I am positiv surprised that only few and minor things do not work properly.
The headliner show with the "5 Tenors of Rock" is as outstanding as the musical "Grease" and the "Comedy Show". Even it is good to have a reservation it' s still free of charge. There are some more shows we have not the time to watch during our five days cruise like the ice skating show and some of them are for an additional fee.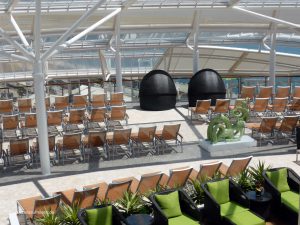 We test the "Bionic Bar" where two robotic arms mix the drinks while they play rock music. The "Tide Bar" offers drinks while you sit in a kind of ship that goes slowly up and down between deck 5 and 8.
Fun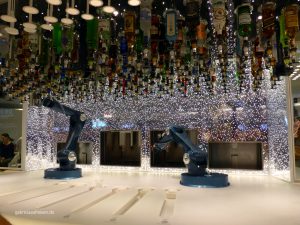 I am doing the Zip Line (watch the video) on deck 15 that transports the brave participants over the open space of the Boardwalk with the caroussel on deck 6. Very nice but too short! "TheAbyss", the two slides where you sit in a kind of bag  goes from Deck 16 to 6 and is my favourite! It's fast and disco like lit inside. It ends in front of the "AquaTheater".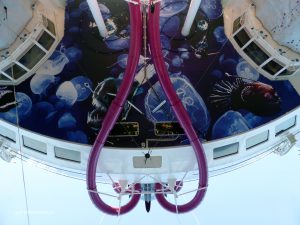 The water slides are really fast as well and the water is warm, so that even I who hates cold water am happy to do it several times.
My favourite spot to sit back and relax is always the Solarium on the Royal Caribbean ships and it is no different here. It's mostly quiet and not crowded and having breakfast here outside on the terrace in the sun is pure holiday feeling.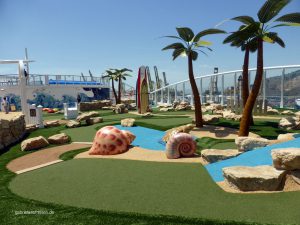 As I am not the sportive type, I don't visit the huge fitness area but my husband and I do some lapses on the jogging  track outside on deck 5. One lapse is about 600 m. And minigolf is always open… Isn't that sport enough?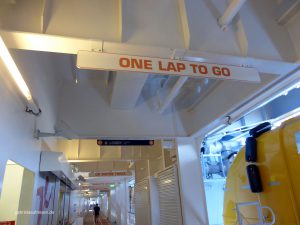 Do I need to mention the wonderful food that is available in all these many restaurants? I don't think so, as this is what everybody expects.
For coffee junkies like myself even a Starbucks is on board.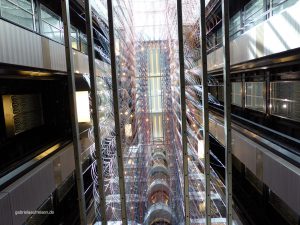 For two medical problems a helicopter lands on the special platform in the front of the Harmony of the Seas, personal safety is absolute important here.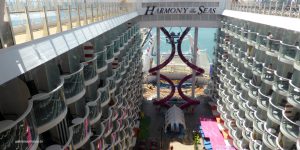 At no time I have the feeling to be on a ship with around 8000 other people, including the crew. There is so much space and so many options for entertainment.
I don't think that I have explored all available things on these 17 decks of the Harmony of the Seas, but I did my very best! So if you got a questions just give me a note under this blog and I will try to give you an answer as soon as possible.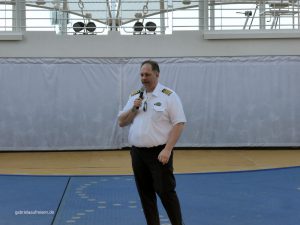 You want to read more or see more pictures?! Just give me a "like" on my facebook or instagram site. For more pictures go to my German Blog!