Bukhara, an oriental trading city in Uzbekistan
It is the sixth day of my Uzbekistan trip that I make with my clients and that has been organized by the German tour operator Gebeco.(Zum deutschen Blog.) It is getting more oriental, the farther we travel. Tashkent and Samarkand are not only tourist destinations, but also very modern cities.
Blog post contains unpaid for advertisement and affiliate links.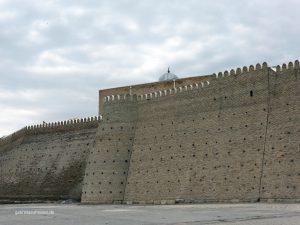 Here in Bukhara I feel almost transported back for several centuries; because our hotel is located right in the old city center and no cars are allowed here. If we wouldn´t see so many tourists with their cameras and cell phones ….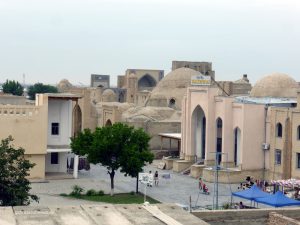 The breakfast buffet in Lyabi House is very stylishly served in a beautifully decorated breakfast room and as it is nice and warm, we eat on the terrace. The courtyard provides shade and I could sit here all day long. But that is not possible. We do not need the bus this morning; we stay in the old city center.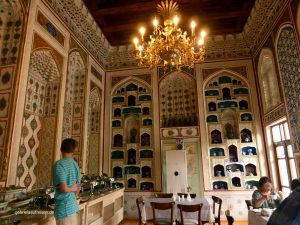 We stroll from one ornate madrasa to the next. We visit one or another mosque, also the oldest mosque in Bukhara, of the 12th century. It is located a few meters below the current street level and is now home to a kind of carpet museum.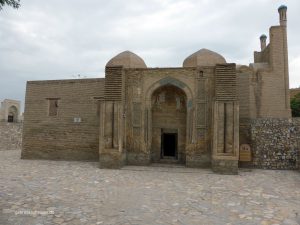 It is striking that many inactive madrasas and mosques today are being converted, mostly in small shops. So they can be preserved, and often shine in new splendor. That happens here in Bukhara as well.
Through a gate we come into the innermost area of the old city. We notice that it is a bit dark in the dome bazaars, but this is due to the power failure. Well, it doesn´t matter, the sun is shining bright enough.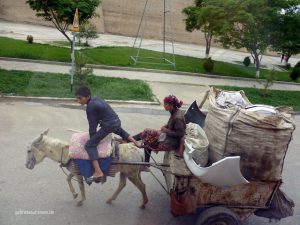 Nellie, our guide, "supplies" us with many dates and more stories to the many sights.
On the way I am approached by a number of modern-dressed young women. From which country I came from? Germany, great! One of them starts right away a conversation in German with me. It's amazing how many Uzbeks can actually speak German and are happy when they finally try their knowledge on living beings, in this case, me. Common to all is that they welcome us in their country. This is very nice and I feel welcome here!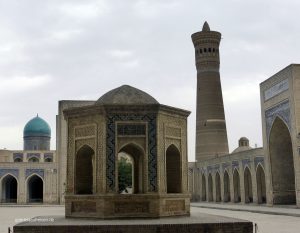 Of course we also have a look at the huge 16th century Kalon Mosque (here it goes to a short panoramic view) with the tall minaret in front.
Then we are hungry. Nellie leads us to a restaurant in the city center. Higher and higher we climb the narrow steps, but our effort is rewarded, because the tables on the terrace are already set for us. A tepid breeze cools us off a bit. The food takes a bit longer today, because there is still a power failure. Well, with this view it doesn´t matter to us.
The hidden treasure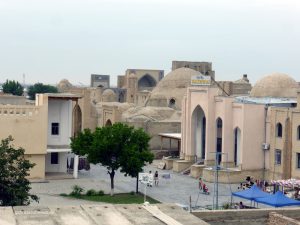 Unfortunately, the break is over after a while and the bus is waiting for us. Nellie wants to show us a mosque away from the beaten track; it´s too far to walk there, but it is worth seeing The Chor Minor mosque.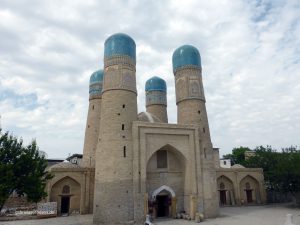 Then we are free for the afternoon free. Some guests of my group would like to have a coffee. Nellie recommends a café, which is run by a German lady. I want to do a bit of paperwork and have a shower before. It's quite hot now.
So I undress and open the tap in the shower and it happens … nothing. Three droplets, that's it and it´s the same at the tap of the sink. At 16 o'clock the power is not back yet, logically, the water pump does not work.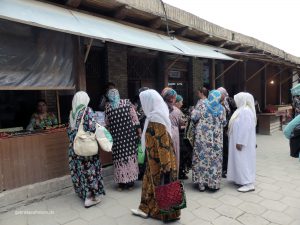 So I dress again and just in time I catch up with my clients who are on their way to the café. Of course we women have to visit one or the other store in the bazaar on the way. With all these beautiful, colorful scarves, dresses and all the jewelry that is a "must" for us.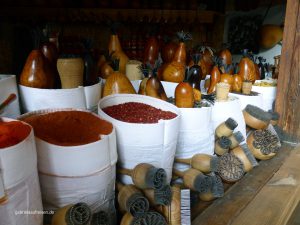 The coffee shop seems to be on an intact power line, because the coffee is hot and delicious, the homemade cakes as well. On the patio, we sit nicely in the shade and can watch the traders bargain with their customers. We hear oriental music coming from the bazaar. Nice! Slowly some more of our group arrive. All of us would like to drink a proper tasting coffee, as there is only instant coffee in the hotels, which none of us so really likes. The Uzbeks are traditionally tea drinkers and that is really delicious.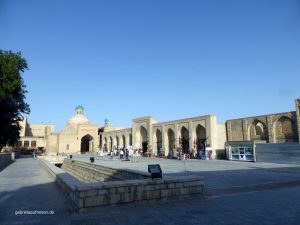 Slowly we have to walk back. Finally the power is back when we arrive at the hotel and the water runs as well. Well this is good!
We finish the day in a nice local and then go to bed early, tomorrow a long drive awaits us. We head west through the steppe and desert of the Kyzyl Kum desert to Khiva.
Do you want more travel information or just some more nice photos? Than give me a "like" on Pinterest, Tripadvisor, Facebook or Instagram and don´t forget a comment under this post 😉