Pictures from the island in the Indian Ocean
As I have already told you in Part 1 (this way to the German blog), my husband Dirk and I spend 10 days together in Mauritius. Previously I have been on the neighboring island of Reunion with some colleagues, now the two of us enjoy our holiday here in four different hotels. We are discovering Mauritius by car.
This blog post contains unpaid advertisement and affiliate links.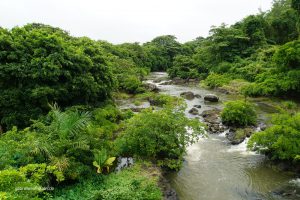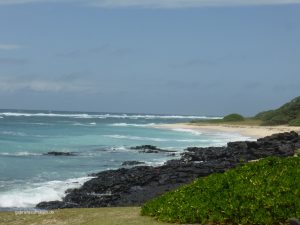 From the Hotel Westin Turtle Bay in the west we leave for the hotel Long Beach in Poste de Flacq, which is located in the east of the island.
Driving around the island
The way there is not far, in fact, we only have to drive across the island. These are only about 40 km to go. So we have a lot of time and stop here and there to admire the scenery.
In Roches Noires we go to the beach, which actually resembles more a small park with leafy trees. Sandy beach is not to be seen here only some fishing boats are bobbing in the picturesque turquoise sea. Pretty far out, just before the reef, I see a lone windsurfer speeding over the waves. We're all alone on a broad ridge, when suddenly behind us a car stops. Four men sit inside, loud music coming from the open windows. One of the men speaks to me in French if I take pictures and if I would have everything with me. Probably I look at him a bit irritated, my camera I have in hand. Then he holds up my camera bag. Was that mine? That I probably just lost … I am very touched that I had not even realized it must have fallen out of my hand on the way to the pier. I thank him and he smiles kindly at me, "no problem!" And off they go. I'm happy about that much friendliness; then we continue our drive.
Always along the coast
Partly the waves crush with unexpected strength and height on the beach. Again and again we see signs that warn people of swimming. Here are no hotels, too dangerous it is to swim here, as a lot of rocks lurk under the surf.
Long Beach Hotel
Then we arrive at the Long Beach Hotel. It is a large complex in a beautiful garden. The beach is long and everyone can find a quiet corner here. There is a lot of action going on at the pool. This hotel is one of the few that offer all inclusive board. Guests here are up to fun and action, so it seems to us. Many Germans are here as well. We stay only two nights, then we head on to the last of the four hotels.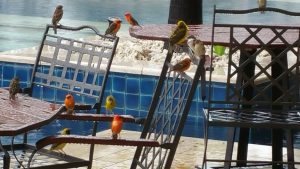 Here again, the corals grow almost to the beach, bathing shoes should probably put on anywhere on the island. From here we want explore the east coast a bit. It seems always to be a little windy on this side, but in the heat a breeze is not bad.
In the South
We drive down the coast in the direction to Mahébourg. Actually, we want to ferry across to Ils aux Cerfs. Several boat owners are only too willing to take us there, but the weather does not mean it well. I do not want to expose myself to today´s permanently down coming monsoon rains in a small nutshell without a hood. We need to come back here some day, because the small island must be beautiful.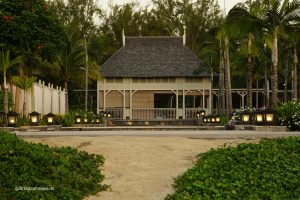 After our two days in the East, we like to go to our last hotel where we want to spend three nights. It is the St. Regis Mauritius Resort. To this hotel I'm looking forward the whole holidays, because it offers a butler service to all guests. Of course, I've been reading about it, but really, I can´t properly imagine what it means for us.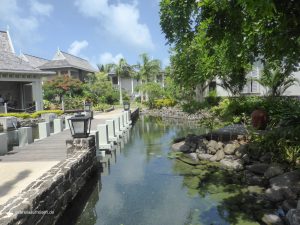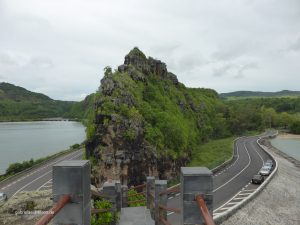 First we drive through the island for a while before in the far south, we turn onto the coast road, the B9 . Here the sea does not look so beautiful turquoise. And there a barrier reef is missing that absorbs the violence of the sea a bit.
It rolls partially pretty hard onto the coast. In some places the road runs directly along the water and every now and then one or the other wave hits the street. What happens here when it storms? I'm glad that it's raining just a little. It gets less and less and as we pass Bel Ombre it stops altogether and it clears up. That's how it should be!
We stop briefly at the rock of Maconde that sticks out into the sea and offers a magnificent view. In the distance, I can already see the Le Morne Brabant Mountain, which is the characteristic feature of the Le Morne Peninsula, our destination. It looks much better in reality, than on any picture!
Le Morne, St. Regis Hotel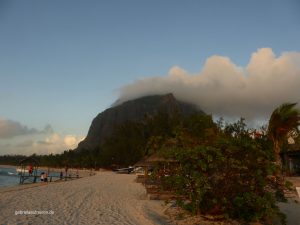 We pass the village of Le Morne Brabant, where life seems to be going quite slowly. Then we go around the 550 m high mountain from behind before we reach the St. Regis. A lady opens the gate for us and we get a warm greeting.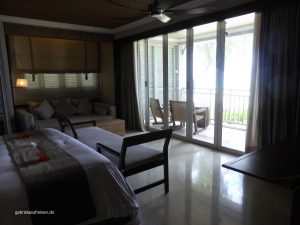 After a delicious welcome drink our butler Hugo greets us and who leads us to our suite and where he complets the short registration formalities for us. Now he would unpack our suitcases, but I'd rather do that by myself… We give him the time when we like to eat tonight and then we head to the white beach.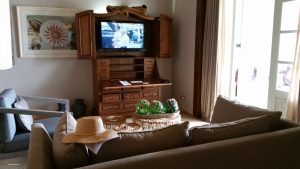 Not only the suite is a dream, but also the beach is fantastic. Wide, white, public as all beaches here, but security personnel can be seen everywhere. Immediately a lounger gets prepared for us and when I hoist the small flag at the parasol, someone comes to take my order. That's what I call convenient!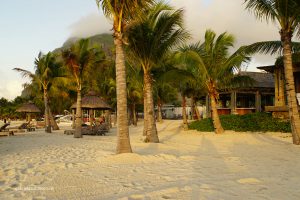 I believe the remaining days on the island will be rather lazy, too beautiful it is here. We could take the glass bottom boat, take a standup paddleboard, snorkel (my Gopro must get busy) and much more. Everything is included in the price, but actually my deck chair is enough for me.
The food really is incredibly delicious in the various restaurants of the hotel. And in the spa we get pampered.
L´Aventure du Sucre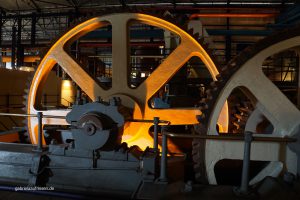 Nevertheless, Dirk would like to visit L'Aventure du Sucre, a museum for sugarcane cultivation and processing. To do this we need to drive a bit to the north again. Since the island is not so large, that doesn´t matter.
The museum is housed in a former sugar factory. The old machines are still here, everything is explained on display boards and who loads an app on his smartphone, can get all explanations in his language with his headphones. It is very interesting. Dirk's "my" driver on the island, so I have to cope alone with the rum tasting afterwards. What a sacrifice … If you do not want to miss that, you should take a taxi or take a organized trip here.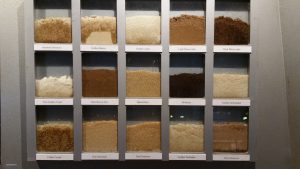 At the sugar tasting Dirk takes happily part. I never imagined, how many types of sugar can be produced from sugar cane. From all white to almost black. All delicious!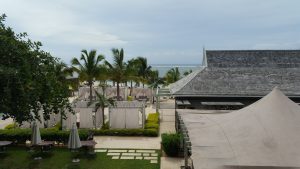 We have really enjoyed the last few days at the St. Regis and got spoiled. In the morning the butler serves a cafe latte on the porch before we have the incredible breakfast , that is something special. Who will do this at home for me? I think I have to talk to Dirk about it … No question, we´ll come back here again!
You stayed with me until the end? Why not follow me also on Pinterest, Facebook and Instagram? ! If you´ll comment on this blog, I would be especially happy! See you!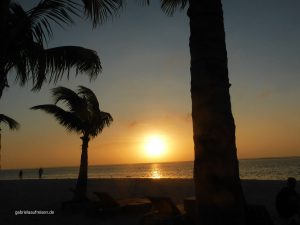 By the way, did you know that Mauritius earned the 7th place of the world´s most beautiful islands in 2016 at Tripadvisor?