Wildlife in Namibia
As tour guide for a group of customers I'm traveling in Namibia, for the first time I am in this African country. (Zum deutschen Blog.) All I've seen so far is better than expected.
Swakopmund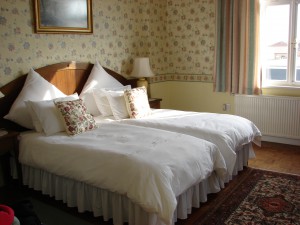 We stay two days in Swakopmund. This place is more German than many a German city, so it seems. There is hardly anyone here, who does not speak at least a bit of the German language. Many of the lovingly preserved buildings have German inscriptions.
If in the background would not be the Namib Desert, one could imagine to be in a small German town. We are housed in the small but fine Hotel Eberwein. All are fond of this Victorian-style hotel and we are pleased to be able to spend two nights here.
Walvis Bay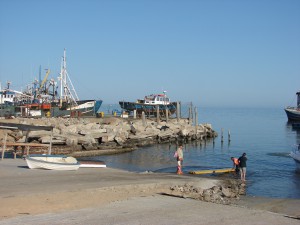 For today a trip to Walvis Bay is planned. The drive goes on along the coast. On the right hand side is the almost dark blue sea, on the left desert dunes. What a contrast! In addition the bright blue sky. We can´t get enough of this sight.
Soon we are at the port. We quickly embark a small boat and off we go. Quickly we have a salty taste on the lips from the spray. But that feels so good after the heat of the desert.
Then we can hardly believe our eyes. A whole school of dolphins is jumping near the shore through the waves. The "ahhs" and "ohhs" are growing. A great sight to see these elegant swimmers. And then they're gone. Instead, in front of our boat a leatherback turtle surfaces. It draws circles in a leisurely pace and then dives away. In the depth certainly a delicacy is waiting for it.
Speaking of treats, not only the cormorants find them here, even we get an offer. The boat stops and a fisherman from another boat reaches over to hand a basket to our skipper. I wonder what's in there?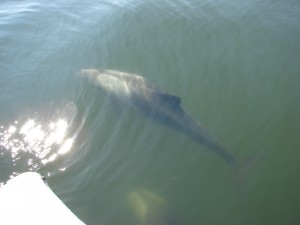 Quickly the resolution comes: very fresh oysters, just pulled from the water. The skipper briefly goes into his wheelhouse and brings a cooler with champagne and glasses. Everyone gets a piece of lemon, a glass of sparkling wine and can now operate on the oysters. We rock gently on the waves, a slight breeze makes the heat bearable. Now the dolphins come back and circle our boat, curiously stretching out their heads , as if to say "Do we get anything from?".
That's an experience! Dolphins so close, about the taste of oysters one can argue… A glass of champagne in hand. Does it get any better? We all quite agree, not really. The trip was worth it. But it goes on once again.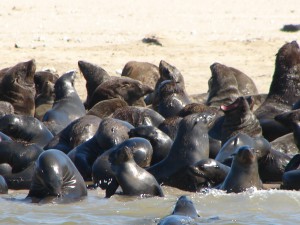 Wildlife
We come to the seal banks. There must be thousands who let the sun shine on their fur. Some are splashing in the water.
The boat stops again. The captain brings forth a bucket with fish. Suddenly at least a dozen pelicans swarm around us. Where do they come from? They are gifted aviators. Swiping just above our heads, we can feel the wings. They catch the fish thrown to them in flight. Quickly the bucket is empty and as suddenly as they came, they are gone again.
We hear a strange snort and splash. What's that ? Behind our boat a male seal comes into view. Pretty big is he. It almost looks as if he wants to come into the boat. He is already on the small staircase at the rear. And we do not believe our eyes, does he pull himself up? Are we in a zoo here?
The skipper laughs at our stunned faces. "Not a zoo, but there are a few brave animals," he says, "who have no objection to some fish that they do not have to hunt for themselves."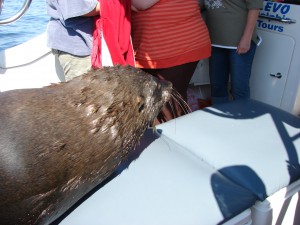 Already the seal has placed himself at the center of the boat, waiting for his reward. Scared of people he does not seem to be. Why should he be, we are impressed and certainly have respect for this big animal.
Kiss, kiss!
The bravest of us feed him fish now . It´s my turn, he is comes closer. I can not move, or I go overboard. The captain laughs again. "He wants a kiss from you!" He cannot but be serious, that's not a trained zoo animal!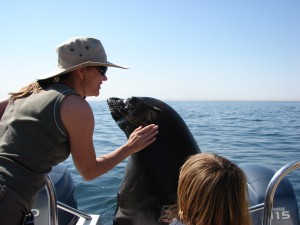 Yes! He is serious! The seal is coming closer with his snout. Before I can think "man, he has bad breath," he has already touched my cheek with his wet, black nose and now wants his fish. I love to give it to him!
I shouldn´t say anymore: "I think a moose is smooching me" , Instead I have to say then: "No moose, but a seal!"
But he has got enough of this hype now, the fish is finished off and he disappears with a splash back into the sea.
If that had not been photographed by someone, I'd say I've probably only dreamed that. But that's not true. When we go back, some dolphins also come back to our boat and ride on the bow wave. Too bad that the trip is already over. Probably this day none of us will soon forget!
Do you like some more travel information or new photos? Subscribe to my facebook or instagram site. I´d love to meet you there!