Day one of my city trip to Hong Kong
Some time ago, I participated in an e-learning session of the Hong Kong Tourism Board. (Zur deutschen Version.) I was surprised when I received a call at the end of September that I had won a trip to Hong Kong! Wow, you can imagine how excited I was!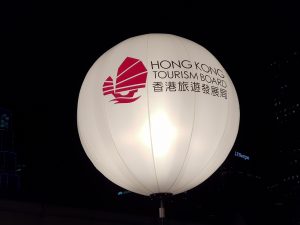 I would like to tell you about this trip, because the program put together for us international winners is really interesting.
In Frankfurt, my two German fellow travelers and I are greeted by
Cathay Pacific
with an invitation to the Business Lounge and then we take an exclusive tour of the aircraft. Even in the cockpit we are allowed to go!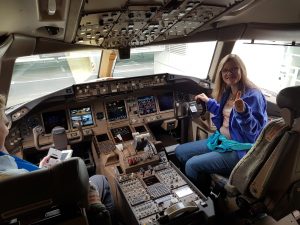 The Royal Pacific Hotel and Towers
Not really rested, since it is only midnight for us when we arrive in Hong Kong, we take a transfer bus directly to our booked hotel, The Royal Pacific Hotel and Towers, which is located directly at the China Ferry Terminal in Kowloon.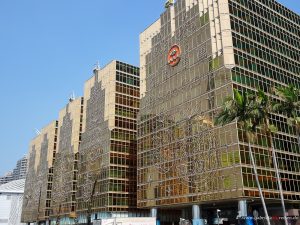 After breakfast, I have a 90 minute power nap in my room. It's not big, but here in Hong Kong especially the space is tight and for me alone it is ok. The location of the hotel is great, because from here it is within walking distance to lots of interesting places.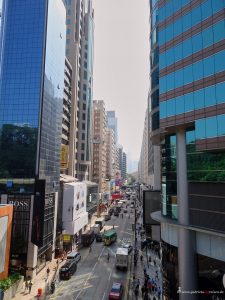 Strolling through Kowloon
Kowloon Park, which is just across the street and connected to the hotel by a pedestrian bridge, is my first destination. Between all the huge skyscrapers, such a green oasis is worth a lot and is frequented by the locals much. Not only to marvel at the flamingos, but also to jog or do Thai Chi.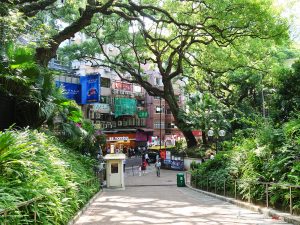 At Haiphong Road, I leave the park and meander through a flower market and a number of small Chinese food stalls until I get out on Ashley Road. My destination is the Star Ferry Pier, so I go ahead and do a bit of window shopping.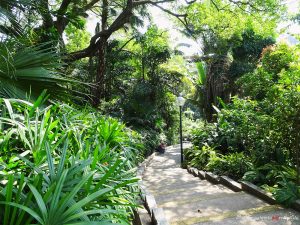 Here and in all the big, shiny shopping malls, everything is represented that has a  well known label and is expensive. In between there is always a typical Chinese medicinal herb shop or a shop with dried fish, a "mom and pop" shop, etc. However, the existence for the small shops is getting harder and harder, as the store rents climb to astronomical heights, a retailer barely can afford. The small and typical shops disappear more and more here in the city center and the brands represented worldwide take over the place. It's a pity, but that's how it looks almost everywhere in the megacities of the world.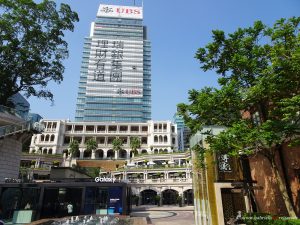 The Dukling tour
Finally I arrive at Salisbury Road and turn right. Along the Time Ball Tower, I arrive quickly at the Star Ferry Terminal. Today I do not want to go to Hong Kong Island, but I do a ride on the last historic fishing boat, the "Dukling". 45 minutes I chug through the harbor, past the fascinating Hong Kong skyline. A light fresh breeze blows through my hair, which is very pleasant in this heat, which is around 27 ° C. I am amazed that the water in the harbor does not look dirtier, here in the South China Sea it has a milky blue color that I have never seen before.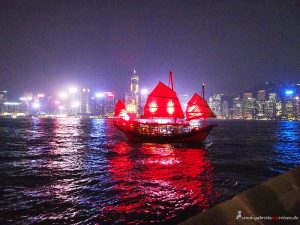 During the Dukling ride we get an explanation what this boat is about and what buildings can be seen from here. The tour is really fun for me and I would like it to be longer. I'll take some photos of the "Former Kowloon Canton Railways Clock Tower", which is located directly at the Star Ferry and then I walk through the huge Ocean Center, a shopping mall, to the hotel.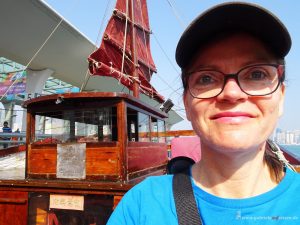 The evening program in Hong Kong
The official program with all international participants starts at sunset, which takes place just before 6 pm. Representatives from the Hong Kong Tourism Board are waiting for us in the lobby and we will be taken to Tsim Sha Tsui Promenade by two buses. From here we have a fantastic view of the now illuminated skyline of Hong Kong Island. Every evening at 8pm there is a huge light show, with lasers etc. Unfortunately it is too early, but the sight is great.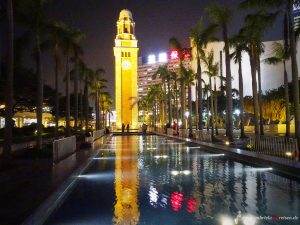 We all have a reservation at the Ah Yat Harbor View Restaurant, which is located on the 29th floor of the iSQUARE shopping center and actually offers a great view of the harbor. It should have a star in the Michelin Guide, but I can`t read it anywhere. Nevertheless, I'm curious about the food!
Here everyone comes together and we are welcomed. We are about 40 people from all over the world, from Europe we are only six, three from Germany and three from the UK. Of course, all come from travel agencies or tour operators, so we have a common denominator. Traveling is our number one topic.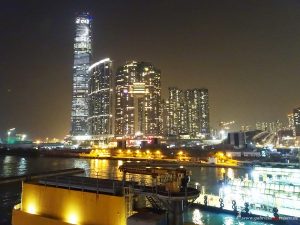 The food consists of many courses, of course always only a small bite. It's really delicious, but it does not have much in common with Chinese food, as I've come to know on my travels through China. Probably because the regional cuisine is the Cantonese, which does not exist where I have traveled so far.
By now we are all very tired, almost every one of us has had a long flight here and was not as lucky as we are that we have been able to look around all day.
So we say "good night" and look forward to the next day, which holds a full program for us.
Here you´ll find my second post  and here the third.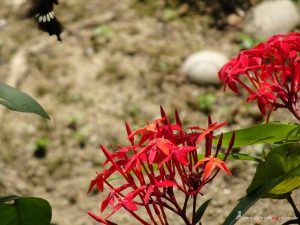 Will you follow? I look forward to your comments and "likes" 😉 . More photos are available on Instagram, Pinterest and of course on Facebook. See you!
TIPP:
Look on the website of the Hong Kong Tourism Board. There you´ll find apps for download, that help you around the city!