From the desert to the sea at Swakopmund
The Etosha pan was a great experience. In two days we will be by the sea, in Swakopmund. What do you think we will see by then? Zum deutschen Blog.
This blog post contains unpaid advertisement. All I have written is my personal opinion. You´ll find affiliate links. If you buy a product through this link, you´ll not pay more, but I'll get a small commission, that helps to go on with my blog. 
Fransfontein Mountains
After our morning jeep ride through the Etosha National Park we drive now still with a lot of adrenaline in the blood from our fantastic animal sightings, into the Fransfontein mountains. Today's overnight stay is in the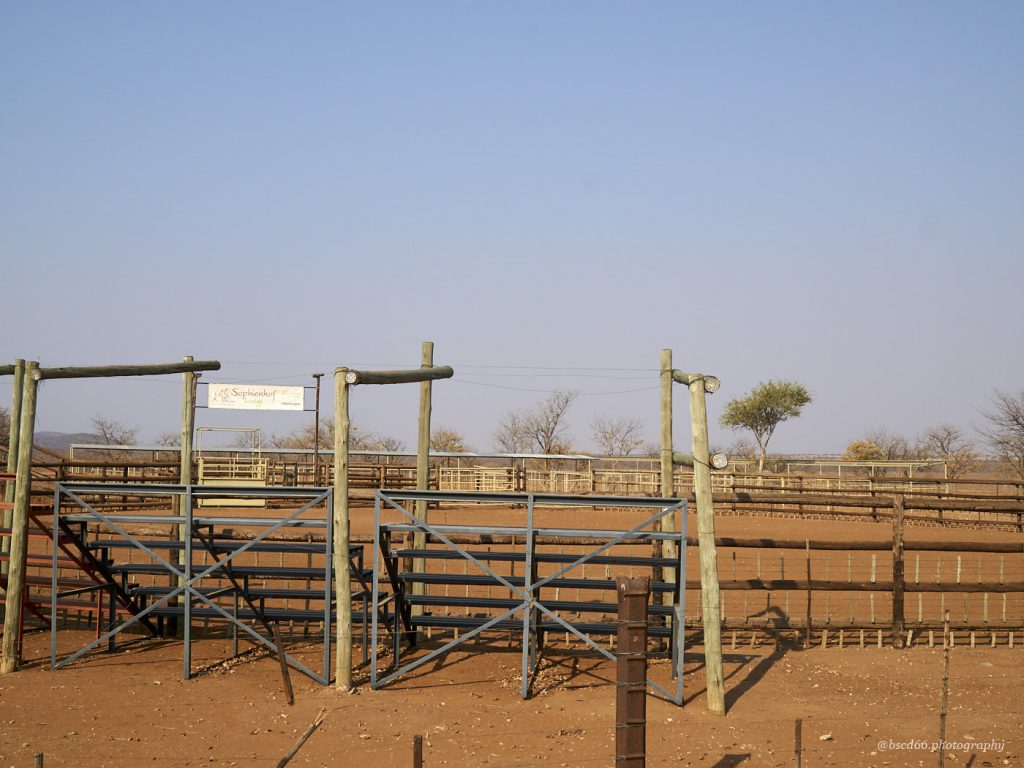 Sophienhof Lodge
We are welcomed with coffee and cake very friendly and in German. The lodge cat strikes my legs. Now I miss my cat at home…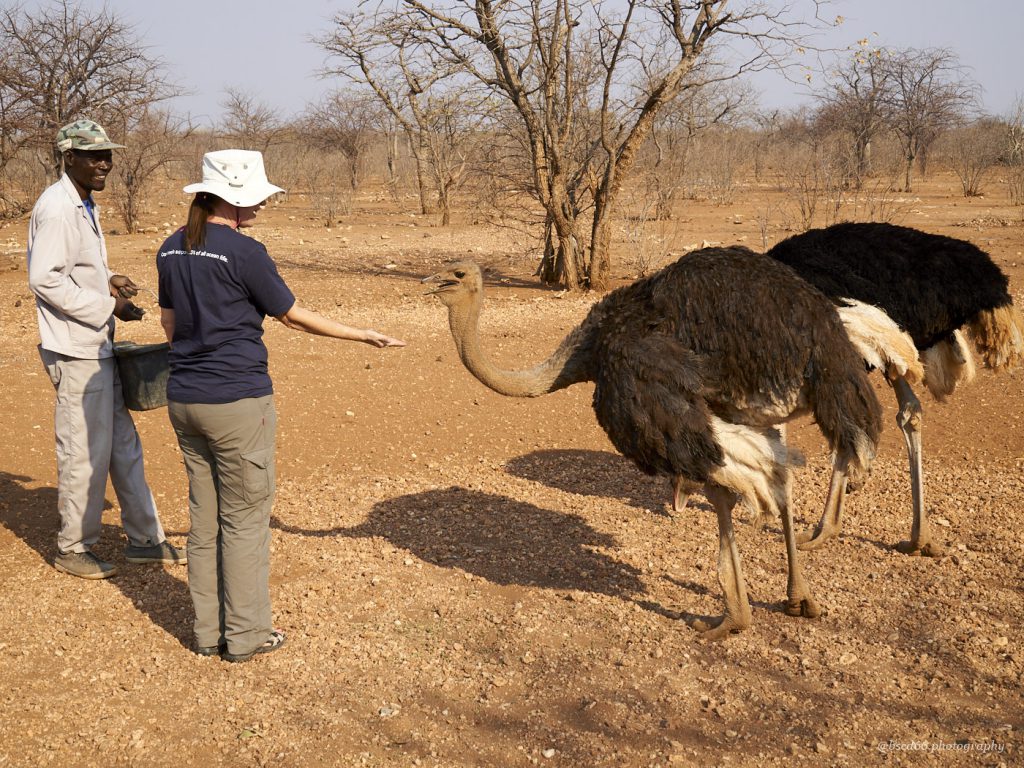 In the evening we are invited to a game drive in the open jeep. Our friendly guide proudly explains everything about the lodge. We drive past the Rodeo Square, where every year many people from all over the country come together to show their skills. Then it goes to the currently brooding ostriches (when the male ostrich sits on the eggs of his women, his legs turn pink!) and my secret favorite animals, the
Cheetah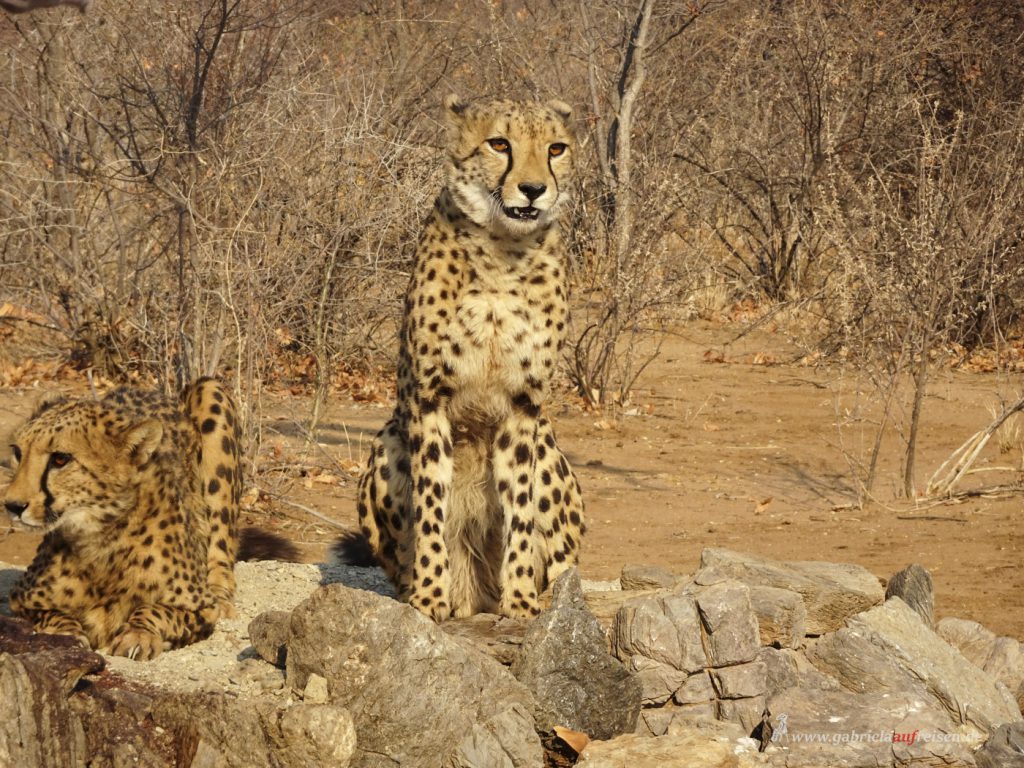 Two cheetah brothers live here in a huge freewheeling enclosure. They come from a breeding farm but can´t get back into wildlife. Our guide is their reference person and we notice that immediately. It's feeding time and they're already waiting for him. He gives them some commands and then the brave among us are allowed into the enclosure. Of course, I am at the forefront of this! I'm a "cat-woman" and cheetahs are beautiful animals!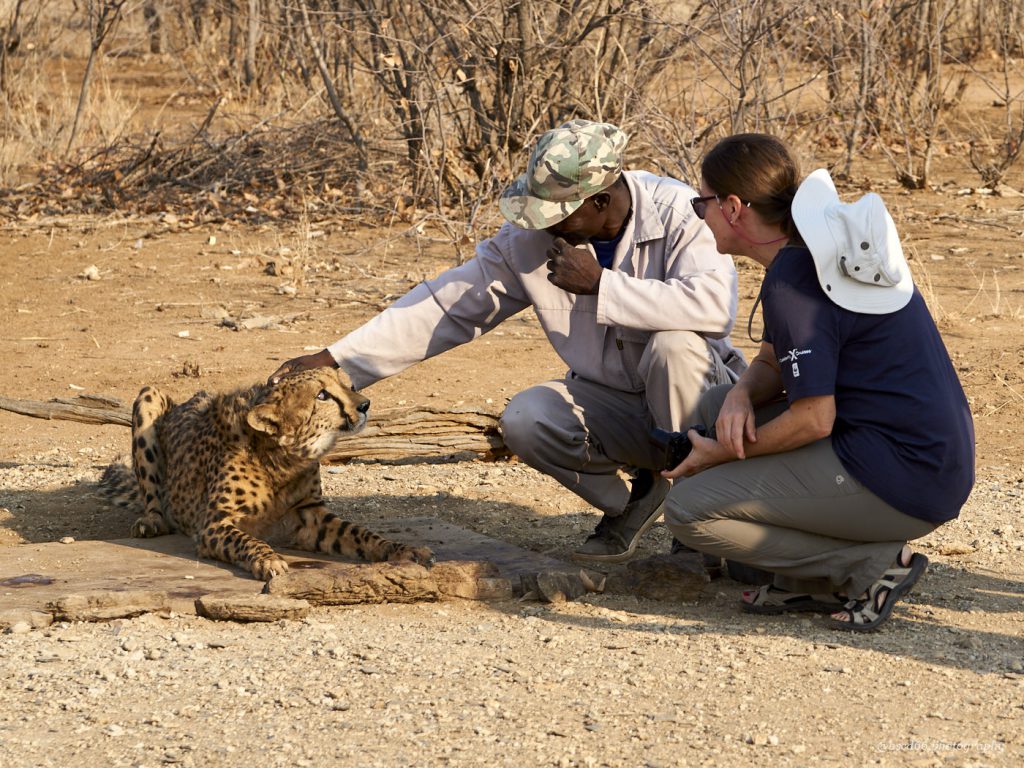 Unfortunately, they are still being hunted illegally in Namibia and are becoming less and less in the wild. Here I can now get very close, so that I can even hear her loud, pleasant purring after feeding. And then it is the mutual fur care. They lick each other's bloody noses that they got from their meal and you can see how comfortable they feel. Could I just stay here longer…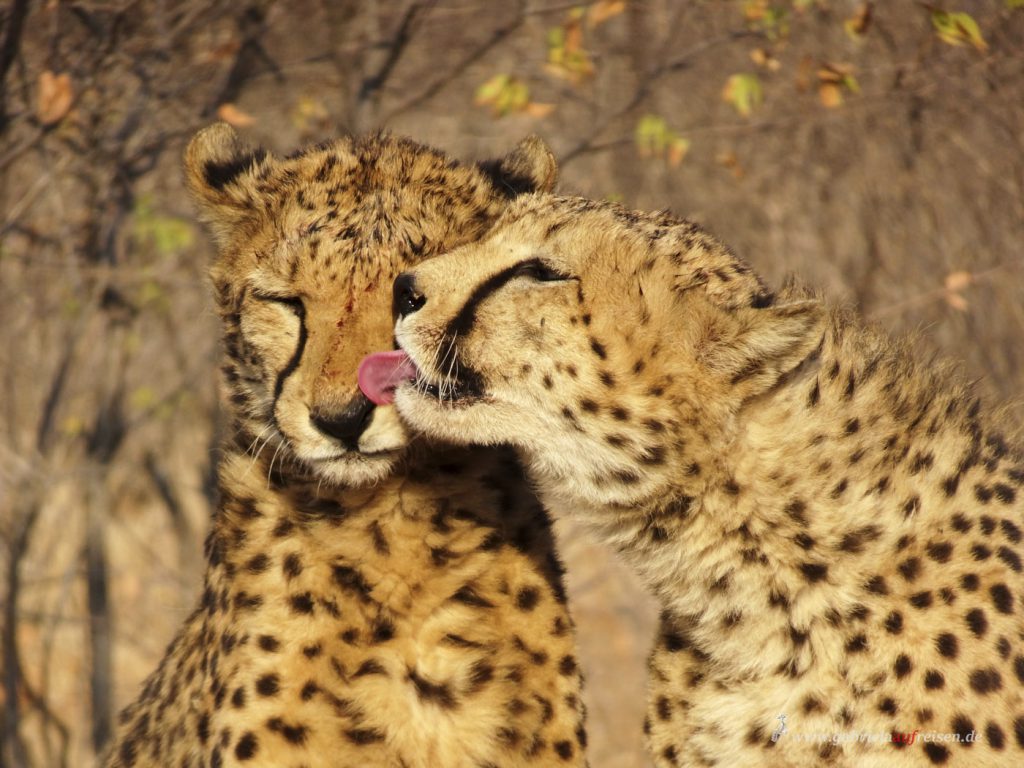 We continue over the huge estate, about 8000 ha it has got, a lot of space to accommodate many animals, of which we get to see some. We are also proudly presented with a magnetic boulder. Perhaps it is a magnetite chunk from the Earth's interior, which, when the mountains were created here, were pressed up to the surface.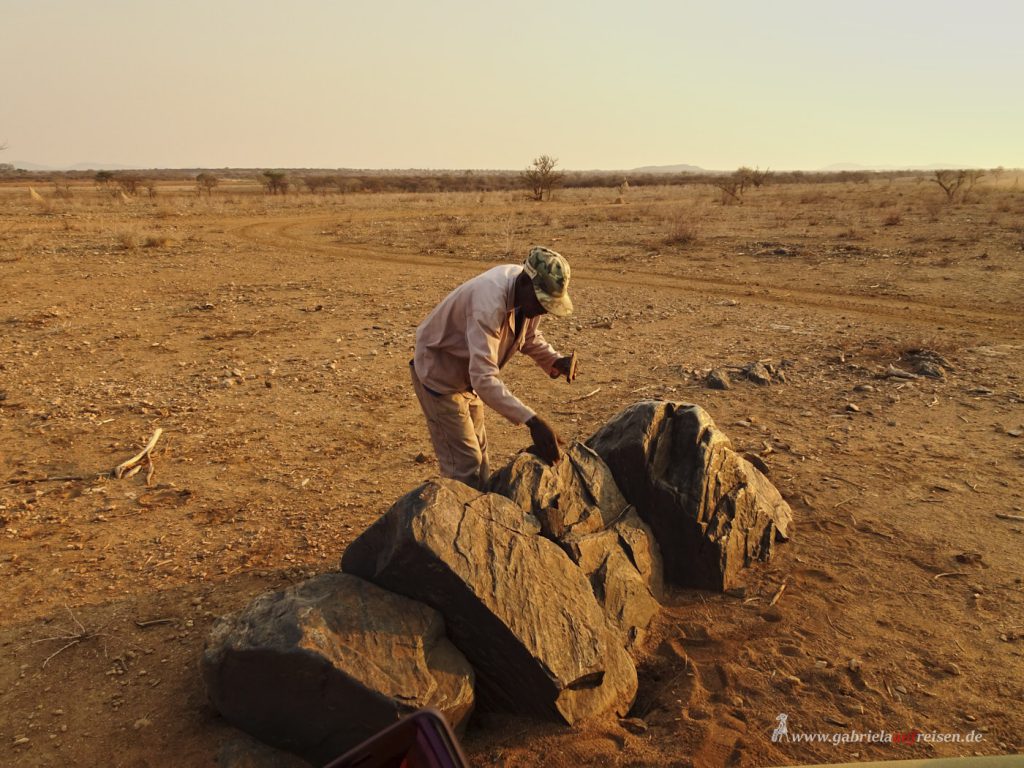 After the good and plentiful dinner, we watch the feeding of the porcupines, which are nocturnal and otherwise do not let themselves be seen in their large enclosure. They are, like our domestic pigs too, omnivores and get to eat the organic waste of the kitchen.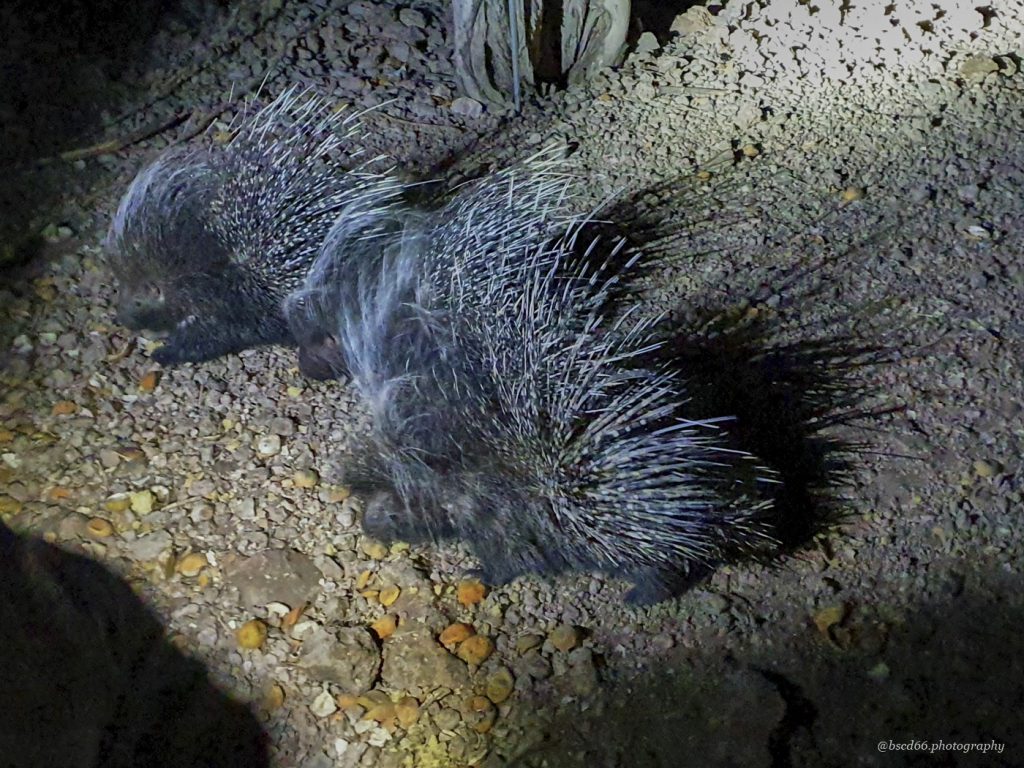 The next morning, we continue our drive towards the sea. It will be a long and very dusty ride, but I can't get enough of the vastness of the country and nature. If only it would rain soon…
At the currently dry Ugab River we make a stop at the
Herero-und Himba-Women
We have been driving through Damara county for quite a while on really bad gravel slopes. A very barren and dried up area and yet people live here. I wonder how one can live here.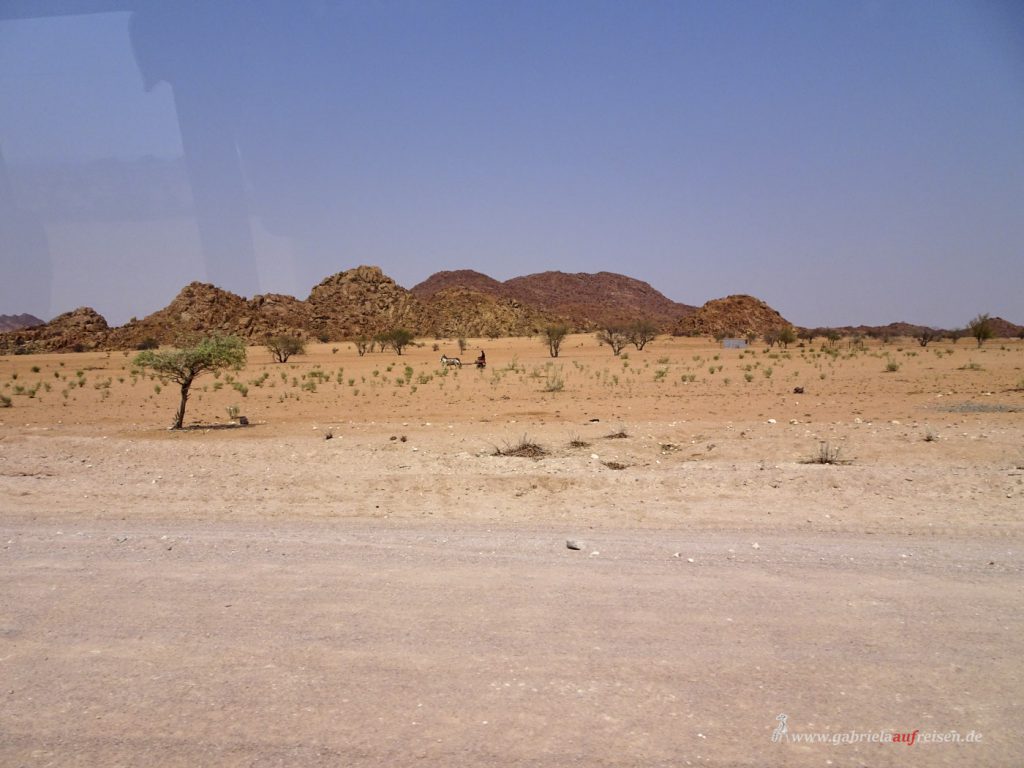 In this area settle Herero and Himba tribes . Some of the women try to raise some money for themselves and their children through traditional handicrafts. Again and again we see more or less large stands on the side of the road and women who draw attention to themselves by waving. Of course, we cannot stop everywhere. But we want to support at least some of the ladies dressed so differently.
The Himba women are immediately recognized by their reddish skin color, which they obtain by rubbing their body only with animal fat and ochre starting with sexual maturity and "smoking" with burnt herbs. Water for washing is taboo. They wear their hair artfully braided and usually wear only a kind of loincloth and homemade jewelry. Very strange to my eyes, but they are really beautiful and proud women! (The baby on the arm of one lady, however, got a pampers.)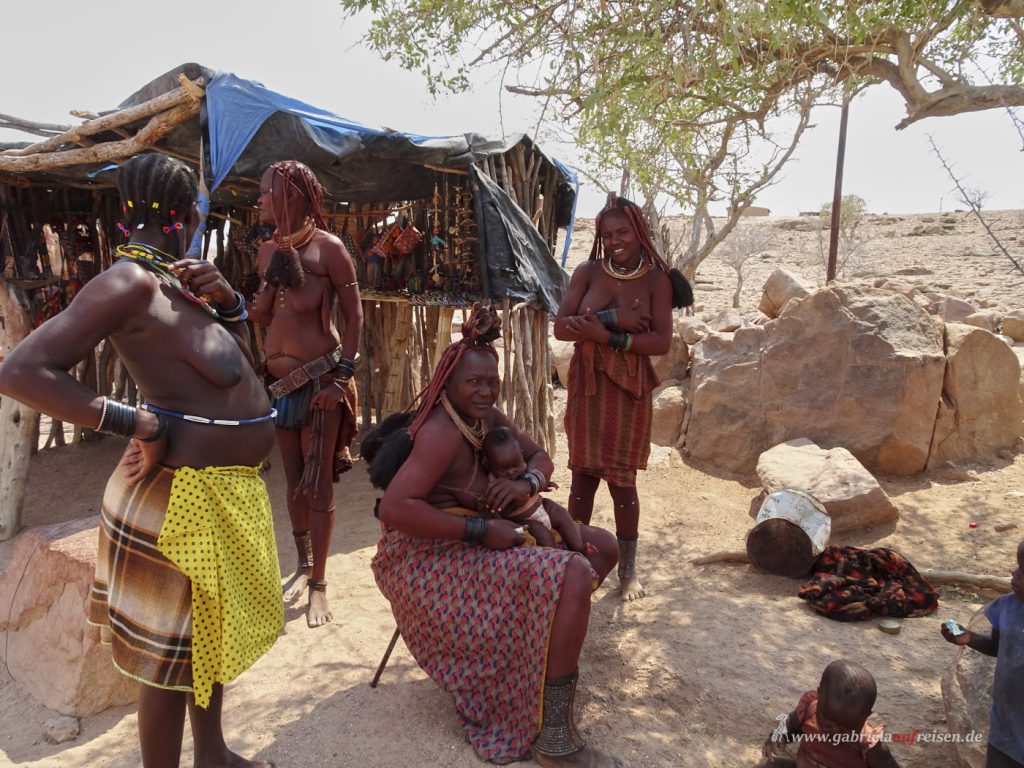 The Herero women can be recognized by their long, colorful and usually very shady dresses and the associated headgear, which is supposed to symbolize the horns of a cow by their shape. Some of them sit here with their ancient manual Singer sewing machines and sew bags, pillowcases, etc.
How so different types of women could get together is puzzling for all of us, but beautiful. Probably this symbiosis was born out of necessity of having to make money. And since tourists like to be photographed with extraordinary people (me too…), this is a good opportunity for all sides. The little children running around find our mobile phone photos great and giggled when they are shown to them. Dirk finds a large picture, hand-painted by a Herero woman on wood so fascinating that it will accompany us from now on to our home. Let's see how we get that on the plane!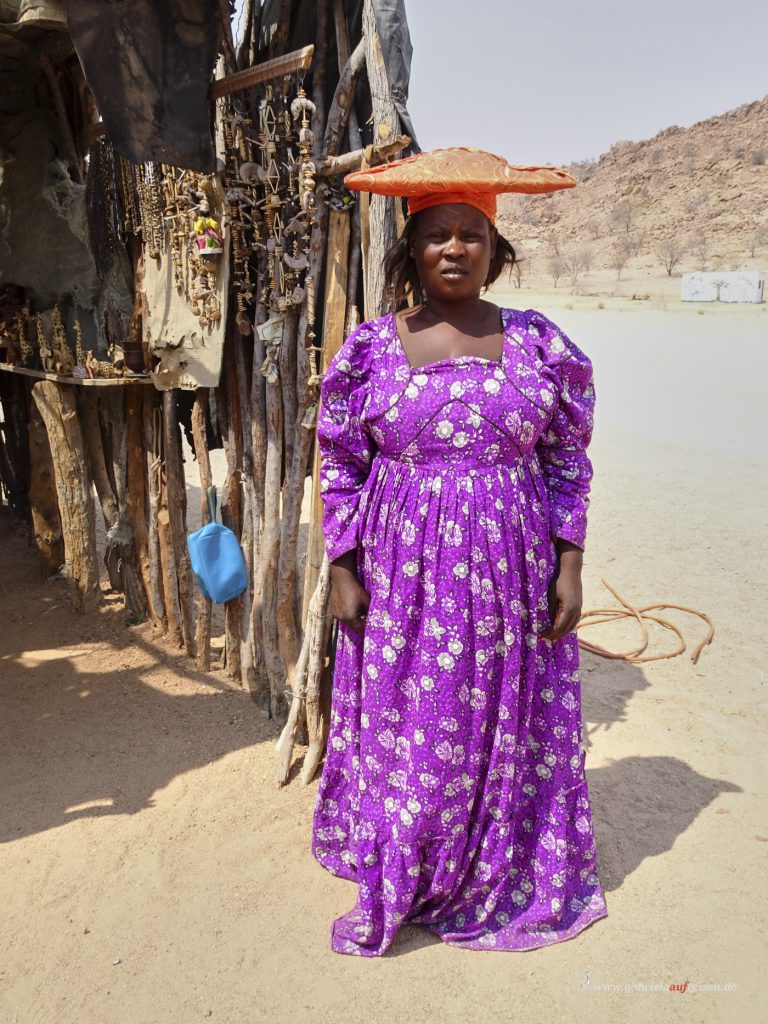 The landscape is getting more and more bizarre, many mountains can be seen in the background and finally we arrive at the
Omandumba Bush Camp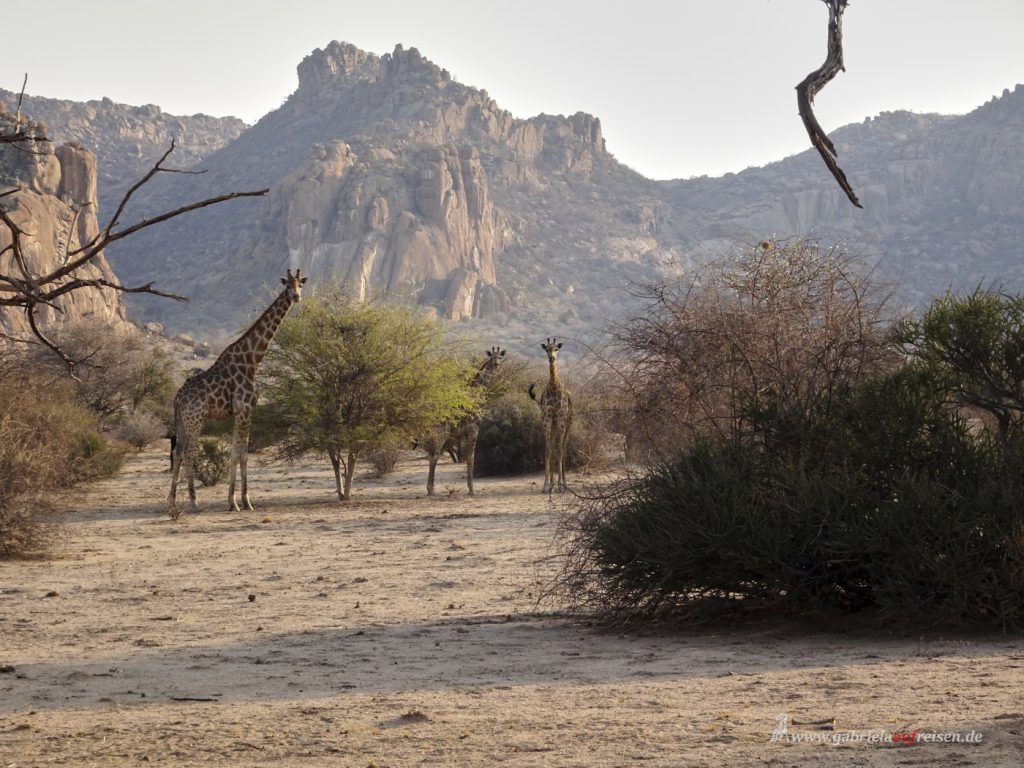 where we will spend a night. Here, tents are combined with stone walls and brick bathrooms. It is located quite lonely at the foot of the Erongo Mountains, which shimmers orange and red in the setting sun. After the long drive we stretch our legs and get very close to some giraffes. Then the sun sets behind the mountains and we have to make sure that we come back to the camp before the darkness.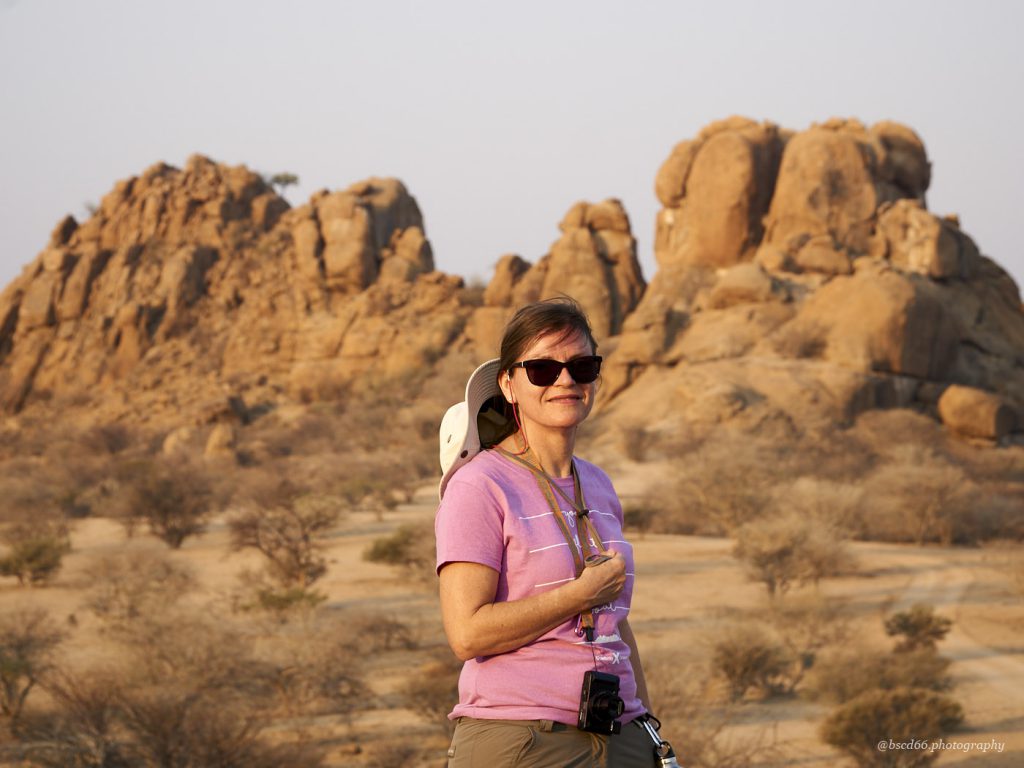 There is already dinner and a wonderfully buzzing campfire waiting for us. Pure camp romance!
To the shore
As we leave the mountains the next morning, the landscape becomes more and more platitude and soon we leave the high plateau towards the sea. We pass several uranium mining heaps before we leave the almost endless wasteland behind and see the sea shimmering in the distance. In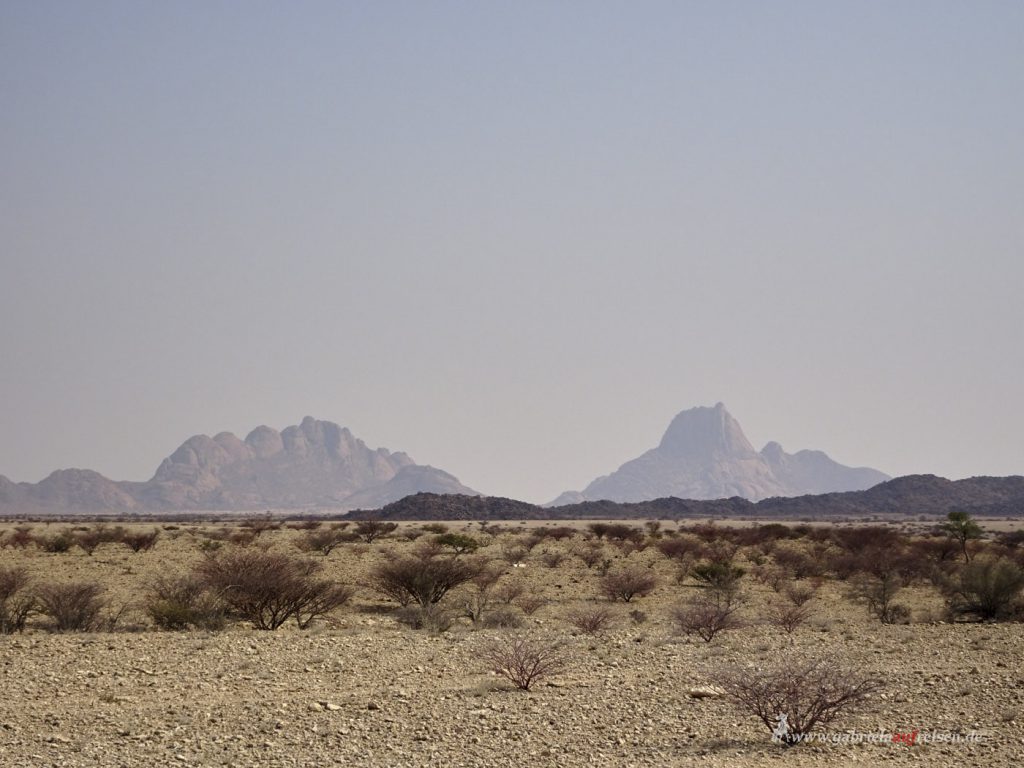 Swakopmund
The air much fresher and I am glad not to have left my jacket in the suitcase. Swakopmund is a very German like old town in Namibia. Actually it´s partly more German than a lot of towns in Germany. The old city center is beautifully renovated. The old houses were mostly built at the beginning of the 20th century. Even the old lighthouse is still working. And it is said that you´ll get the best Black Forest Cake here outside of Germany. Who knows…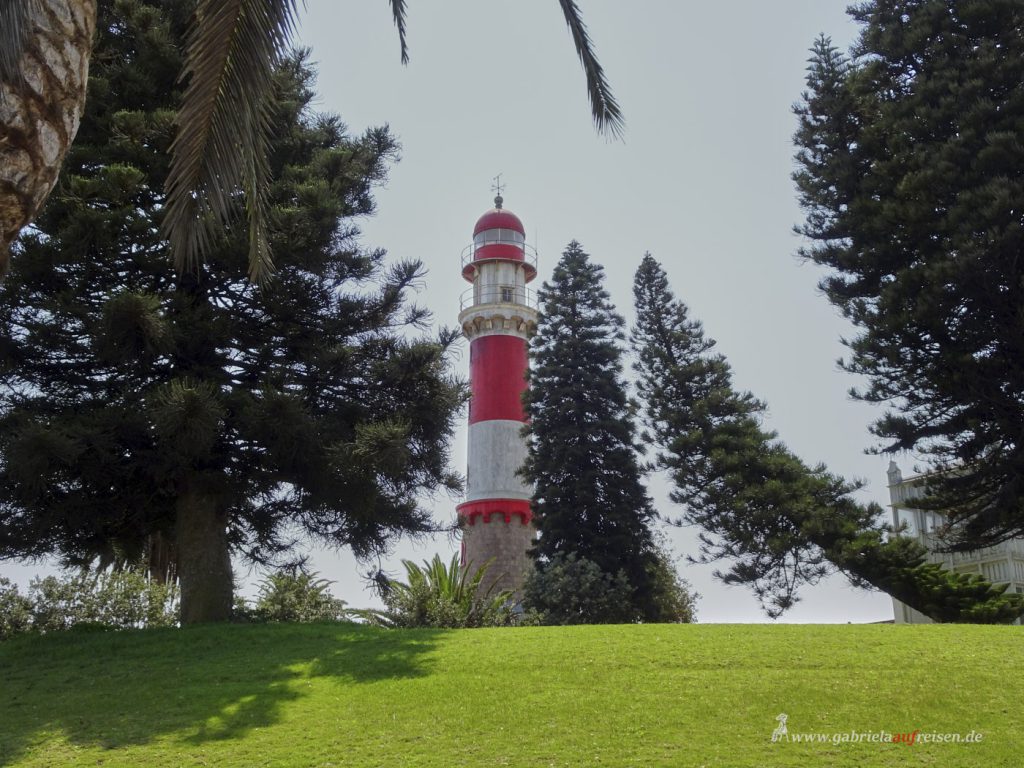 From our accommodation, the Sea Breeze Guesthouse, which is located in a suburb of Swakopmund, we go for a walk to the seashore. The fresh, salty air does my far too dry and constantly bleeding nasal mucous membranes really good. Finally, I have the feeling that I can breathe properly!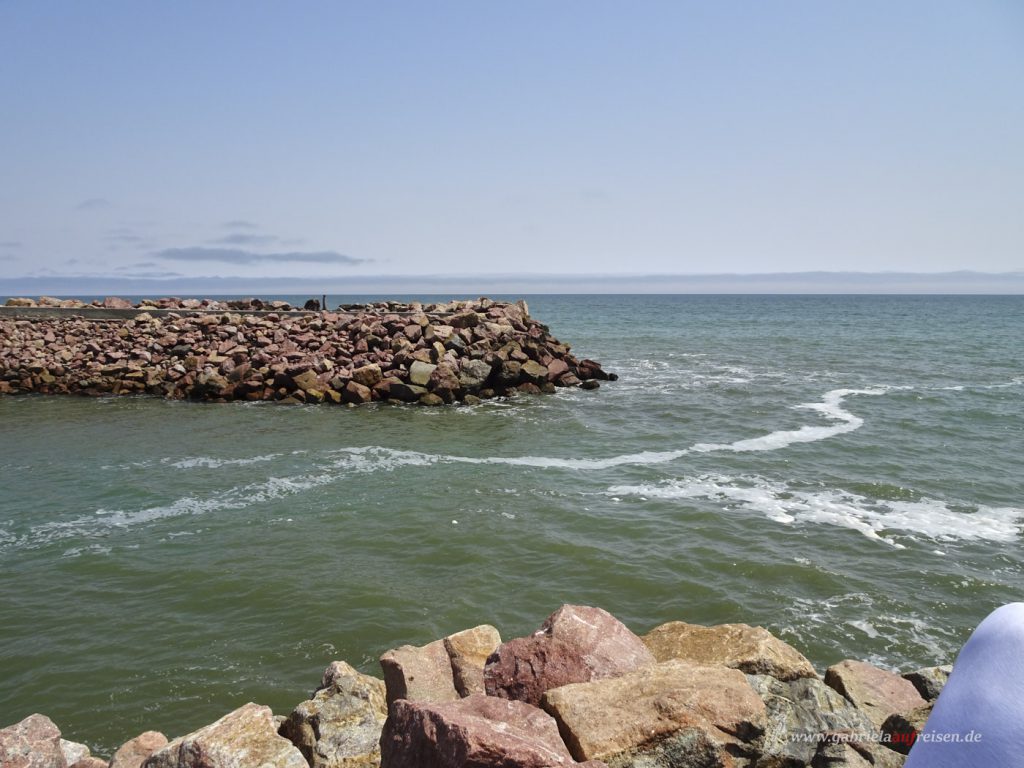 The Flight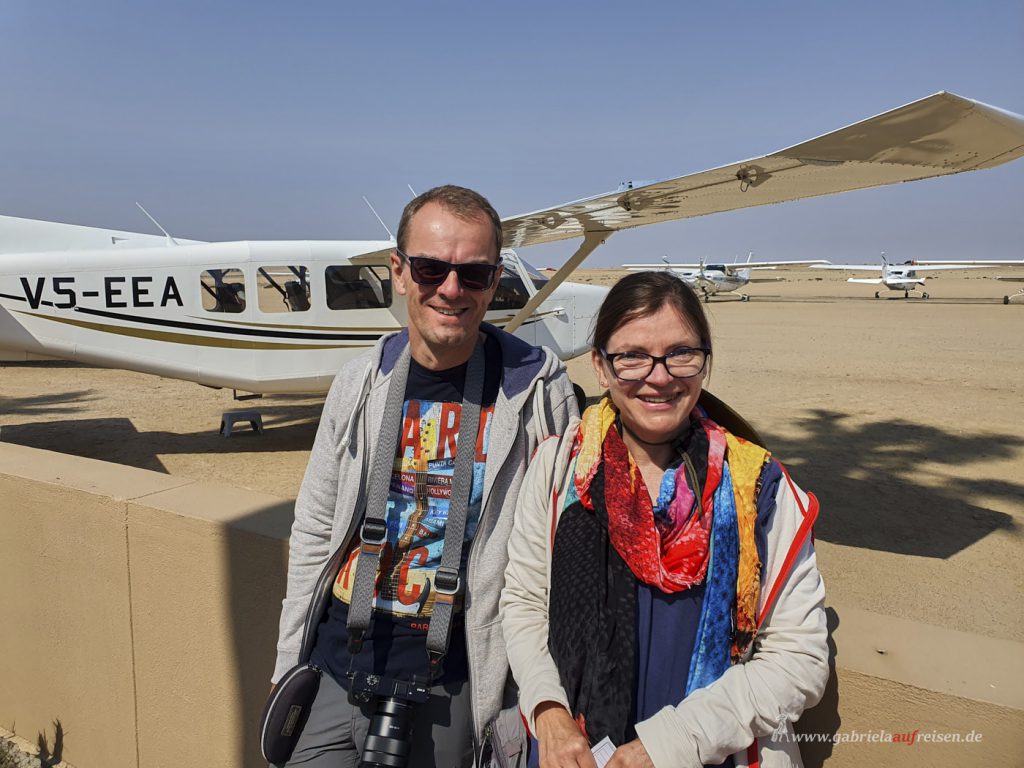 we don't have much time, because we treat ourselves to something quite exclusive! A nearly three-hour flight in a Cessna past the "moon landscape" to the Sossusvlei Desert and back to the coast with the shipwrecks at Conception Bay, via Walvis Bay to Swakopmund. Incredible and worth every penny! What a huge desert into which we will drive into tomorrow. It looks so untouched and lonely from above. Us 6, who make the flight together, all of us can't get out of amazement. During this flight, I can understand for the first time the incredibly deserted dimension of this country. So much sand! So much desert! And yet there is always something green to see in the middle of the red sand. How can something grow and thrive here!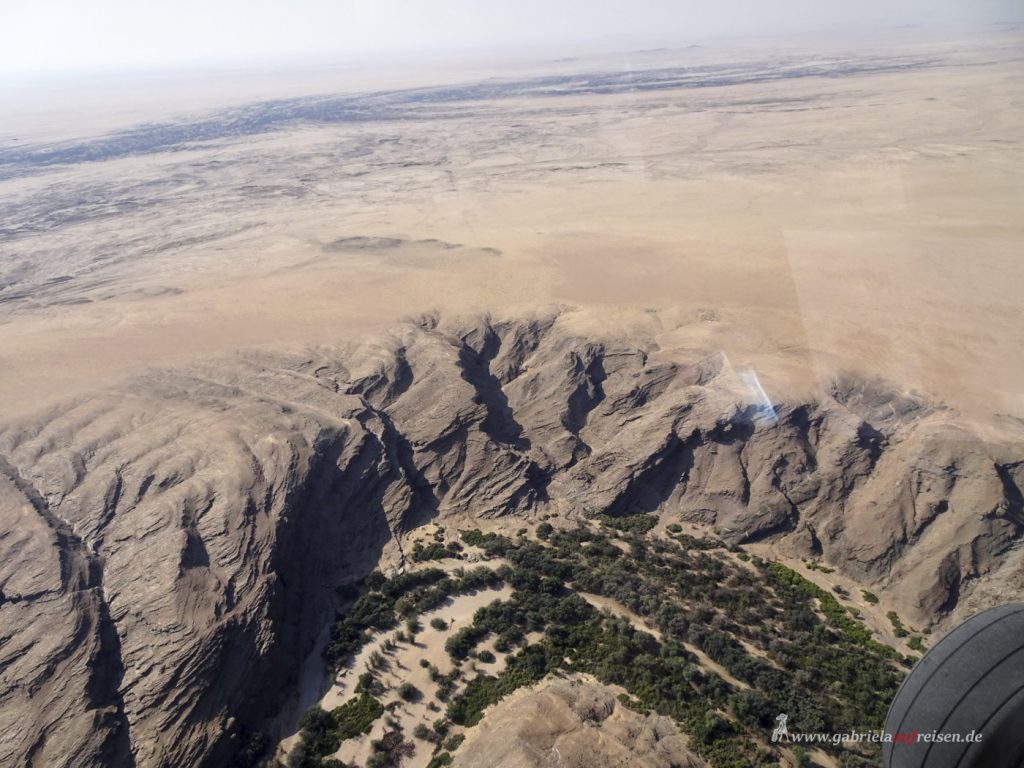 On the return flight I actually see some dolphins jumping right off the coast, two turtles, countless seals and beautiful, graceful flamingos.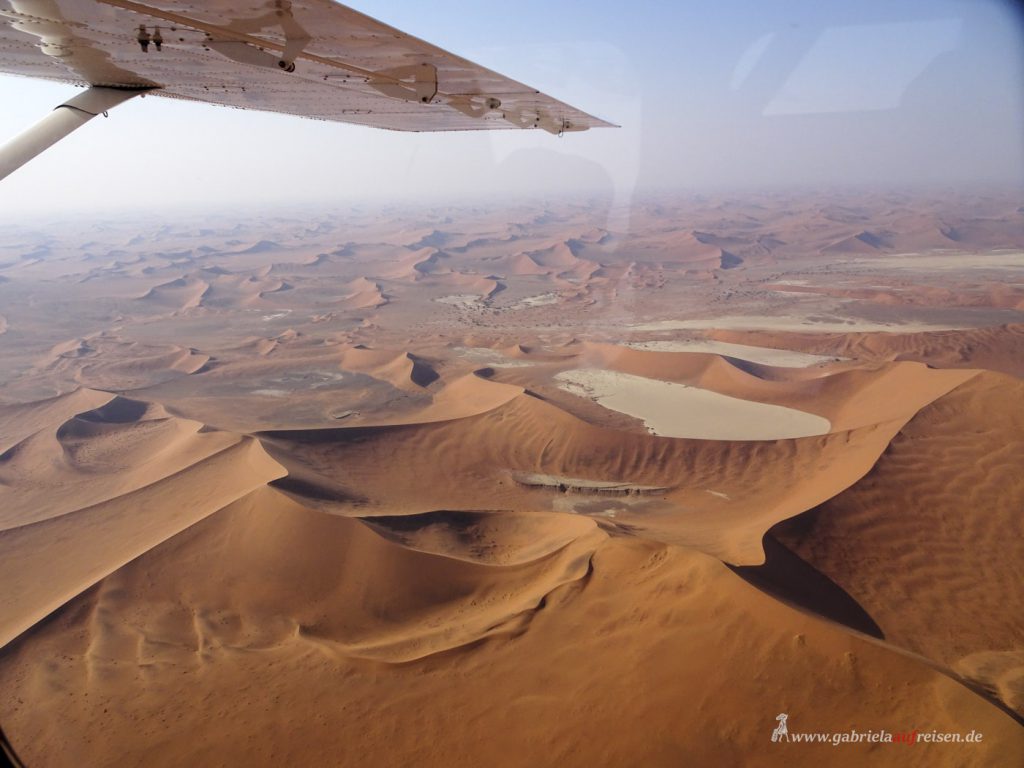 Absatz
Slowly I believe in the slogan of our tour operator Chamäleon, "the journey of my life".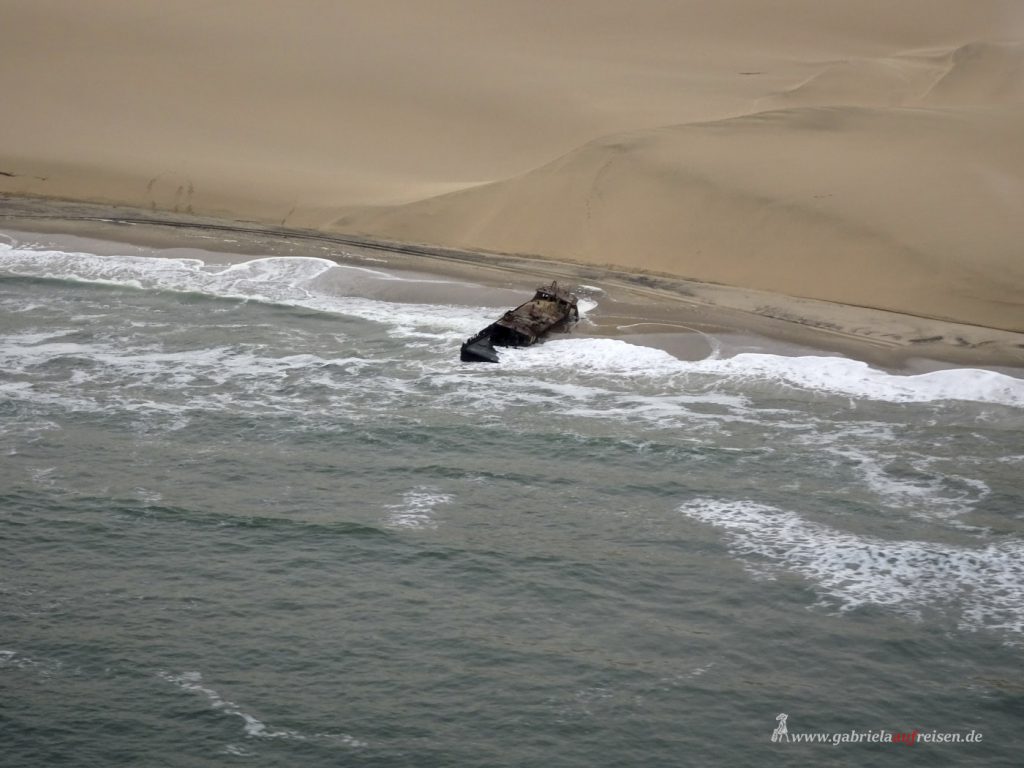 Can that still be topped? The next blog post is coming soon and will take you to the Sossusvlei Desert. You would like to be there as well? Then subscribe to my newsletter or give me a "like" on Facebook, Instagram, Tripadvisor or Pinterest.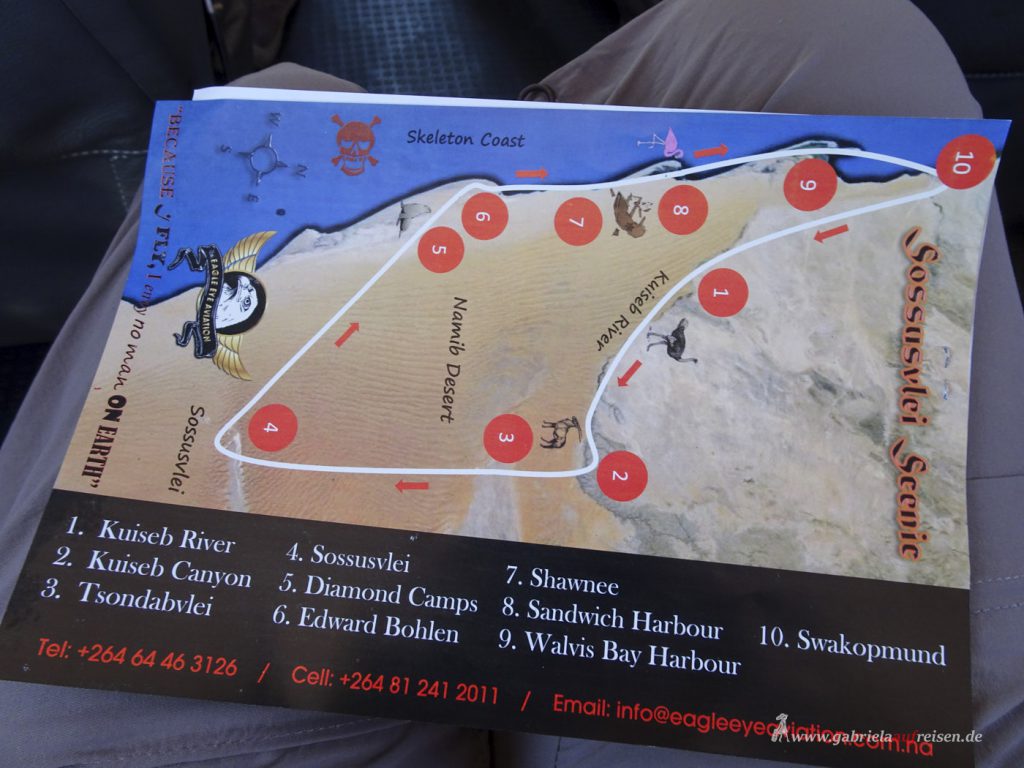 I look forward to your comments here on the blog or on social media!Bild