Almost at the end of our trip trough Uganda we get to the highlight of the round trip, the gorilla tracking (or trekking, there are both spellings) in the Bwindi Impenetrable Forest.
This post contains unpaid advertising. This safari was self-paid for and this report only reflects my opinion. It also contains affiliate links. If you buy something there, you don't pay more, but I get a small commission that helps to continue my blog.
Gorilla Safari Lodge
Late in the afternoon, the day before the gorilla tracking, we arrive at the Gorilla Safari Lodge. We are welcomed with great cordiality, as always our temperature is measured and we need to disinfect ourselves thoroughly.
We get a cold drink and coffee, with snacks to eat. Meanwhile, our suitcases are already being brought to our bungalows, which are built like on a slope, into the green of the rainforest, from which a beautiful garden has been made here.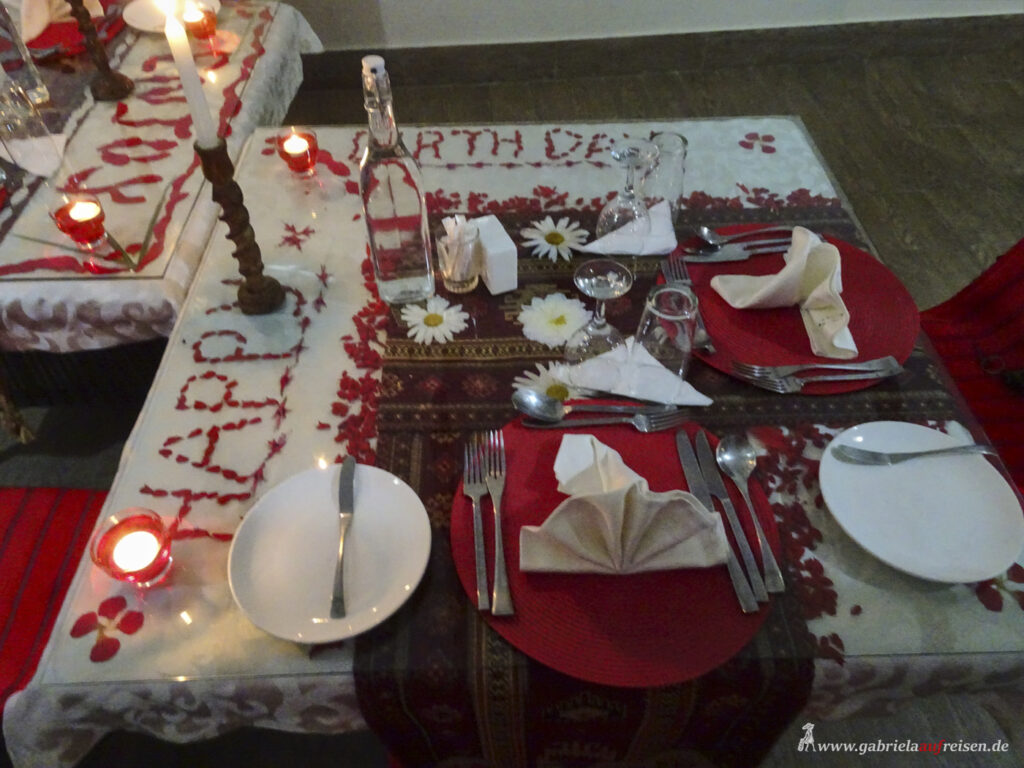 It´s nthe birthday of my husband today and so the table in the restaurant is beautifully set and decorated in the evening. All the staff sing and dance for him! What a beautiful evening with excellent food!
At the Ranger Station

for the Gorilla Tracking
Around 8 a.m. we get at the Ranger Station, which is only a few minutes away. Our passports get checked and all data is compared with the available reservations and gorilla tracking permits. Then all tourists are divided into groups of about 10 people. Each group visits a different group of habituated gorillas.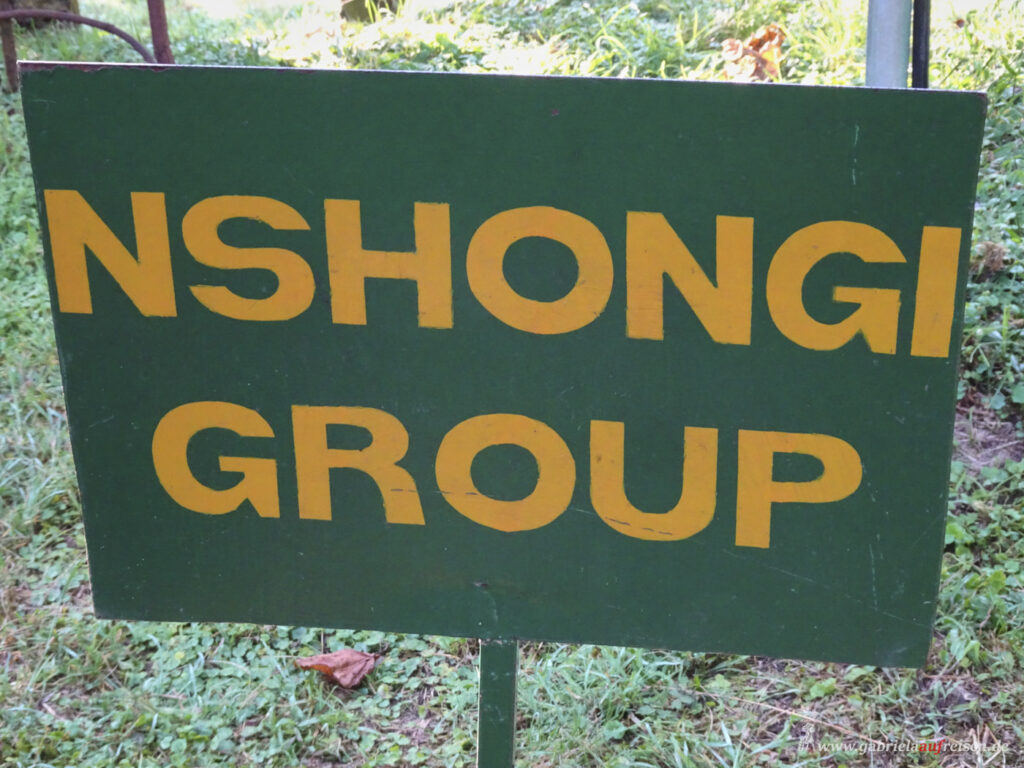 Everyone would do well to hire a porter. They are already waiting a little off the beaten track for their commitment. They are women and men from the surrounding villages,for whom it is partly the only way to earn money. They have joined forces in a kind of cooperative. Part of the salary goes there to start village projects,the other part remains with the sponsor. She or he not only carries the backpack, but also helps with the ascent into the rainforest.
Bwindi Impenetrabel Forest
First, we drive with a jeep to a starting point at a field. The march,the gorilla tracking can begin! The Bwindi Impenetrabel Forest lives up to its name. It is truly impenetrable! First of all, a ranger who strikes a path with a machete, whereby path says too much. The proliferating plants are cut up so that we can pass. Each porter remains with his or her person who has engaged him or her.
Everyone would do well to use one of the hiking poles offered in the ranger station. We got our own ultra-light carbon hiking poles with us, of course, we wear long trousers and long-sleeved shirts, because here every plant seems to come up with defensive thorns or spines. Decent hiking boots and a hat complete the outfit. In the morning it is still quite cold, I even wear my rain jacket. Everything should be in "camouflage colors" if possible. I don't know if this is better for the gorillas or protection against insects, but we were asked to do so. Very robust garden gloves do particularly good services, even if they are wet from the inside within a very short time.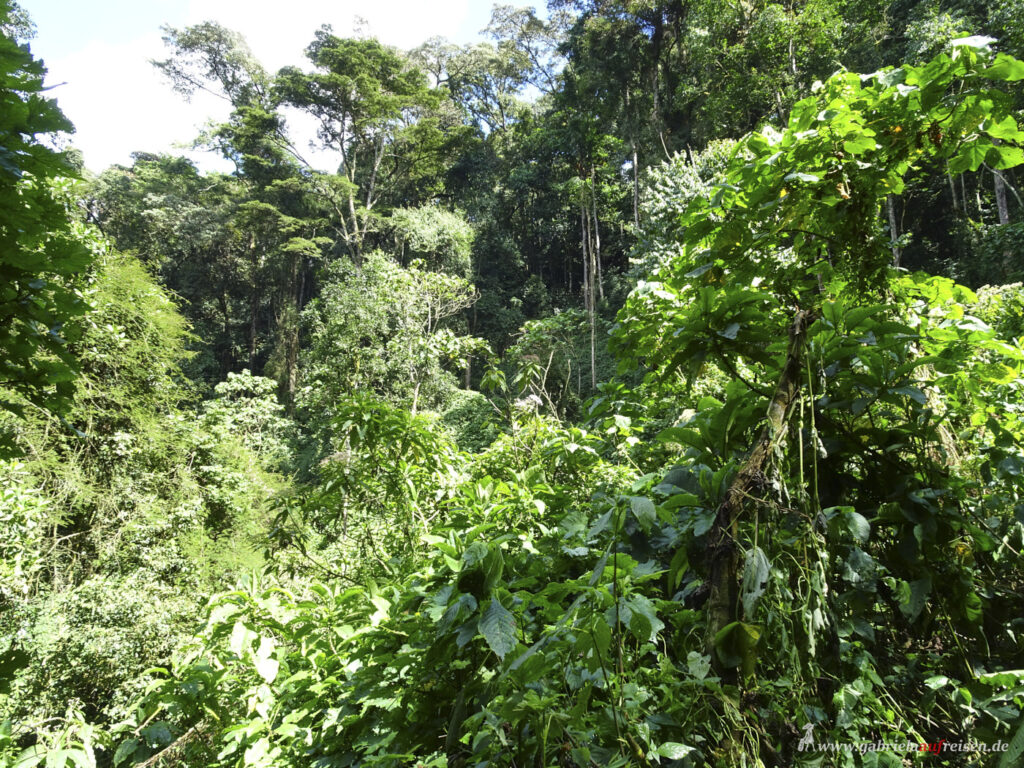 The Bwindi Impenetrabel National Park is a rainforest that stretches over many mountains and valleys. At an altitude of almost 1200 to about 2600 m it rises along the northernmost East African rift valley. In it live approx. 450 of the last mountain gorillas.
Uphill to the gorillas
The ascent is fierce! Our group gorillas is the Nshongi Group and today probably particularly high up and very active. They are accompanied by several rangers from sunrise to sunset. Every day! The poor men and women sometimes walk, to or from the animals for two hours in the morning and in the evening at darkness, in order to be able to give the approximate position via GPS the next morning. The gorilla families are always active and build a new "nest" for sleeping every evening. Our rangers are given a new position several times and we have to continue uphill. Am I glad that my porter Mercy is such a strong young woman, who sometimes pulls me up the mountain more than I would get on my own in this jungle. Of course, we all wear our masks, which is exhausting with the rising heat.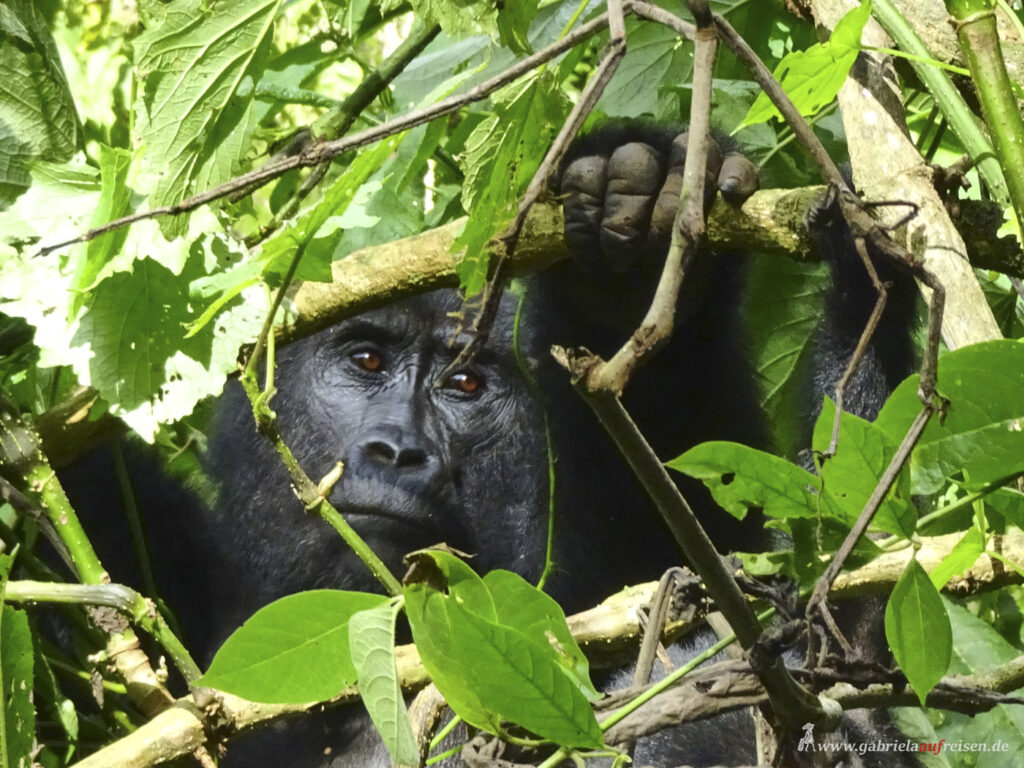 In the front and behind us, several rangers are armed with machetes and rifles. Not that they are afraid of attacks by big cats, it is the aggressive, smaller forest elephants that are to be driven away by gunfire if they approach us. We see their legacies from time to time, but how they can move through this tangle of creeping plants and the huge trees and bushes is an absolute mystery to me! As much smaller people, we already have our problems.
With the gorillas!
The gorilla tracking, for me rather a two-hour trekking, suddenly comes to an end, we have arrived at "our" family. We have to put down all our bags,only the cameras are allowed and before that a good sip from the water bottle. Realign the masks or better yet exchange the sweaty ones for fresh ones and disinfect the hands properly.
Since we share over 98% of genes with gorillas, they can also become infected with all our diseases. It would be particularly tragic if they were to fall ill with Corona now! Therefore, we should keep a minimum distance of 10 meters.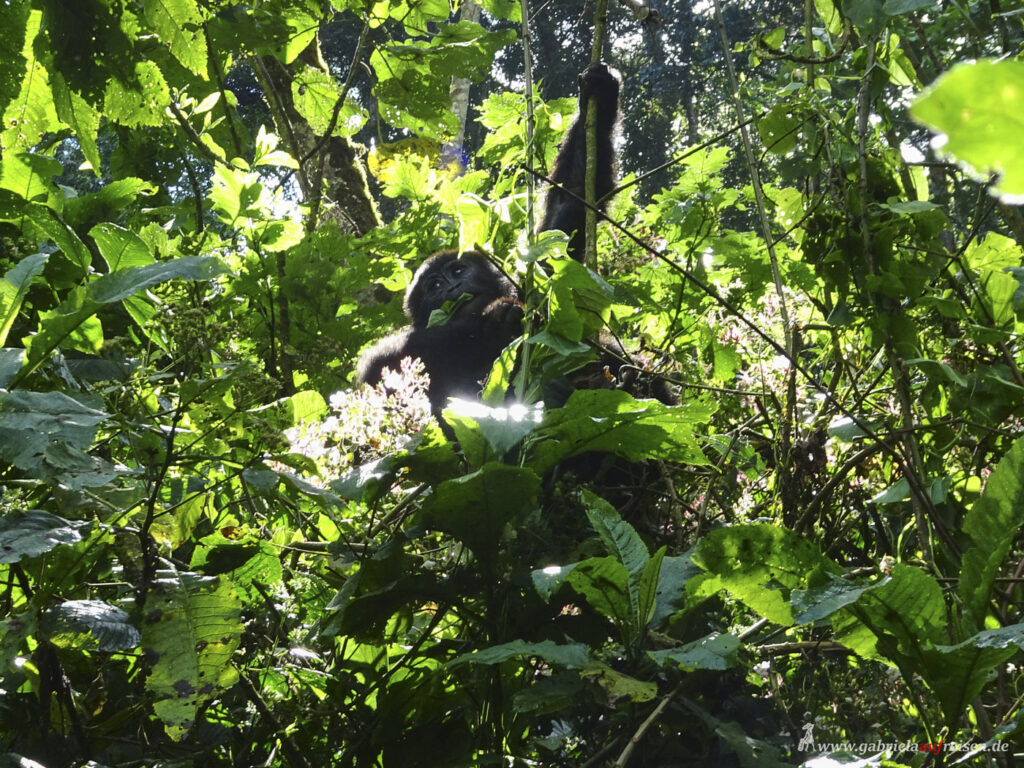 This can hardly be done, because the rangers create a kind of platform for us in the rainforest, so that we have the best possible view of the primates. However, since these move in search of food, it does not always work with keeping the distance.
Before a family group of gorillas can be visited, they must get accustomed to the presence of humans for about 4 years. They are accompanied by rangers every day until they no longer pay any attention to us humans or at least pay little attention.
The members of the gorilla family
Such a gorilla family group is always led by an imposing silverback. Ours here is 27 years old and truly a magnificent head of the family! In total, the group probably comprises 11 members, which consists of female animals and their offsprings. Not all of them can be seen, as they can hardly be seen in the impenetrable tangle of leaves when they are a few meters further away or sitting at the top of the trees.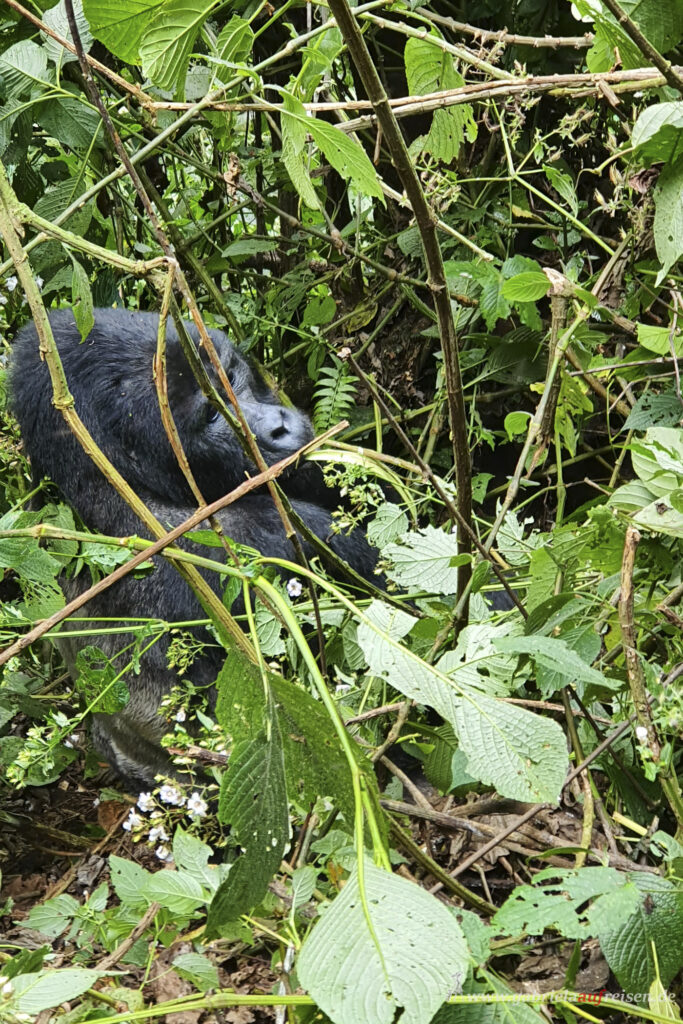 The silverback sits on the ground, not far from us, and gathers his breakfast. Suddenly, a curious teenager breaks through the tangle of leaves very close to a tourist. Immediately we are all instructed by the rangers to move further away. The silverback grumbles in a deep voice and seems to admonish the youngster not to get too close to us, because he stops abruptly, turns around and disappears.
A mother appears with her 7-month-old baby. It sits on the mother's arm and from there hangs on the nearest branches. The mother watches us closely so that we do not get too close to the baby, but we all behave very calmly, because the little one is just too cute!
Gorilla Family Life
That's how I imagined gorilla tracking! A few young males chase each other, yell at each other, seem to argue and disappear into the green jungle. Other family members show up briefly and quickly disappear to look for their breakfast.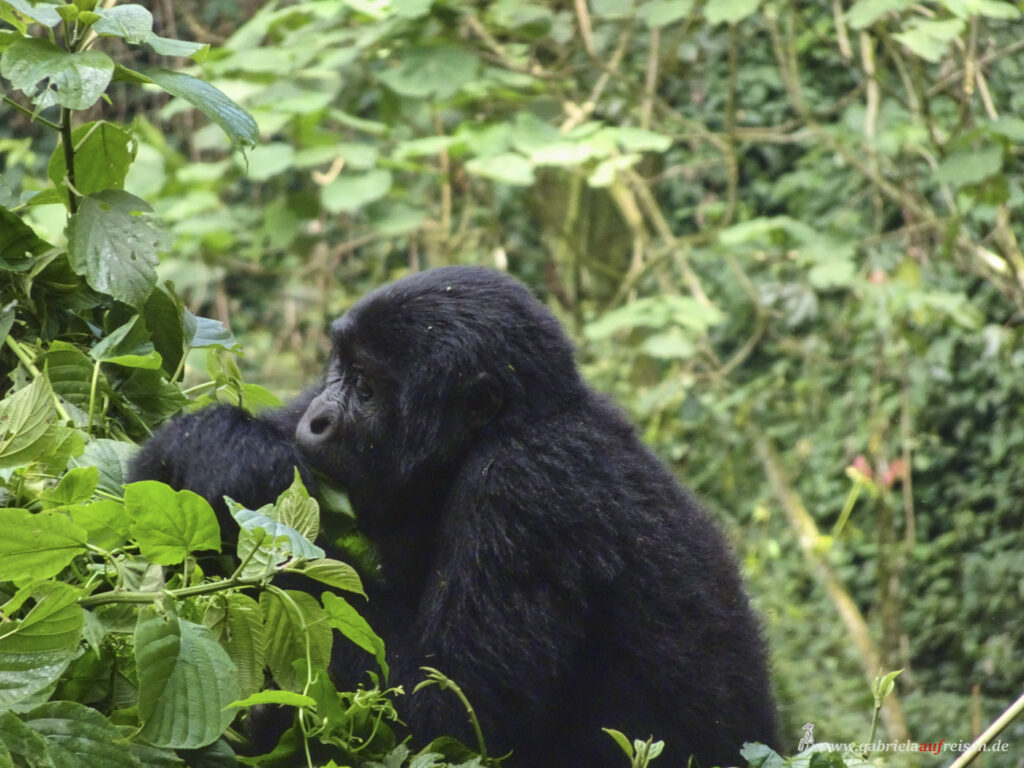 Then the silverback seems to have seen a better treat elsewhere and turns into the undergrowth. Again and again, some appear, usually it is the young people who observe us briefly and then move on quietly.
Mountain gorillas
What beautiful animals they are! It is tragic that only so few of them have survived due to poaching and loss of their habitat. Here in the Bwindi National Park and the Virunga National Park there are still some groups. In total, there are just about 1000 gorillas. The number is rising slightly, but the mountain gorillas are still endangered.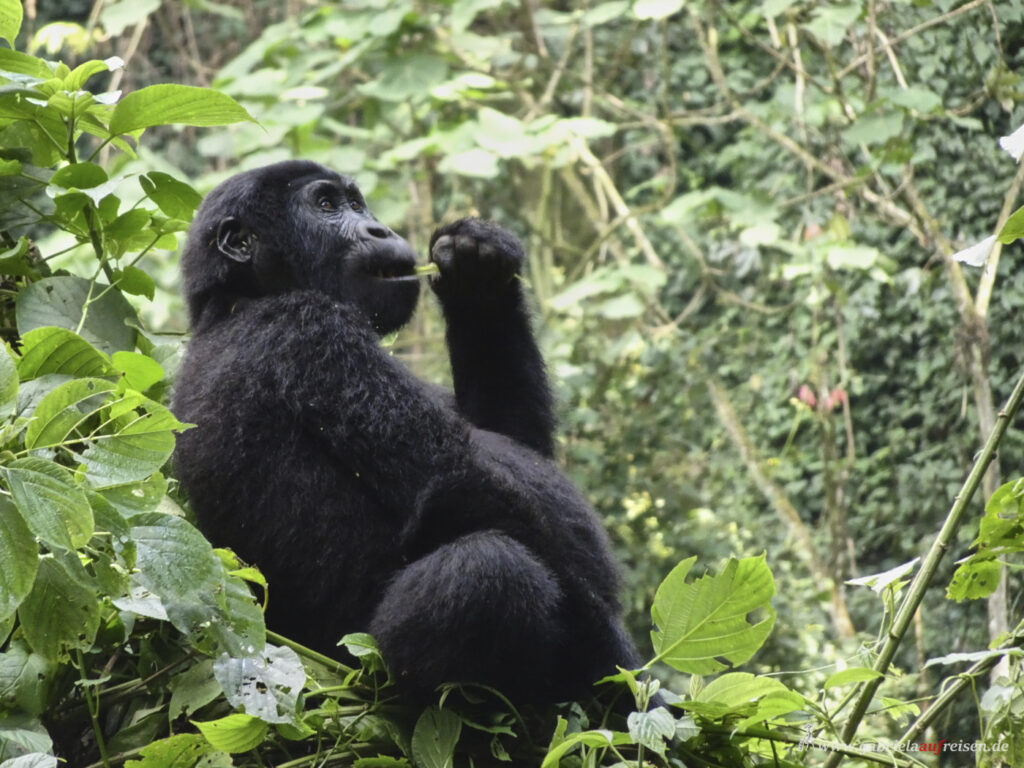 Descent
After an hour, the gorilla tracking unfortunately has an end! That's all the primates are allowed to be bothered by our presence. All participants give a tip to the rangers that stay here and then we go back.
Since the climb was very steep, our guides decide that we will take another longer but easier way back. At first it goes steeply uphill again, but soon we have reached the ridge and there is a break. The supplies brought along can be eaten here and above all we should drink enough. Then it goes downhill, at some point the jungle becomes a little lighter and there is an ancient path, which even the elephants apparently love, judging by the huge pile. Then it continues over hill and dale, swamp and over and through streams. Now I'm really happy that my hiking boots are ankle-high and waterproof. They are completely muddy, but at least I have dry feet.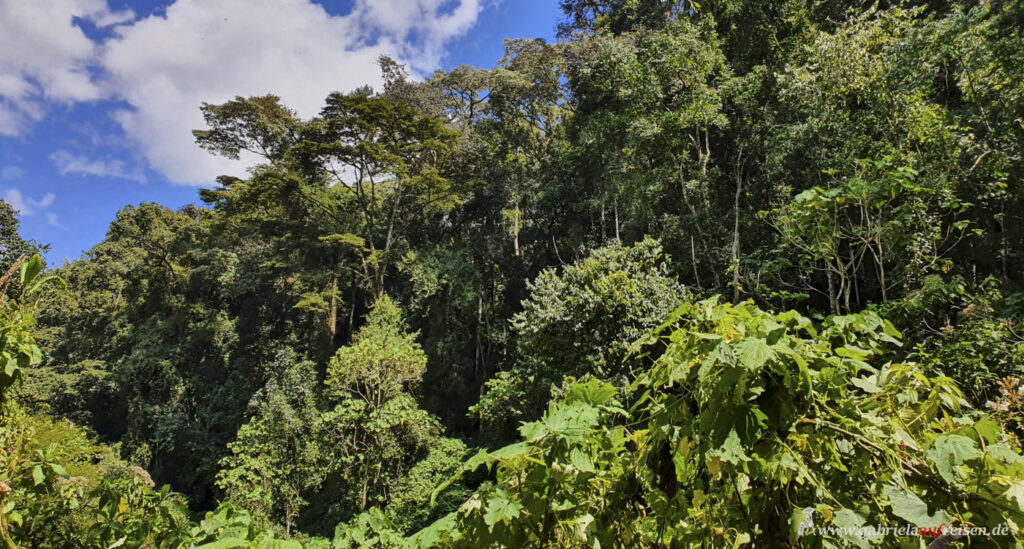 After 90 minutes we finally stand in front of the jeeps again and drive back to the ranger station. Here the carriers are remunerated. I am sure they are all happy to have finished this strenuous ascent and descent. I give my porter all my leftover sweets for her three children and also all our supplies that are left. Finding work is very difficult for everyone there at the moment, as only few tourists come to the country due to the pandemic.
Back at Gorilla Safari Lodge
We're all happy, but dirty and done! That was exhausting, no question. In the lodge all our things and also the shoes are taken from us for cleaning and we are "nurtured" in the hotel lobby with delicious snacks, coffee and tea. We enjoy the afternoon in peace and quiet on the terrace of the bungalow. We are still overwhelmed by the impressions and experiences of gorilla tracking.
Next morning, just in time for departure,our clothes and shoes hang clean in front of the bungalow door.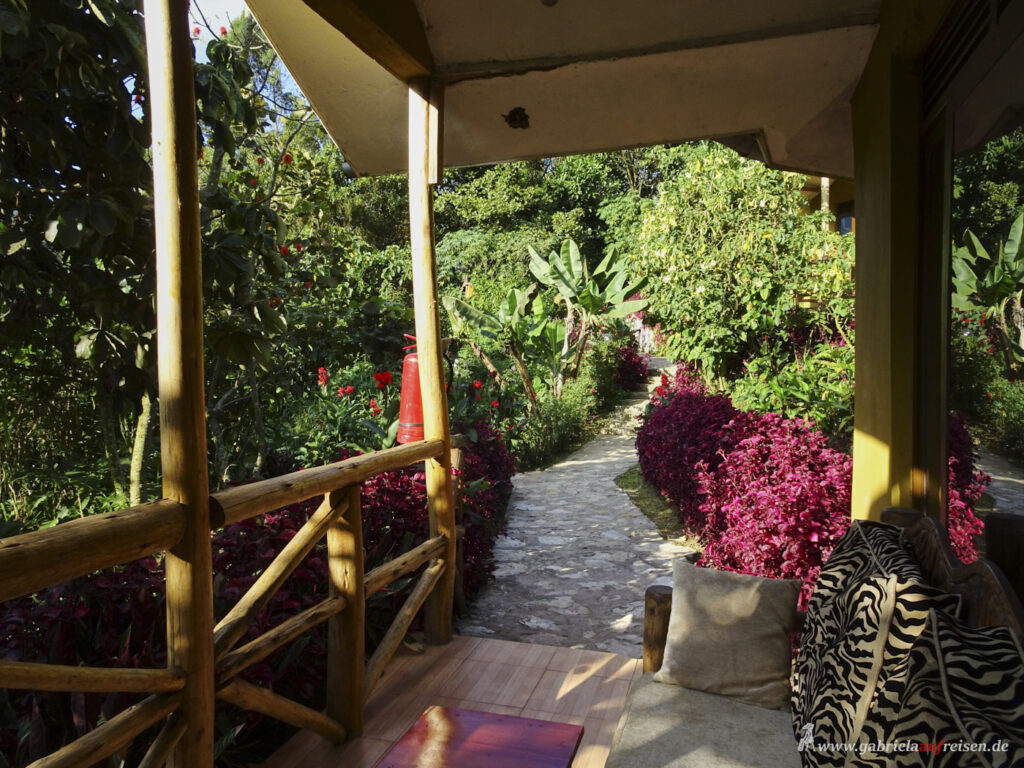 Off to the south
Tomorrow evening we go home, we don't like to think about it! Since we need a PCR test for the flight home, we drive to a clinic that is about 2 hours away. Here the smear is made and the results sent to us by e-mail shortly before the return flight tomorrow.
We now head south to our last overnight stay in Lake Mburo National Park.
The park is not large and is also partly used by the surrounding villages as pasture for their longhorns. Here in the park, we see the first zebras that do not exist in the other national parks we have visited.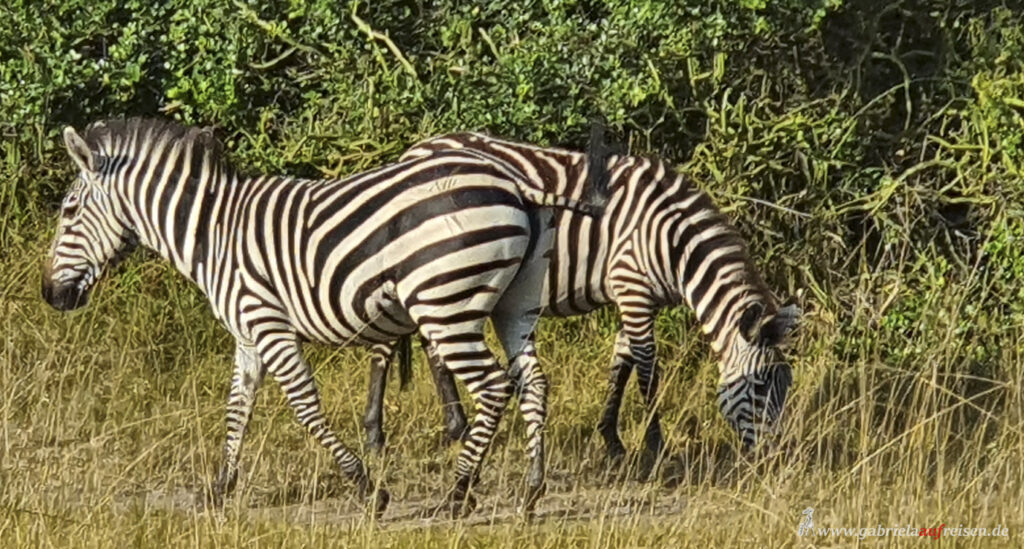 We see antelopes and giraffes, big cats unfortunately not, although they should hide here somewhere.
MihingoLodge
Already from a distance we can see our last accommodation, the Mihingo Lodge. It is perched high up on a hill. In the main building the open restaurant is situated, as well as the bar and a kind of observation tower. The infinity pool can be reached via smooth-cut rocks and is a real treat after the long and dusty ride!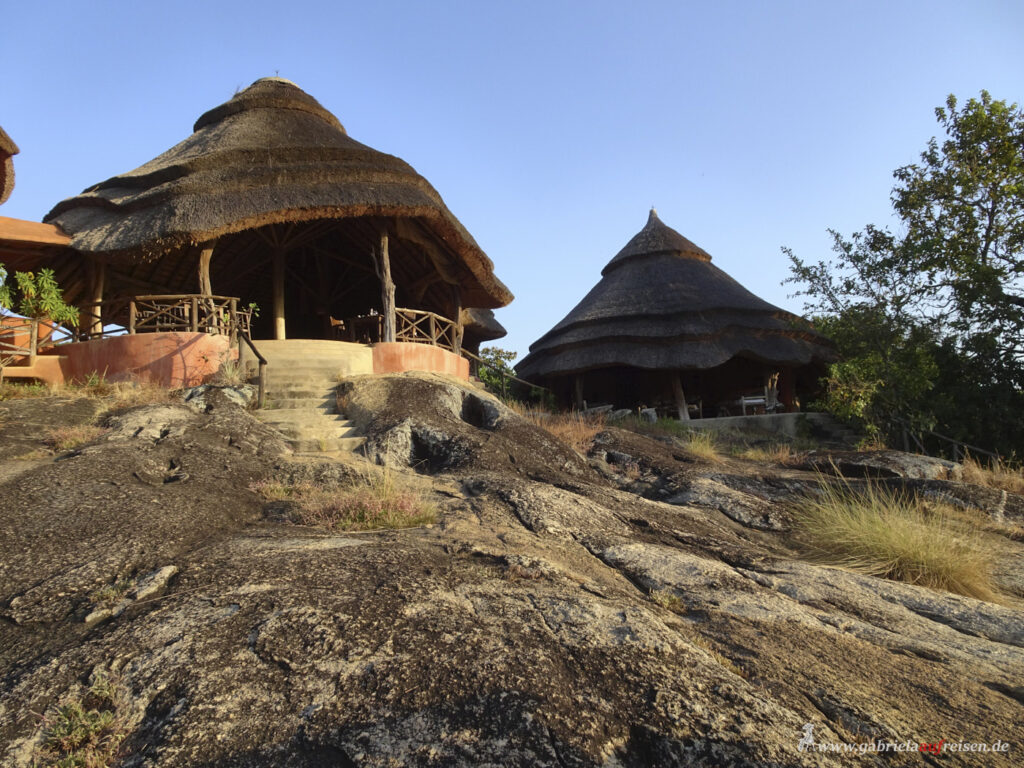 The accommodations are widely spaced glamping tents. With brick bathrooms and walls made of tent fabric. Ours is located on the edge of the mountain with an incredible overview over the park and as we get up very early the next morning, we get an early-bird breakfast, which is brought to our tent in a picnic basket around 6.30 am. So, we can watch an incredibly beautiful sunrise on our terrace with a cup of steaming tea or coffee and a delicious cookie. Around us, the baboons are waking up as well and the first birds start their singing. What a romantic half an hour!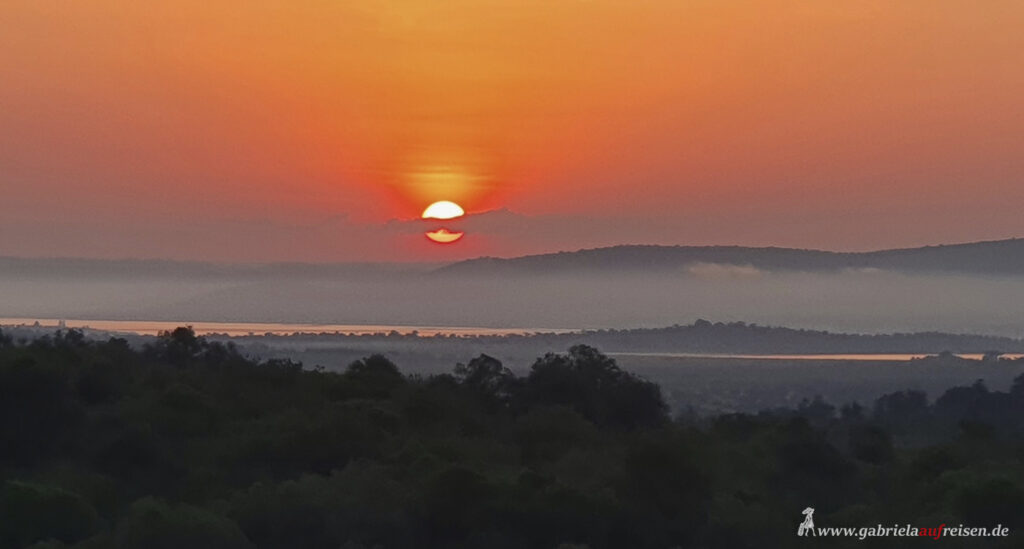 But first, we enjoy the sunset of our last evening with a sundowner on the terrace of the main house. Here we can observe the animals at the waterhole below at the foot of the mountain and enjoy the silence.
The last morning passes with a game drive with our guide Joseph. Alternatively, we could have taken a ride on the hotel's own horses or booked a spa treatment. We could also have explored the grounds on foot, there are many possibilities here and we are sad that we can only stay here for such a short time.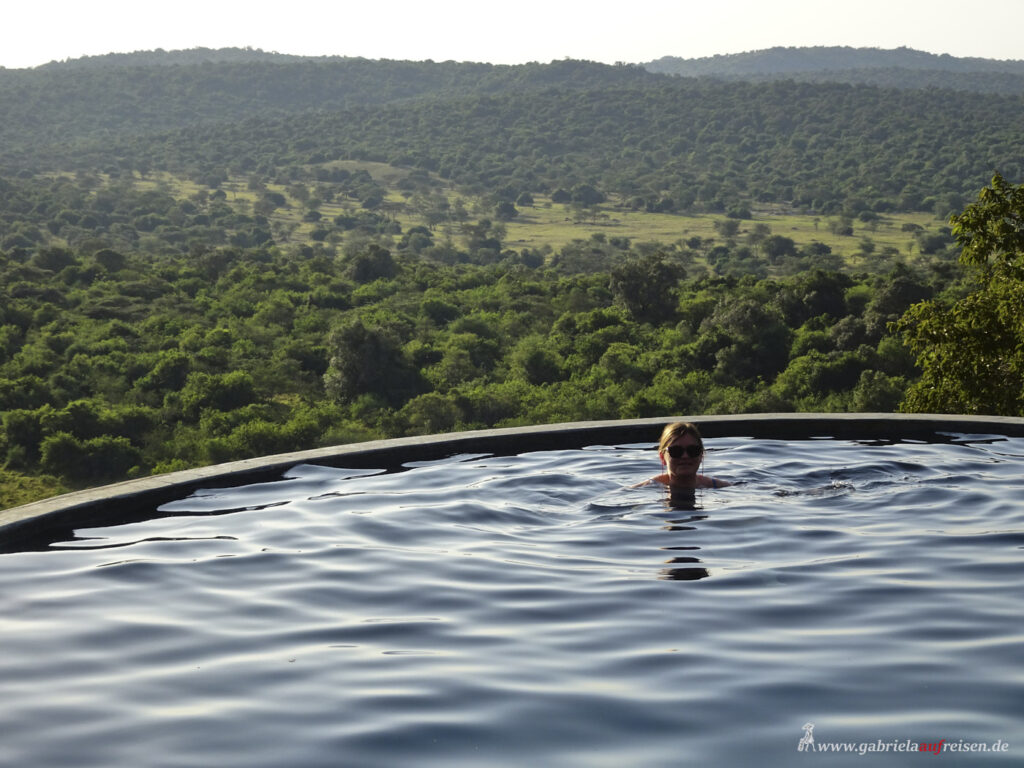 Farewell
Around noon we drive towards Entebbe, towards the airport. Here the landscape is flat and there are many villages. For the last time we "drive over" the equator, stop at a shop there, which sells goods, with the proceeds of which (AIDS) orphans are helped. We are happy to buy some souvenirs here. Beautiful pillowcases and pearl necklaces.
In the evening we reach the airport. There is no such thing as a long farewell, because you are not allowed to park here. Joseph unloads our things and we say goodbye to him. He drove us so many kilometers safely and always in a good mood through his home country. All our (stupid) questions patiently answered and our wishes fulfilled. Thank you Joseph!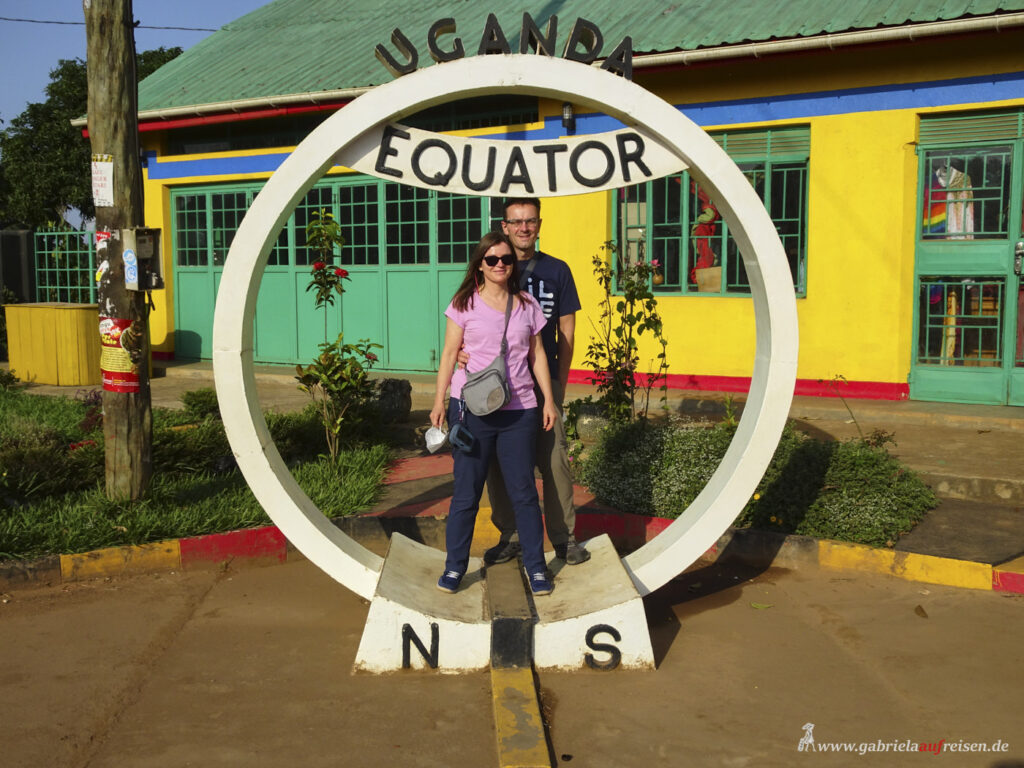 Our PCR test results still have to be printed, this is done successfully for us and many other tourists in a side hall for a proper obolus.
Then it's off to the KLM plane through many checkspoints.
Many thanks to KLM for winning the flights! Without them we would certainly not have been here now and would not have had this wonderful holiday with all its experiences!
Write me if you want to know more or if I can help you book your "Once in a Lifetime" Uganda holiday! I'm looking forward to it!
There is more and more news on my sites at Facebook, Instagram and Pinterest. Visit me there, subscribe to my channels, then you won't miss anything and please leave "likes" and comments there.
I'm looking forward to it!
You missed the beginning of my trip? No worries, this way please!
Follow me!