Namibia – wide and wild
Finally, my customers and I have arrived in Namibia. About one year ago, we planned the trip. Now we are here in Windhoek, early in the morning. in 2 days we´re going to visit the San Bushmen. all of us are very much looking forward to this visit! Zum deutschen Blogbeitrag.
This blog post contains unpaid advertisement. All I have written is my personal opinion. You´ll find affiliate links. If you buy a product through this link, you´ll not pay more, but I'll get a small commission, that helps to go on with my blog.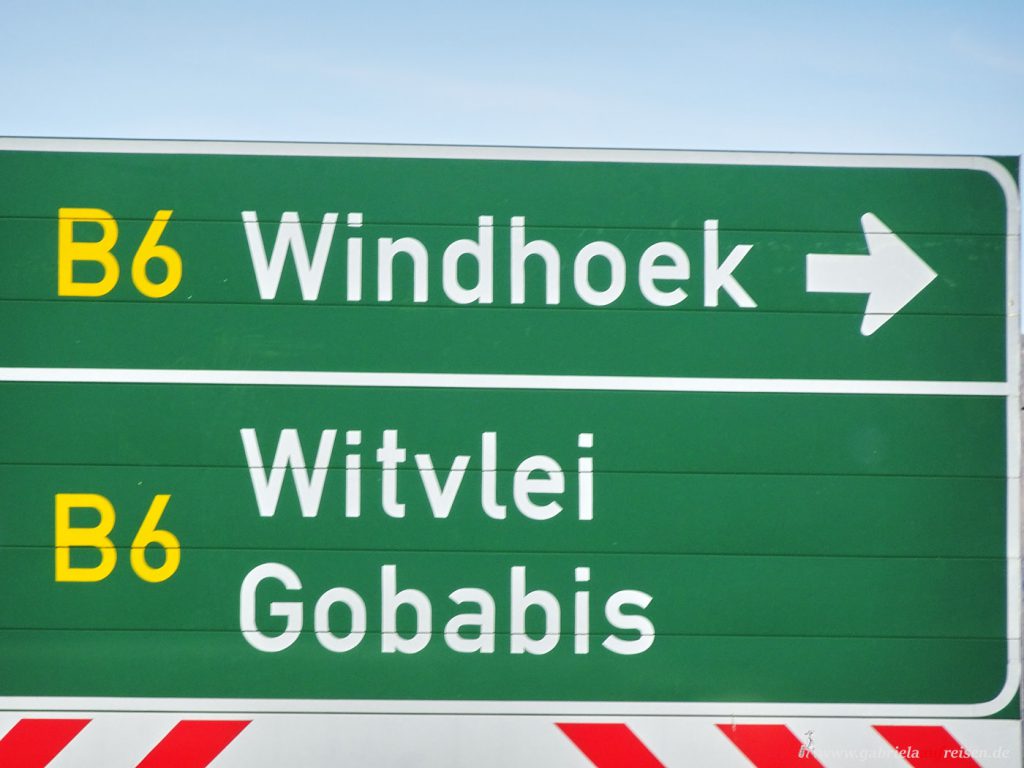 The text mentions links and names – unpaid advertising –
We are all a little tired, but at least we have no jet lag to fear, because here we have the same time as in Germany.
For all of us the question arises: will it really be "the journey of my life", as the slogan of the tour operator Chamäleon advertises his trips?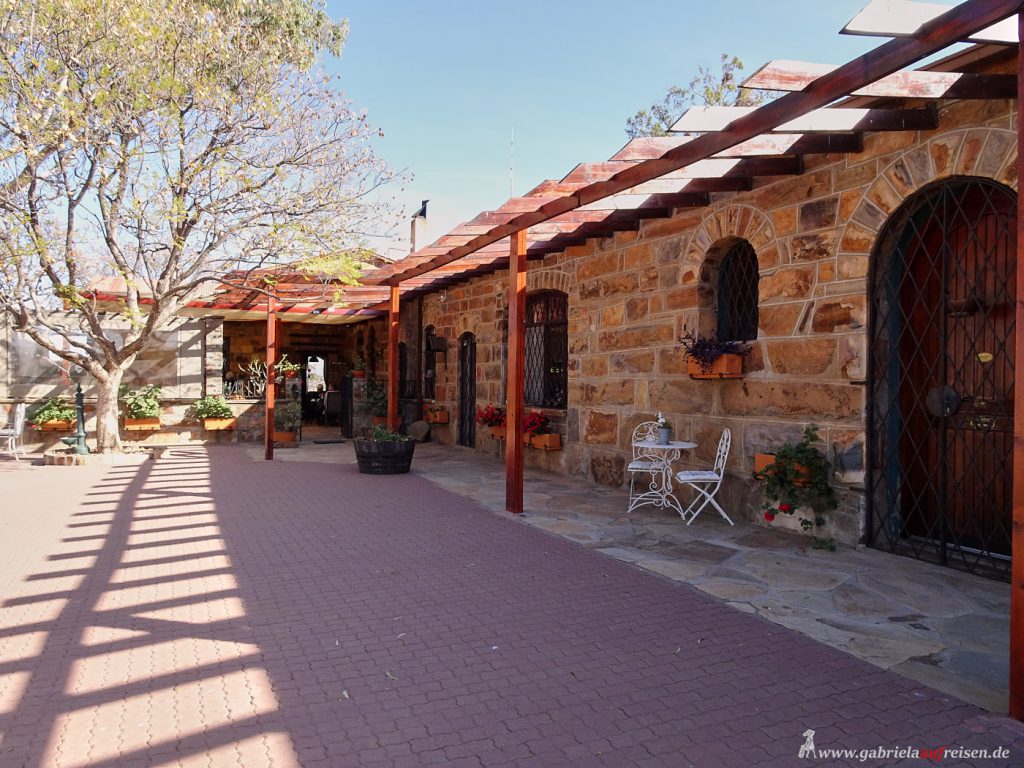 First, Jörn, our driver and guide, takes us to a "lekkeres" (afrikaans) breakfast at the Voigtland Farm (how nice,as my father was born in the German region of Vogtland). We can now slowly take off our jackets, it´s getting warmer. In September, spring comes very fast in Namibia. It´s still cool at night, but during the day, it can get quite warm.
Here we meet the first wild animals, which eye us from above, the farm owned giraffes. Five "predatory kittens" are also writhed in the sun. Do you think we'll see a few bigger ones?
Windhoek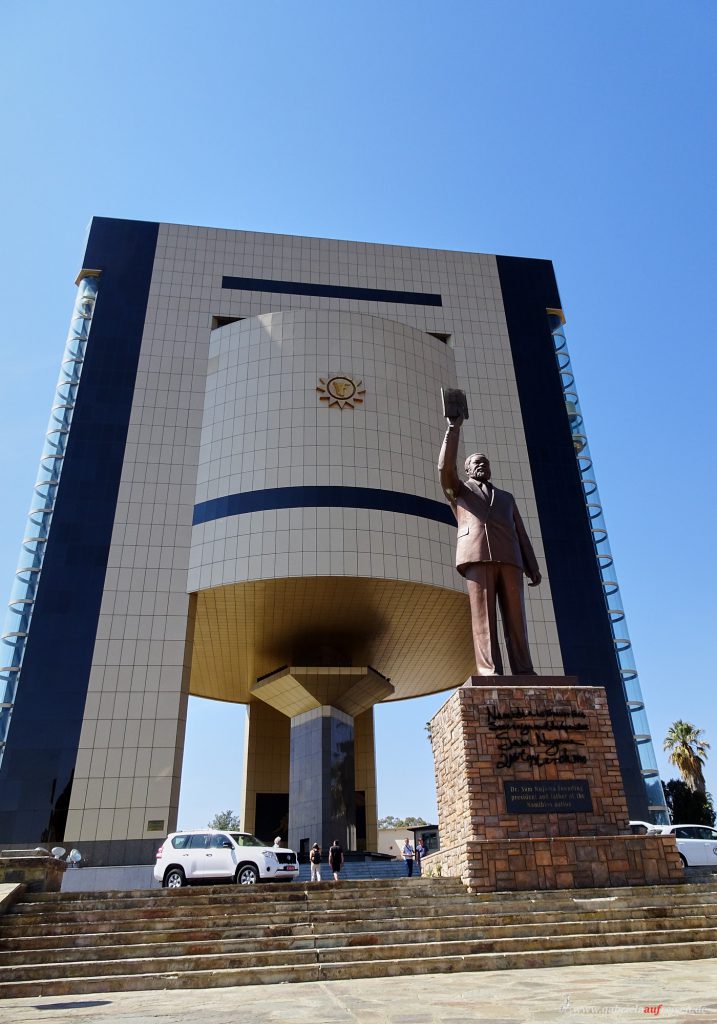 has grown and changed quite a bit since my last visit a few years ago. Of course, we look at the Christ Church and visit the Independence Memorial Museum next door (it is free of charge, they show some disturbing photos of the war), which was built by the North Koreans like the presidential palace. You can argue about the architectural style, but from the restaurant at the top we have a great view over the city. You can enter the balconies, for example, if you buy a water in the restaurant for about 20 N$. We're thirsty anyway…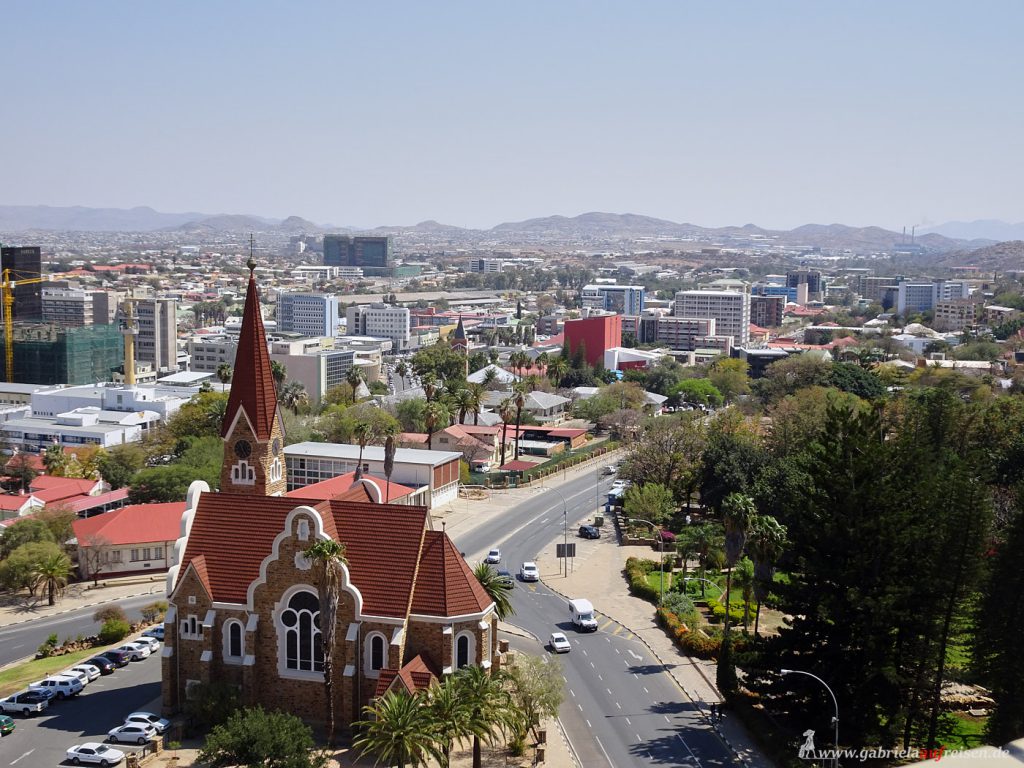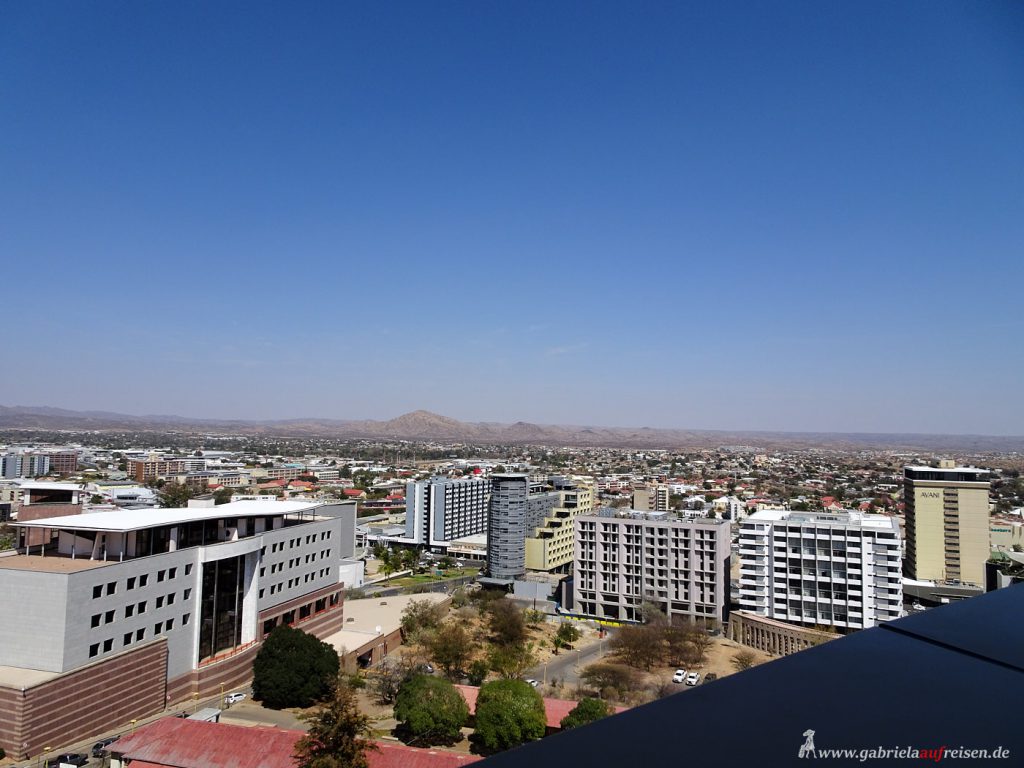 We have a short look at the old railway station with its exhibited locomotives, then drive to an outer part of Windhoek, to the women's initiative Penduka. Only women are employed here, who make handicrafts from fabric, recycled glass, etc. and run a small cafe. We are greeted with singing and dancing and are then allowed draw our own batik cloth. In the small shop I find effortlessly pretty pillowcases for our guest room.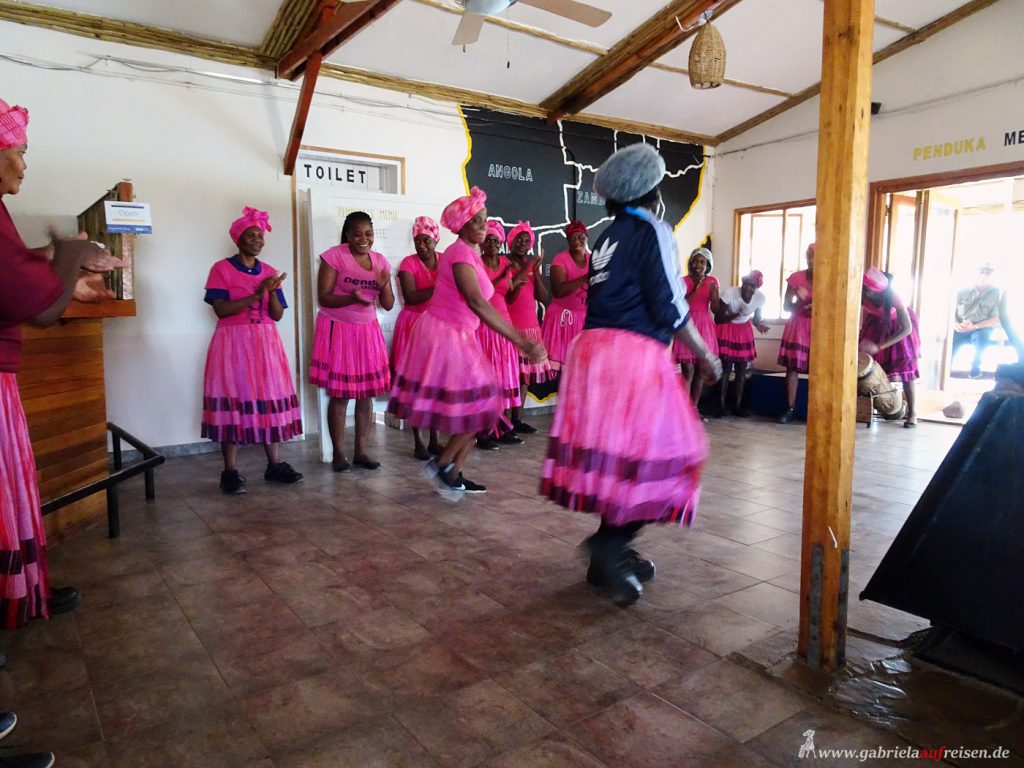 We are now quite done and are looking forward to our first accommodation, The Londiningi Guest House. Since the lady of the house is French, the dinner is French-inspired. Hmmm, that tastes "lekker"! If every meal will be as good as this, then we have definitely booked a culinary highlight trip.
Some of us have brought good used clothes and coloring books for children, as the owners support a local primary school.
Jörn lets us sleep a little longer on our first morning than we will be allowed on the next few days. We have a long way to drive to the next lodge. But first, we´ll fill all our new bottles the water tank in the trunk, in order to use as few plastic bottles as possible.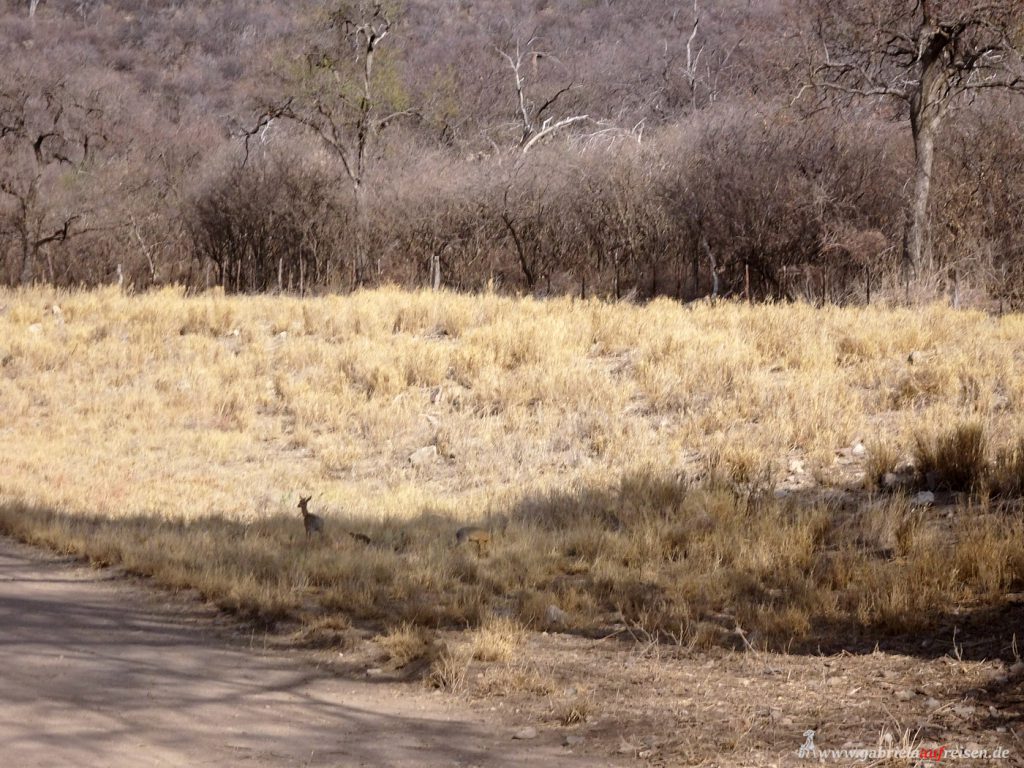 On the way we see the first animals. Impalas are often standing in front of or behind the fences. Almost the entire area is fenced, as private land in Namibia has to be fenced. Farmers who only keep cattle have lower fences than the farms that breed game, as some antelope species can jump very high.
Shortly before sunset we reach the
Otavi-Triangle
The cities of Otavi, Grootfontein and Tsumeb form a geographical triangle, which is mainly known for its corn cultivation. Here, the soil is so productive that a little agriculture can be practised. Nevertheless, most foods are imported through South Africa.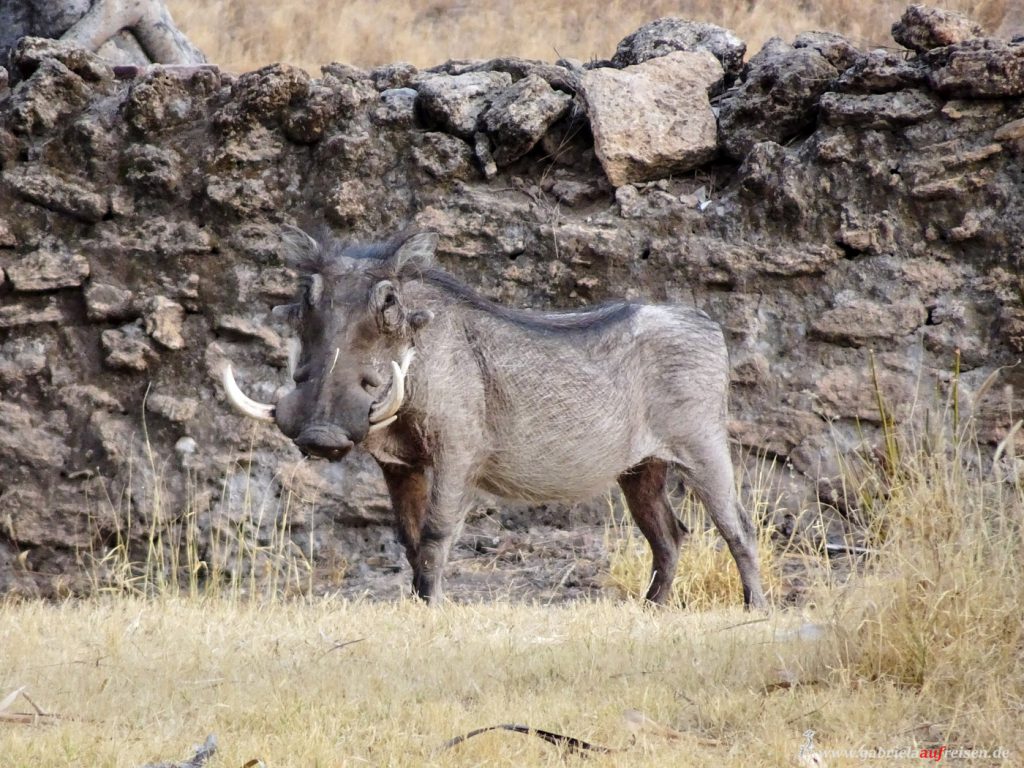 Two nights we will spend at the guest farm Ghaub. On the large plot directly at the farm there are some warthogs, which dig the dry ground with their snouts and heaps. From a vantage point we can observe wildebeest and oryx. Even a hyena can be seen just before dawn.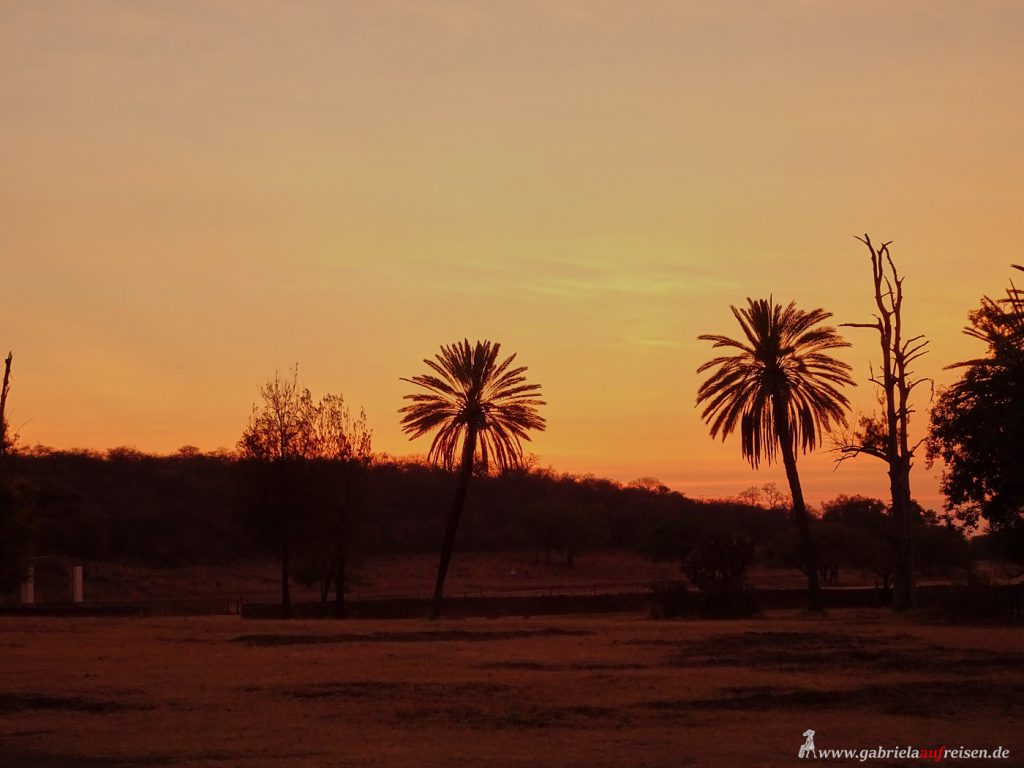 As always, dinner and breakfast are extensive and good. Early we set off for the approximately 2-hour drive over dusty gravelslopes. Towards the bushmen,
The San Bushmen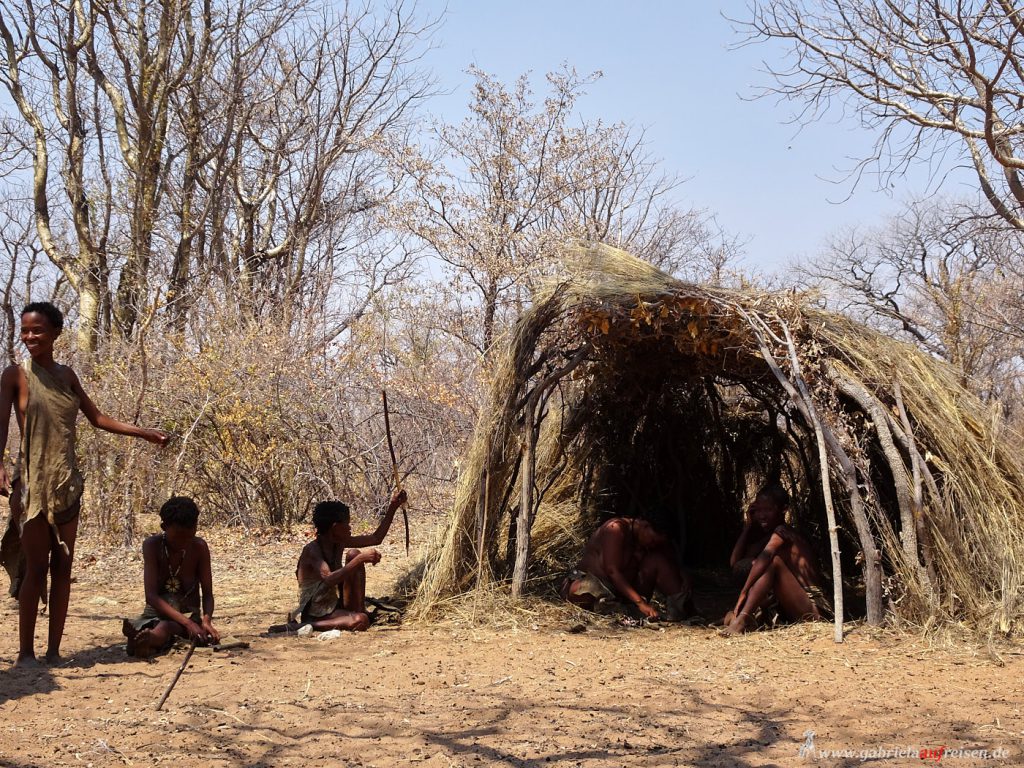 In the Living Museum of the Ju/´Hoansi San Bushmen in the Kalahari Desert they like to show us, and with a lot of laughter on both sides, how life as a nomadic people works. One of the men explains in the language of the San how a fire is lit. This language seems very strange to us with its click sounds, but melodic.
The San man repeatedly underlines his remarks with out-of-the-way gestures, a lot of laughter and obviously a lot of fun. An actor has been lost on him. Its grimaces and pantomimes are simply sensational and open up to us for the most part. He accompanies us on a tour through the barren and parched area and explains to us many bushes and trees with gesturing and with many grimaces. Nearly any plant, bush or tree can be used as a cure to a disease.
He is supported by a young San Bushmen woman who translates all explanations into English. By the way, her infant will be breastfed. They let us know, which San-man will make bow and arrows with which man of our group. In the meantime, we women are approached by the San women in sign language and with a lot of laughter, because we want to produce a bracelet out of seeds together.
Whenever something succeeds, it is acknowledged with a loud " katsha" (I don't know if it's spelled correctly) and a lot of laughter on bothsides. That means as much as, well done. It is interesting that there is no word for ownership or property in their language. As nomads, they own only what they can carry in their hands and everyone does what they do best for the community. Separated, of course, by gender and the associated tasks.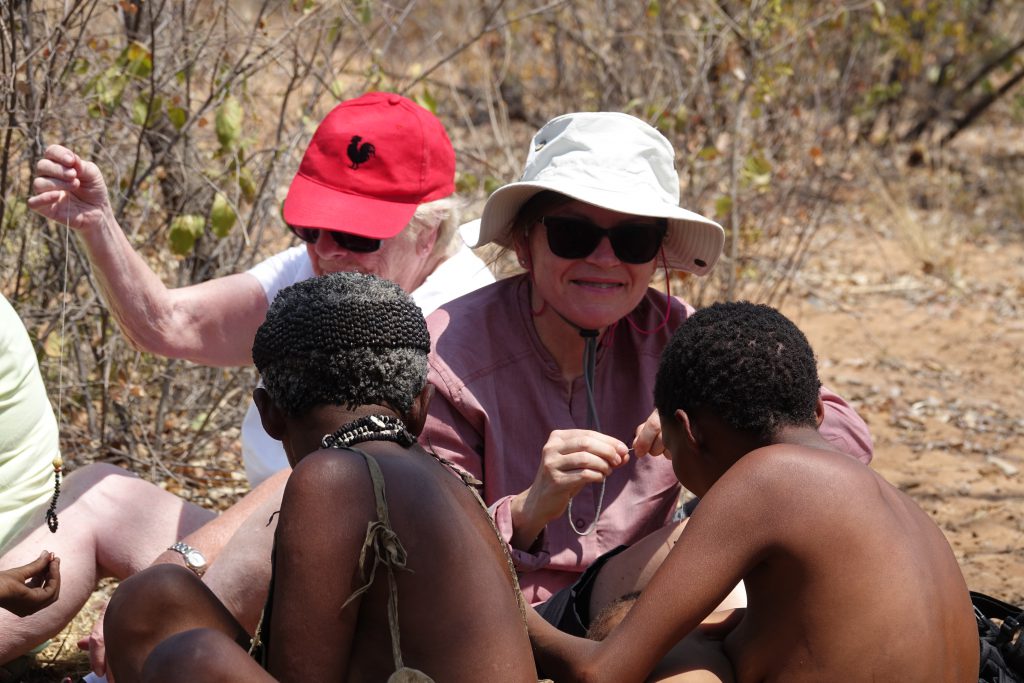 Handcraft
The bracelets are soon made and among our cheering calls our men try out their hunting skills with bow and arrow. I'm afraid we'd all have to go to bed hungry for many days…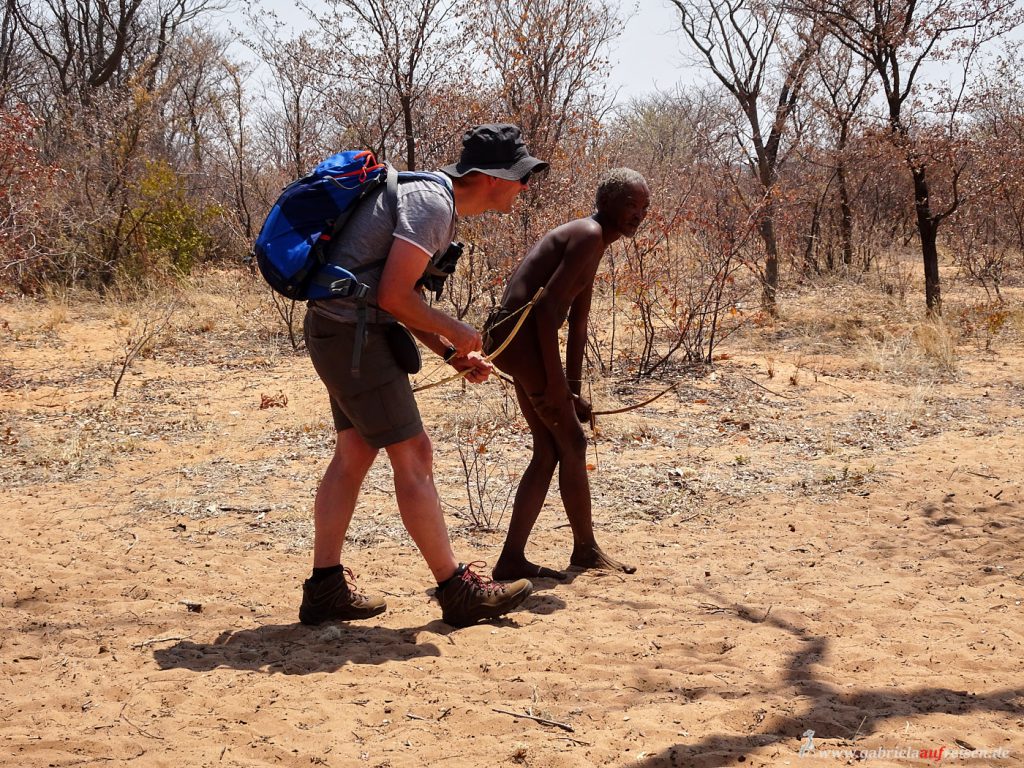 We are fare welled with singing and dancing. I'm glad we can drive, not because I didn't enjoy staying there, but because my circulation plays a prank on me. Maybe I didn't drink enough?
Back on Ghaub, I just want to lie down, even the food doesn't excite me. The next morning, I also see why, I have an allergic reaction, I got a red rash. That is very untypical for me. What does that tell me? From now on, my travel pharmacy will contain also an antihistamine. How good that one of my fellow passengers is better equipped. Within a very short time I am well again.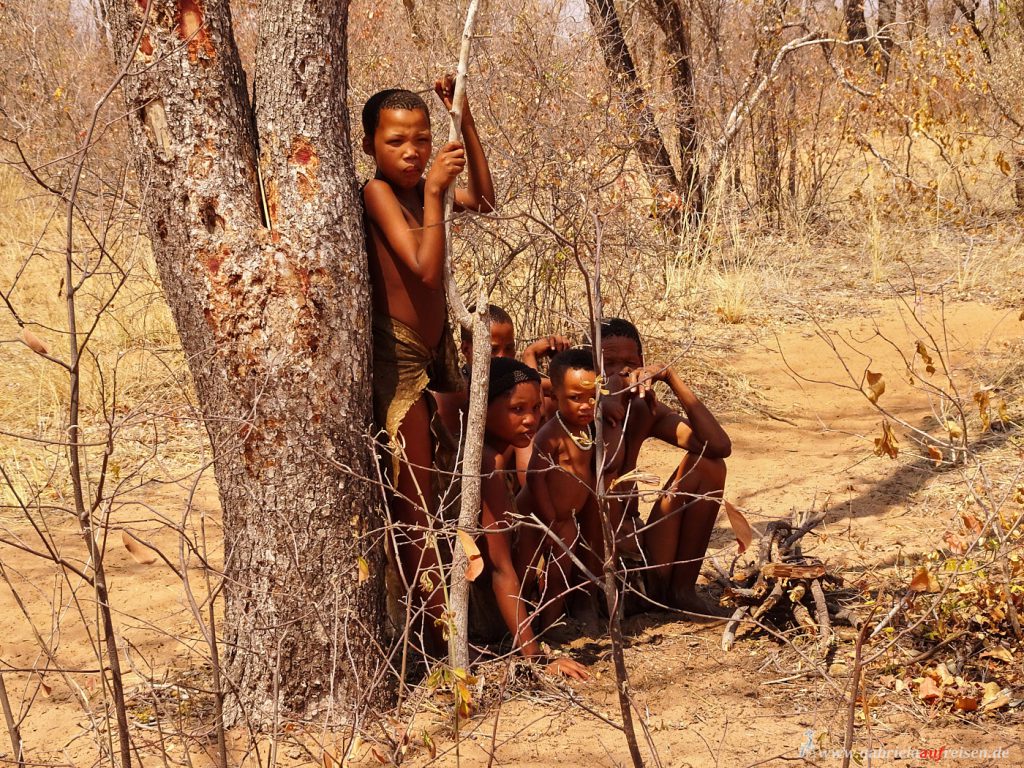 Then the ride can start. To the Etosha National Park. I'll tell you about this in the next blog post.
You don´t want to miss it? Then sign up for my newsletter or leave me a "like" on Facebook, Instagram, TripAdvisor or Pinterest. Thank you and see you soon!