Volterra and San Gimignano, days 4 and 5
With clients I'm traveling in Tuscany. Our tour operator is Gebeco. (Zum deutschen Blog.)
As every morning, our local guide, Antonio, meets us at 8:30 am at the Hotel Croce di Malta in Montecatini Terme . It is great to stay in only one hotel and not have to change every day to another one.
Today we have a full program, but by bus. In Italy, bus operators have to pay a kind of entrance fee when they drive into a city. Here it is reasonably priced at € 13, -. But this will change quickly.
Our way leads through a magnificent landscape with lots of agriculture, and small picturesque villages. The streets are partly very narrow. Bruno, our present bus driver, doesn´t seem to care about that too much.
In Volterra
we have our first stop.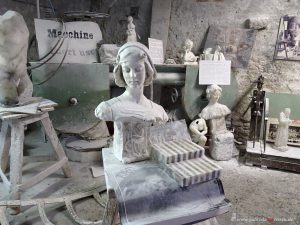 This small town on the mountain is a former Etruscan city. Long before Roman times the in this area located Alabaster was made into magnificent statues. Here, many Etruscan graves and really beautiful alabaster urnes have been found, many of these are exhibited in the Museo Etrusco Guarnacci. Even today, the alabaster is processed here to smaller or larger things, which are wonderful for you as a practical or decorative souvenir. I could not resist to buy a cute ring ….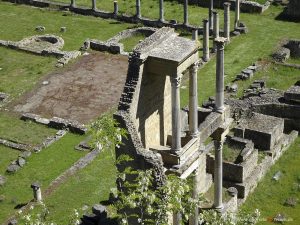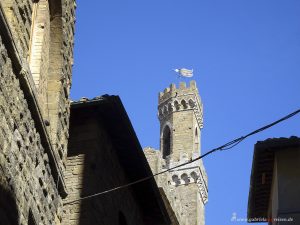 But not only Etruscans liked the location of the place. The Romans also have been here which can be well seen from a street that runs above the remains of an amphitheater and a thermal spa and a fantastic view over this area of Tuscany is also possible. The small town is not overly crowded by tourists, although it is really worth the visit, as you can see in the pictures.

It's almost noon, so we think about lunch.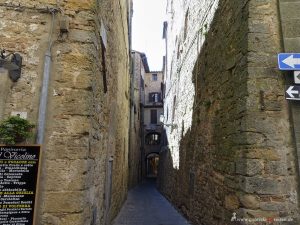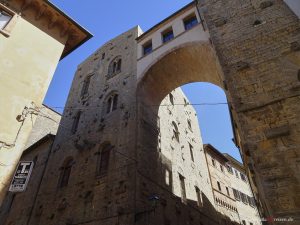 Not far from Volterra the
Fattoria Lischeto
is located.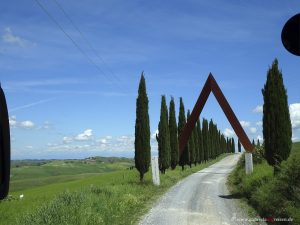 Here they produce sheep's cheese that we would like to taste. In addition there is a nice red wine and country bread. Gorgeous! Moreover, the sun is shining and a flock of sheep passes by the foot of the hill. This is almost a bit kitschy, but I enjoy it!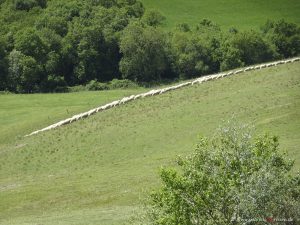 Unfortunately the quiet lunch with the summery scent of hay is finished only too fast. One last photo up to Volterra, which lies on the other side, on the next hill.
Then we go on to
San Gimignano
We drive over and around deep green hills, some of which are populated with more or less large villages. Mostly with a large church and a rather belligerent bell tower, which also served as a lookout. Is the enemy coming? It´s only too good that this war time is over.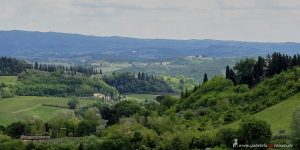 We have arrived. Of course, this medieval town is situated on a hill. The bus driver has to pay the obligatory fee to let us out in the vicinity of the city gate. Then he has to take the bus to a large parking lot.
We start the climb to one of the city gates. It is steep up a road, but we are rewarded with a fantastic view over the wide landscape of Tuscany. Cypresses, fields, small villages and farms characterize the landscape. That´s how I imagined Tuscany here. Just beautiful!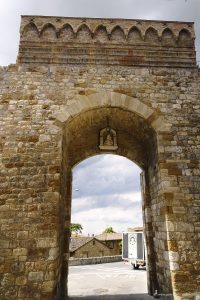 San Gimingnano is called the city of towers. Still 13 of the earlier 74 gender towers of the small village are preserved. The others were put down, as in Florence, Siena and the other places because of the danger of collapse.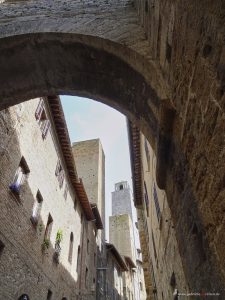 From a distance, the place looks a little like "Little Manhattan". Who has mastered the partly steep climb to Piazza della Cisterna with the pretty well, is surrounded by many different-looking residential buildings. Also here, as in the street which leads from the large city gate to this square, many small shops are located in the basements. Not only tourist traps, but also nice things to browse.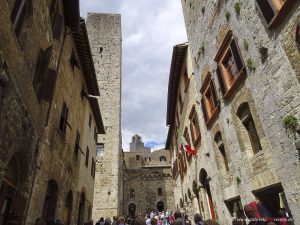 Particularly well known in the Piazza della Cisterna is the ice cream parlour Gelateria Dondoli which has already won many awards. The long queue in front shows the popularity level. I invite my customers to an ice cream, of course, we want to check if the ice is really that good. It is very tasty, but I must say, with the countless ice cream shops in every place I visit, I haven't got any icecream, which didn´t taste really good! There's nothing like a fresh, creamy Italian ice cream, right?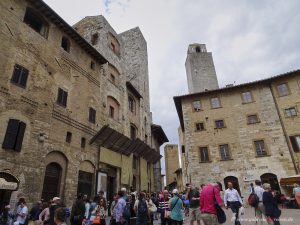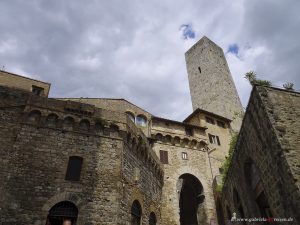 We walk a little further through the village, just behind Piazza della Cisterna there is another very interesting place, the Cathedral square. From there we go down again and the further we go, the more empty it becomes. More and more nice little shops I can see, only too good that we haven´t got any more time …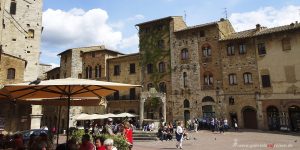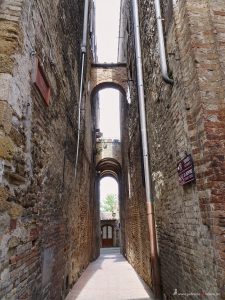 The drive back to the hotel leads along another way, so that we can enjoy the rich green landscape.
In my next blog about my Tuscany trip, I will tell you a little about Siena and the Chianti area. Until then, you can find some beautiful photos on Instagram and Pinterest. A "like me" or a comment is very much appreciated!