Silence in the stone labyrinth
(Hier geht es zum deutschen Beitrag.)
We leave our really nice JinJiang hotel in Kunming early in the morning. It's a two hours' drive to the stone forest. Half of Kunming´s inhabitants seem to be on the highway at this weekend, it is the Chinese dragon boat festival. So we have to be patient in the traffic jam… (Here you´ll find a short video while we´re waiting in the traffic jam…)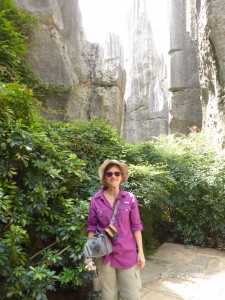 When we finally arrive at the entrance to the stone forest, we all need a "harmony rest", which is really memorable. The Asian or Western style toilets are mostly clean, got a hat rack, an ashtray and a flat screen! The only one thing which is always missing is the toilet paper, but we are well equipped.
Right behind the park entrance a beautifully maintained garden awaits us. Oversized golf carts bring us to the actual entrance to the stone labyrinth.
In the Parc
The park belongs to the area of the ethnic minority of the Yi. Many of them used to live inside the park territory, but since it is a UNESCO World Heritage Site they were relocated outside the park.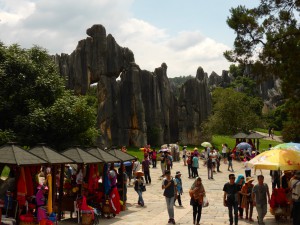 It is a public holiday today so lots of people are here with their local guides. Most of them wear a headset and a loudspeaker. You can´t imagine how loud it is! I thought it would be nice and quiet here. And all the little pop up shops in between the picturesque lime stone formations that were formed to needles, peaks and blocs by wind and weather during the past 20 Million years.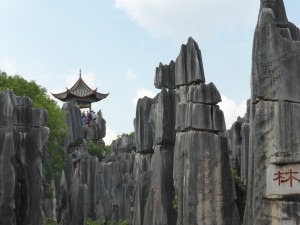 Our guide Mr. Li sees that we are not too happy in-between this noise and melee. So he shows us to a much quieter part of the park. Not too many tourist walk this way and we are able to hear the birds sing. The walkway meanders through the big rocks. Sometimes it is built over water that is nearly 3 meters deep. I am wandering where all this water comes from. The answer of Mr. Li is: it´s a spring. When the sun is out, the peaks and needles reflect beautifully in the otherwise dark and quiet water.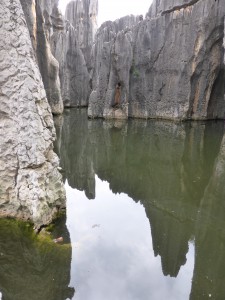 We climb up one of the needles to a sightseeing pavilion, built above the peaks. That gives us a gorgeous overview.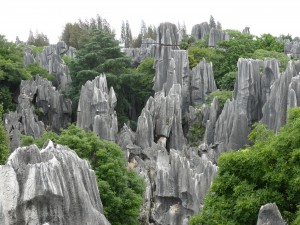 With another electric cart we drive around the whole area. Everybody points to different rocks and tries to see different things in them. Things like an elephant, a dog or a grumpy fellow. There are no limits to phantasy.
We change the carts and get back to our bus. The whole park measures 15 qkm, the whole area with these rock formations 1200 qkm. It used to be an ancient ocean. Long, long ago…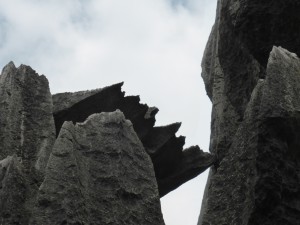 During our drive on the highway to Jianshui we see many more of these natural phenomenas.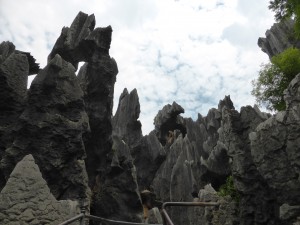 Do you want to see more pictures, news and information? Go this way to my facebook acoount!