Our round trip through Alaska and the Yukon is soon coming to an end; but some highlights are still to come.(Zum deutschen Blog.)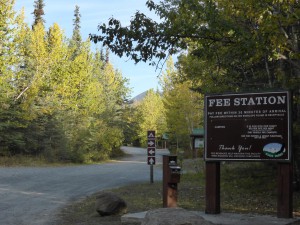 We have a fantastic blue sky when we start from Tok very early in the morning and it is freezing just a bit. We will drive about 300 Miles (nearly 500 km) today and we would like to hike a bit, if the waether allows, on the Matanuska Glacier.
We grab a steaming and hot cup of coffee and a scone and leave Tok behind us. After a couple of miles we stop at a hidden camp ground in the woods where we enjoy our breakfast. We are here alone, the quietness of the woods only interrupted by the slight noise of the wind in the trees and a sudden croacking of a raven. Some squirrels keep us company, but they won´t get our crumbs.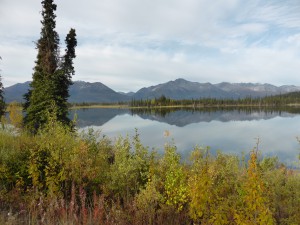 We continue through the ever- flattening mountains, through coniferous forests and colorful deciduous forests . We stop at a view point, one of the innumerable lakes in front of us. What is it that we see standing in the lake? A moose! It feeds on the juicy water plants. It is a willing and awesome photo model.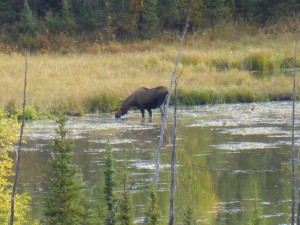 There is not much traffic on the Glenn Highway, we can go on easily and fast. After a couple of hours we see the other end of the Wrangell – St. Elias National Park on our left. At the Yukon we looked at it from the other side, so this is the American side. Basically we went 2 days around the area.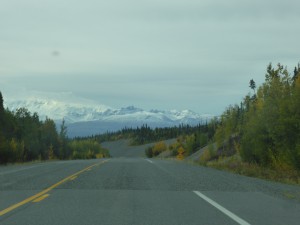 A huge mountain, the Mt. Wrangell comes into sight. We take a left turn and stop at a ranger station. Maybe it is still open?! A very friendly and helpful ranger not just offers us a coffee but she also tells us a lot about the here living people and animals. During winter time life can be really hard and cold here…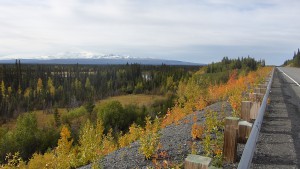 On we go and the weather gets worse and worse. We stop only for a very short time at the "dry" place Glennallen, they don´t sell alcohol here, but there is a big shop just some miles outside the village. We only want to stock up our water supplies!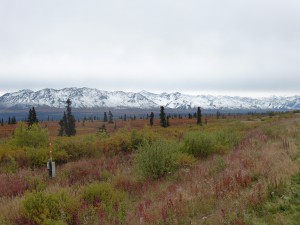 From here it is not too far to the highest peak of the Glenn Highway, the Eureka Summit (1013meters). Here on the meager ground many quad drivers drive around. I am sorry for the environment.
We just notice that it is already quite late, as our stomachs start to growl. So the "Sheep Mountain Lodge" comes in handy. We have a tasty soup with a huge bread roll, which is more like half a bread.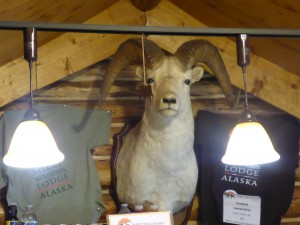 It rains but that doesn´t keep us away from visiting the Matanuska Glacier. We can see it already from the road, but we want to go right there.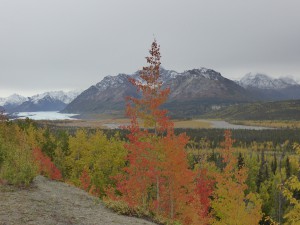 We have to pay an entrance fee and have to sign a paper, exempting the owner of the ground from any liability. We have to drive on over a rough track for some minutes until we reach the parking lot. But for me the glacier doesn´t look as big as it was described from here.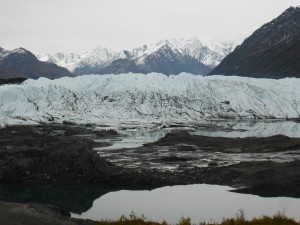 But the appearance is deceiving; that´s what I notice after a 15 minutes hike over muddy and slippery ice, wooden planks and water puddles. The glacier is huge! It is really a pity that it melts so fast, it is too warm here as well.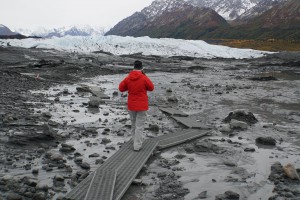 A group of tourist, equipped with helmets, walking sticks and spikes under their shoes gets escorted to the glaciers edge. We are only warmly dressed and wear our trekking shoes, but we follow them courageously as we climb higher and higher, over and through crevasses and sharp edges. If I would have known that before…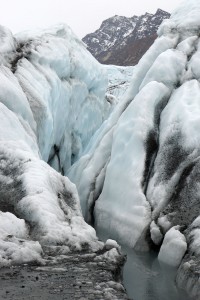 We are not the only ones that climb along the glacier without any proper equipment. Suddenly I can´t believe my eyes! A wedding couple in full wedding dresses is taking photos here. Awesome, such wedding photos are rare!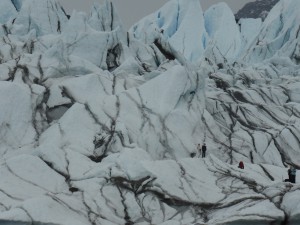 After about two hours hiking and a painful slip-up on the slippery ground, we move on to our today´s  final destination.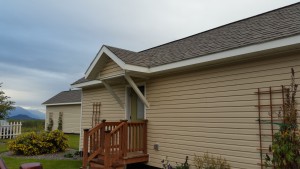 We have to drive some more serpentines to get to the "Alaska Garden B & B" in Wasilla  and it is raining so hard that we can´t see the surrounding mountains.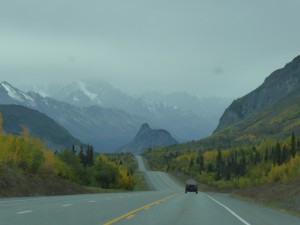 We are very happy to arrive there safely and are able to move into our cozy cottage. What a pity that we are staying here for only one night. This is a real apartment, we could cook here as well.  This is a real insider´s tip, as this B & B resembles more a tiny village as a typical B & B.
Tomorrow we are driving to our last highlight on this trip, the Kenai Peninsula.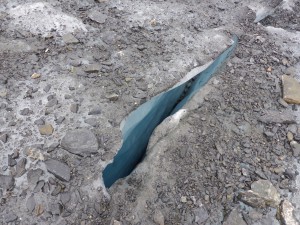 Would you like some more information? Just give a comment underneath this blog or "like" my facebook site or my instagram account. See you there!