(Zur deutschen Version.) At the end of August we go on a 15 days round trip through Alaska and Yukon Territory by car. Today you`ll read about our first two days.
This post contains unpaid advertisement and affiliate links.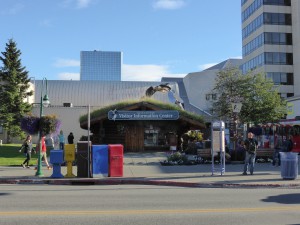 At last: holidays! In northern Germany it is really warm and that´s quite rare and we travel to the supposed to be cold Alaska. We´ll see what´s going to happen.
I have decided to travel with Icelandair via Reykjavik. It´s a good decision, the airport is relatively small and it´s easy to change flights and it increases the chance that our luggage will make it with us. We take along a lot of warm cloths, so we are lucky that this airline has a baggage allowance of 2 pieces per person. Our trip starts at around 2 pm and we´ll be in Anchorage at 4 pm. No wonder with 9 hours of time difference. And we are very happy that the sun is shining and we have 18°C when we arrive.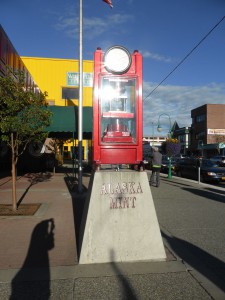 We are quite tired but it´s way too early to go to bed so we decide on a little walk through Anchorage. Our hotel, the Ramada is situated very conveniently downtown, so our walk will be an easy one. In the "Slippery Salmon" we have a real nice dinner and a really good tasting Alaskan beer gives us the right amount of sleepiness.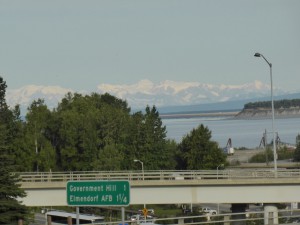 Even the rail track and the ear-piercing whistles of the Alaska Railroad do not  disturb our sleep that night.
After a good night's sleep we go and get our rental car. The sky is unbelievable blue, the air is cool, clean and wonderfully pure. In the far distance we see the snow covered mountains.
The real trip might start now!
We drive north. On the right side of the highway the mountains get higher. Every now and then we´ll get a glimpse on Mt. McKinley (or now Mt. Denali), the highest mountain in the US (20.310 ft.). What a majestic sight! Nearly unclouded it rises into the sky. Then we drive over a hillside and for the first time we can see it completely in the distance! I get off the car and relish this sight!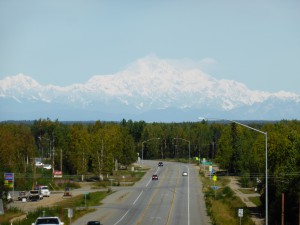 It is so warm that a t-shirt is enough to wear. That´s how Alaska can be as well: warm, sunny and magnificently deserted!
We drive on. Now and then we come through a little village, but mostly our way goes through forests and along uncountable more or less big lakes.
At early afternoon we turn right to Talkeetna. This detour is worthwhile, as long as the day is as bright as today. Shortly before the village there is a terrific lookout over the snow covered mountains. A splendid sight  we got! A lot of little waterplanes fly above us, offering the tourists sightseeing flights.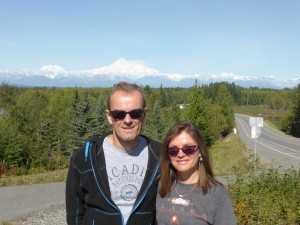 We drive back 14 miles to highway 3, the Parks Highway and we head on north. The mountains of the Alaska Range get nearer and the sight gets more gorgeous  every minute. There comes a sign for a special photo stop and we use the opportunity. Not only we admire the sight, but lots of other people as well. Shortly after us a bus of one of the cruise ship companies stops as well and we are only too happy that we´ve already got our shots of the giant mountains.
North it goes again! Sporadically we see some homesteads, but only very few. There again a sign to stop for a good view. We take it  and now we can see the mountain range from behind. The sun sparkles on the snow, I can´t believe how high they are! But the sight cheats, they are many miles away.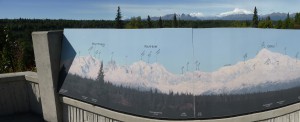 We have still a lot of miles to go to the Grizzly Bear Lodge, but we enjoy every single minute of it, the view is so fantastic!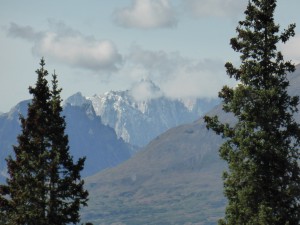 At around 5pm we arrive at the lodge that is going to be our home for two nights. From our little patio we look directly on the roaring Nenana River. At the other riverbank we see the rail track of the Alaska Railroad again. These tracks go on to Fairbanks. And there it is: the loud whistle!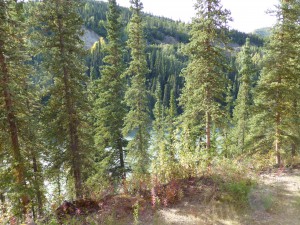 For dinner we head on to the little village of Denali, that houses only a couple of tourist shops and some hotels. In the "Black Bear Coffee House" we grab a snack and a coffee.
We are happy that we took along some food stuff that we bought in Anchorage as the selection is very limited here and very expensive.
We are looking forward to the next day. We´ll have an 8 hours bus trip through the Denali National Park. Cars are not allowed to go in very deep, only the park owned shuttle busses are allowed or the special tour busses.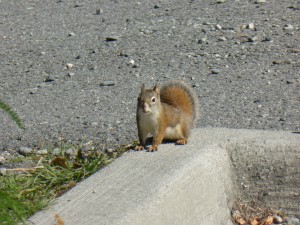 A good advice is to book these tours long in advance as they are most often fully booked, if it is not made by a tour operator for you.
So read in my next blog what´s going to happen during our tour.
See you there 😉
If you like to get more updates subscribe for my newsletter or like my site on Pinterest , Facebook or Instagram, where you´ll get all news and a lot more pics firsthand!,