Day two of my city trip
won this great city trip from the Hong Kong Tourism Board after I did an e-learning and now I am here. (Zum deutschen Blog.) Well rested, I start the second day of my four-day stay here in this megacity Hong Kong. Today it will be a visit to Lantau Island.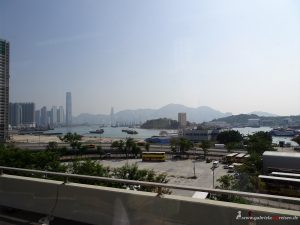 Until lunch in the hotel
Breakfast at The Royal Pacific Hotel and Towers is extensive and there is a wide choice for every taste. I love the pancake machine! I press a button; a blob of dough falls on a conveyor belt and out comes a ready baked pancake. In addition, I can watch through the window, that´s great!
Before the sightseeing program continues, we all meet for presentation in one of the creepy cold-cooled meeting rooms. The air conditioners are everywhere here set to "full blow." Anyone who stays in public spaces in Hong Kong should always have a thin jacket with them. Unless you like a room temperature of below 20 ° C and a steady stream of air from above that goes directly to your neck and lets your hair blow….
There are many hands to shake and many business cards to be exchanged. I quickly learn that the handover should be done with both hands.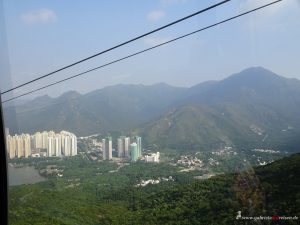 Lantau Island
When the business lunch is over, the bus will take us all back to Lantau, the big island that also houses Hong Kong's new airport.
Thirty years ago, I landed at the old airport, where pilots had to fly right through the skyscrapers to land in Hong Kong, almost in the middle of the city. That would be unthinkable with the today´s air traffic and the infinitely more skyscrapers.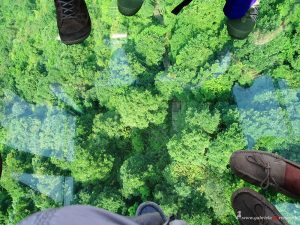 On Lantau Island the second largest sitting bronze Buddha of the world is situated on a mountain. Then stood just the inner skeleton, today he and the underlying monastery is a "must" for all tourists and of course the pilgrims. We take a leisurely ride on the cable car that takes us from the base station of the Ngong Ping 360 to the foot of the Buddha in about 30 minutes. As a special gag we get gondolas with glass bottoms. That does not suit everyone, I think it's great!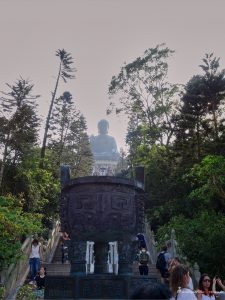 So we float over a bay and over different hills. Below of can always be seen the hiking trail with athletic people hiking on it. It takes about 2.5 to 3 hours to walk to the Buddha.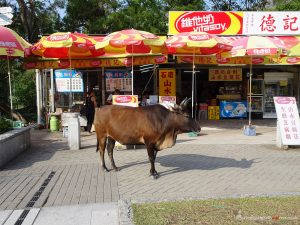 Once there, it teems with tourists. Selfie sticks almost kill me, run down by people running backwards, and the tour guides with their loudspeakers make a deafening noise. There is really nothing to be found here about quiet tranquility of a monastery. In between, well-groomed cows walk around, keeping the little lawn short that grow here.
I walk through the shopping street and resist the heavy urge to get a Starbucks coffee, which of course has got a shop here as well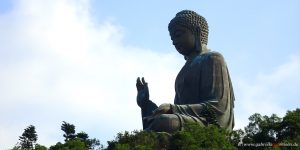 At the Tian Tan Buddha
Then I stand at the foot of the great Buddha, 268 steps separate me from him, so I start climbing the stairs. The sun is shining in my face and I start to sweat. 268 steps are more than the average that I otherwise climb per day. I walk around him and actually I think the statues sitting in front of him are much more beautiful.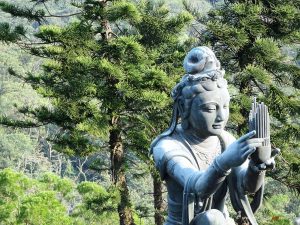 Below, of course, I have a look at the monastery, much less tourists get here, and it is wonderfully quiet, so that I can listen to the songs of the birds and the monks.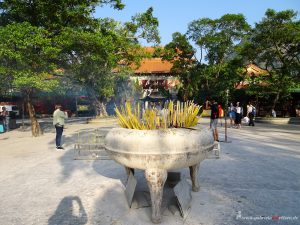 Tai O
Then we continue by bus on Lantau Island to Tai O, the oldest fishing village. It consists of many old houses built on stilts into the water. The setting sun conjures up a soft light on the buildings, so even the run down and partially unkempt wooden houses look somehow romantic.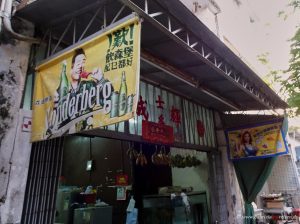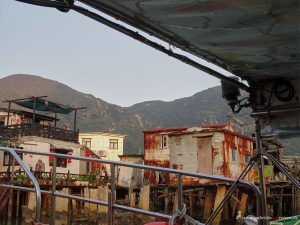 Then a small boat, a sampan, picks us up and takes us out in the sea into the setting sun. In the distance we see big tankers and container ships, even Macao  can be seen.
Unfortunately, we do not see the pink dolphins that live here, but many black kites that circle over a hill.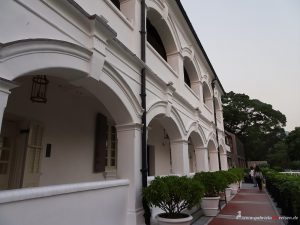 The former police station from 1902 on the headland now houses the Tai O Heritage Hotel. Here, pirates used to be hunted, and they were then imprisoned here. One cell is still preserved. Good that I'm not a Chinese rascal who had to live his life here …
We have a real good dinner here, before the sampan brings us back to Tai O.
We do not drive back yet. Around breakneck curves that meander over the mountains of Lantau, we are brought to the supposedly most beautiful and long beach here, the Cheung Sha, where we should admire the stars. But it is too brightly lit, and the beach is in the dark. So we have little of both.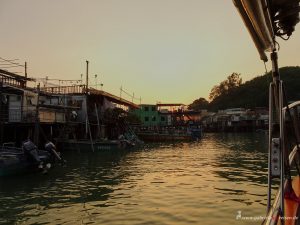 Finally, the bus brings us back over the bridge from Lantau to Kowloon on the mainland. Not very tired I walk with some fellow travelers to the night market in Temple Street. I thought I would find some nice presents for my family here, but all I see is mostly plastic junk and fake label T-Shirts. What a disappointment! Some of my fellows went to the Ladies Market as the tell me the next morning and it seemed to be the same stuff there…
If you want to know more about Hong Kong, stay tuned! Here you´ll find the first part. As always you can find more pictures on Instagram, Pinterest or on Facebook. I look forward to your comments  and of course to your "Like"!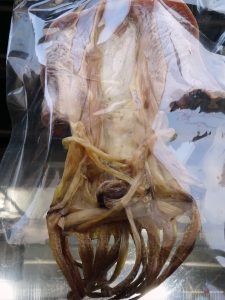 Tipp: Here you go to my first blog post about Hong Kong and here you`ll get apps for your stay in Hong Kong.