The first morning in Chengdu, China
(Zur deutschen Version geht es hier entlang)
After a ten hours flight with Air China from Frankfurt we arrive at 6 am sleepy and with a jetlag in Chengdu, the capital of the province of Sichuan. You might know it from the spicy food (Sechuan style) you get in your favourite Chinese restaurant.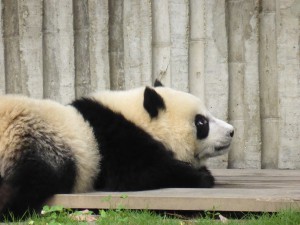 Compared to other Chinese cities, Chengdu is relatively small, it has only 4 Million inhabitants. It´s situated on a plateau, about 500 meters above sea level. They never have frost, but subtropical heat, right now more than 20 degrees Celsius.
We can´t go to the hotel, it´s way too early, so we drive to the biggest Panda research stations in China. Ye Min our tour guide, whom we already know from our first trip to China, two years ago, is with us. So is Ms. Ling, our local guide, who is compulsory in this region.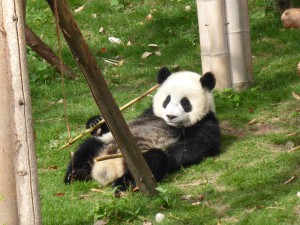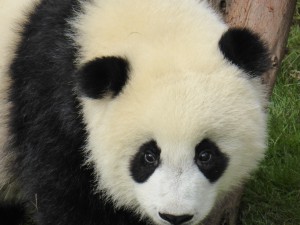 She tells us many facts about Pandas. There are only about 1600 left over and most of them are living in this province. They do not find enough natural habitat and they don´t have enough offsprings, because they are downright loners. That´s why they help them here to reproduce in vitro.
Normally Pandas live in higher regions. It is too hot here and then they fall asleep. But we are very early and we might be lucky to find them awake, feeding and playing. As cubs, they like good company, but as soon as they are adults, they turn to loners.
No other bus or car is on the parking lot when we arrive shortly before 8 am. Are they already open for the public? Ms. Ling already told us about the beautiful park, but what we see outside looks slightly shabby. Let´s see what happens.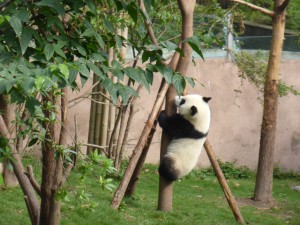 Astonishingly the ticket booth is already open and after some group photos we head to the entrance. Here the sight changes totally. We get greeted by immaculate maintained flower beds with colorful flowers and shady trees.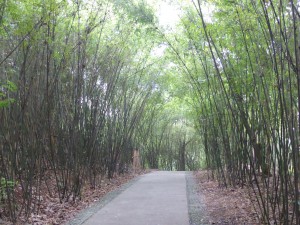 Mostly it´s all kinds of bamboo as the Pandas only feed on bamboo. They must eat lots of it, because this plant is not very nourishing. Some of the alleys are like tunnels, bamboo is planted like a tunnel.
We pass some science buildings and soon we are in the first wing, where young Pandas are feeding on bamboo.
Nearly nobody else is in the park, so we have the best places for watching these cute animals. The separating glass is steamed up by the humidity, which is not helpful for taking good photos…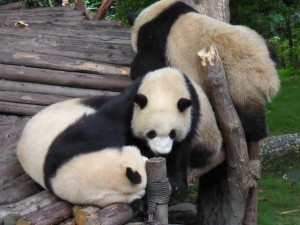 But this is not all. Soon we stay in front of an outdoor compound, where some teenage Pandas tussle with each other. Who´s saying that Pandas are lazy? These ones are really fast.
We go further on, approximately 2 hours are required for a full tour through the park, including several stops to watch the bears.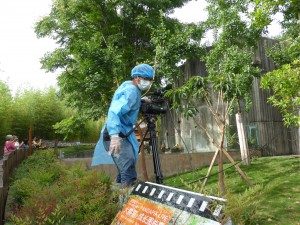 Soon we stop in front of a compound with 5 one year old Panda cubs. Two masked take a film of the cubs, actually they have their own youtube channel. I´m, filming them as well, see my youtube channel here!
On both sides of this compound there are some more with Pandas of all ages. Some climb up the trees, some are eating or taking a nap, as the heat is increasing. They are really cute and people can´t take enough photos.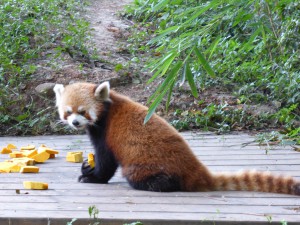 We got to go, but we are not finished here. The Red Pandas are waiting for us. They are a lot smaller and they also feed on fruits, not only on bamboo. For me, they look a bit like a raccoon, only the color is totally different.
They not only stay in there compounds, but run on the alleys as well. They are not shy at all!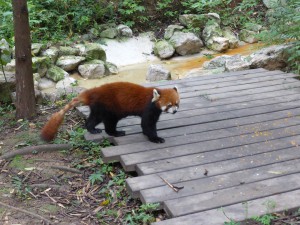 Finally we have to go. First we head to one of the few souvenir huts and get some nice presents for our loved ones who had to stay at home.
Meanwhile the park is full of people and many more are to come. The heat and humidity are increasing and we are happy that we had lots of space to watch the lovely Panda bears.
With so many people it would have been only half the fun and we really forgot all about our jetlag.
Panda cubs are not the common cure for jetlag or tiredness, but they help immediately!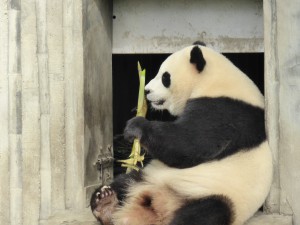 In a good mood and not tired any more we head towards our hotel Mercure Chengdu North and we are really grateful that we went first into the park to visit these cute animals.
Find more news, photos and travel advices on facebook my site!