Gods, graves and gourmet food
With my second group of clients I am back in Cyprus. Although it is the same roundtrip as before with my first group two weeks ago, I discover, hear and see new things every day. This beautiful island in the Mediterranean Sea offers something for everybody.
This blog post contains unpaid advertisement and affiliate links.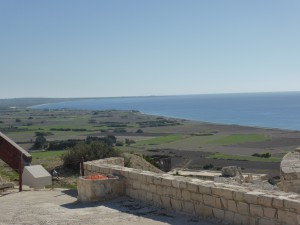 Again and again we literally trip over the millennia old culture of this country. The first findings of settlements are from the New Stone Age. Romans, Greeks, Ottomans and many more fought about the island; many foreign rulers run this country in the past.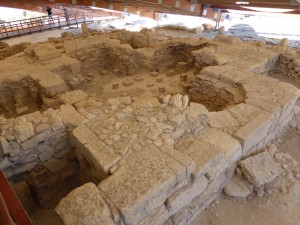 Most fascinated I am about the excavation in Kourion that is situated not too far away from our hotel "Atlantic Miramare Beach" in Limassol. The Archaens foundet the site high above the sea; it´s period of prosperity was under the rule of the Ptolemy's and the Romans. Unfortunately , not too much can be seen nowadays, even the excavation areas is quite big and I can imagine how it might have looked in former times. When the archeology first started, many artifacts were brought out of the country.
In the Villa of Eustolios I admire the beautiful mosaics, among other things an early Christian fish, but also the god Apollon is mentioned. Maybe the owner thought, if one god doesn´t help another one will do so. Or just: make assurance double sure! Who knows…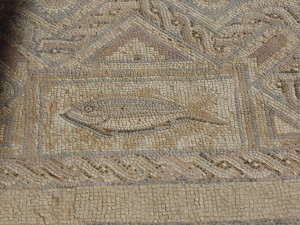 The amphitheater next to the villa could house up to 3500 spectators in the past, but it was rebuilt during the centuries to match the needs of the inhabitants. Even today during the summer season, people can watch performances here, due to the incredible good acoustic; but now only about half of the crowd fit into the theater.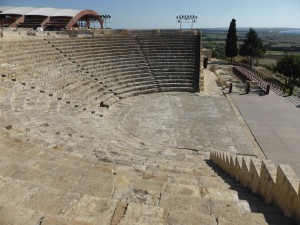 It is nice to do such a trip in November. It is warm, but not hot, only few tourists are here and I can take lots of pictures with nobody creeping secretly into my photo.
To many gods and goddesses people worshiped during the centuries. For a long time they prayed to the beautiful goddess Aphrodite. I dedicated a blog to her alone. Today most people of the Greek part of Cyprus are members of the Greek-Orthodox Church.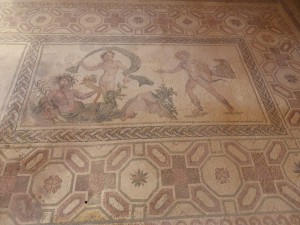 In the Archeological Park in Paphos I admire the lovely well preserved mosaics in the "House of Dionysos". Again and again the god of the wine can be seen in the mosaics; that´s why the villa was named after him.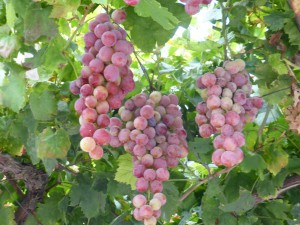 From the god of wine it is no big jump to another "G", the gourmet food and wine. Food and wine, especially the wine that grows here on the island, are an important component of the Cyprian culture. The Commandaria, a wine that is grown only here and the name is protected, is a class of its own. It is very sweet; I would drink it as a dessert wine. Again and again we drive through areas where farmers plant their vine on terraces along the mountain sides.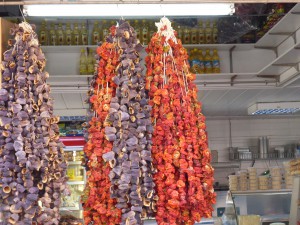 A special treat is the stop at Mrs. Skeyi in Agios Georgios Sylikou (only with a reservation). She welcomes us in her patio that is covered with vine. I nearly feel like being in the land of plenty. I could open my mouth to indulge in ripe grapes that hang down upon my head, but no, grapes, walnuts, pomegranates and a special kind of pistachio that look like black peppercorn, are already positioned on the big table.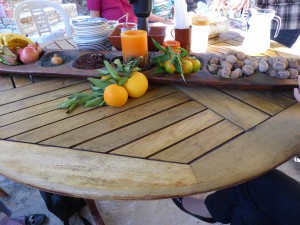 She waves me to follow her. We can only communicate with hands and feet as I don´t speek Greek and she doesn´t speak German or English. But that doesn´t matter, from time to time our fantastic Cyprian tour guide, Tatiana will translate for us.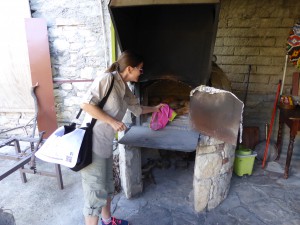 Right this moment I need no translation. She guides me to the huge stone stove and puts two big oven clothes into my hands. She opens the door of the stove and the delicious smell of freshly baked bread comes out. Hmm! That smells good!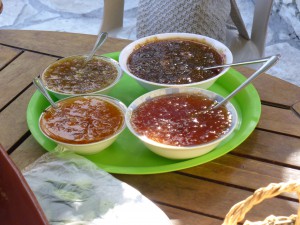 She baked a kind of ciabatta for us. Different kinds of bread, some plain,  some with olives and  some with Halumi, a Cypriote goat cheese. I take out the bread, she doesn´t need to tell me twice!
She fetches homemade jam as well; sea buckthorn that nearly tastes like honey, guava, pomegranate and fig.  What else does she bring? She puts olive oil with herbs, homemade lemonade on the table and Cyprian coffee, served in these special small cups.  At last she serves self-distilled grape liquor. Wow…!
She wants to know if we are really full. There is still some bread left. Mrs. Skeyi doesn´t believe us, but after a freshly picked mandarin we are completely stuffed.
No need to mention that we are happy to buy the homemade jam, dried herbs and the well-known thyme honey.
At another day our lunch break takes part in the small mountain village Phini. In the restaurant "Neraida" we get served delicious Meze. That dish is a bit like the Spanish tapas and tastes absolutely great. The vin du pays fits perfectly. We get spoiled!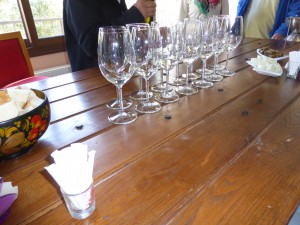 Right after this we have a real good wine tasting at the vinery Lambouri. We try out all served wines. Certainly all of us won´t forget this pleasurable day.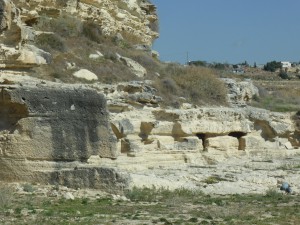 The last "G" are the graves. Many of them were carved out of the stone in former times, but only few were made so artfully like the "King´s Tombs" near Paphos. Some of them look like houses with wells, colorful paintings and an atrium. Most likely they didn´t belong to kings but to rich noblemen. Unfortunately these tombs were robbed a long time ago.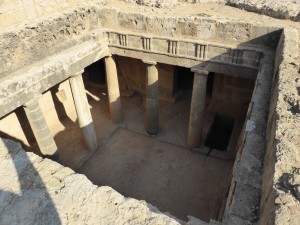 There is much more to tell about Cyprus but I don´t want to bore you with year dates. Who wants to read a bit more about this lovely island might read my two other blogs, or write a comment here or on my facebook site. I will definitely answer you. More pictures of my trips you´ll find on Pinterest, TripAdvisor and Instagram