The capital of Latvia is well worth a visit in winter.
On my seminar trip with Gebeco, a German tour operator, we visit not only Estonia (for review of Estonia), but at first we go to Riga. (Zum deutschen Blog.)
Air Baltic brings us in a short time from Frankfurt to Riga.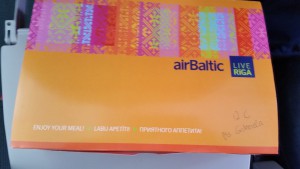 We are excited about a personal Snackbox that we get on board. It is not only nice to look at, but the content is also very delicious!
Arriving in Riga the luggage is collected in a few minutes and we get a warm greeting by our Latvian tour guide Maiya, before we drive to our hotel. It's evening rush hour and the cars pile up in order to go over one of the few bridges into the city center. Well, this issue is well acquainted in any big city …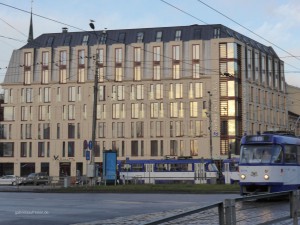 Our hotel "Wellton Riga" is located in the city center, so that we can do our sightseeing the next morning by foot.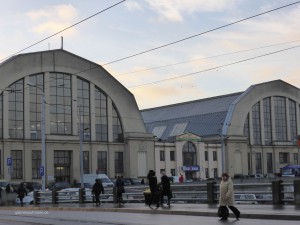 Only a stone's throw away are the covered markets, that are built up of former,reduced Zeppelin halls and which resemble a huge supermarket.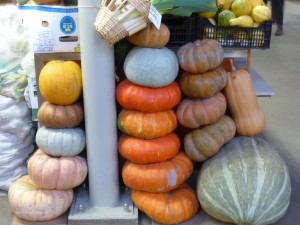 One hall is for meat, one for fish, one for vegetables, etc. In fact, is this to be just a short visit, but outside it is uncomfortable and we can´t resist the many smells and food unknown to us. We can hardly part with the location. Maiya must speak a word of power, because there is still much to see here.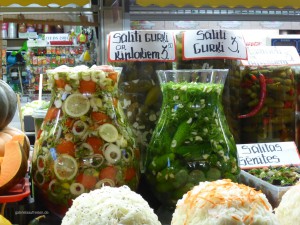 For me it is the second visit to this city, but I was summer the first time, but not much warmer and it was raining. That doesn´t happen today I hope!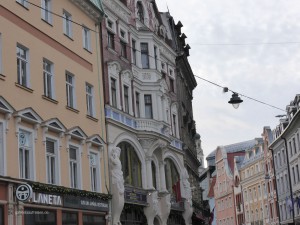 Maiya leads us through the city, showing us a lot of areas, tells us as about the building of the Brotherhood of Blackheads. In front of this beautiful building, which was rebuilt after the war, we want to hold up a banner with Gebeco and take a group photo. Unfortunately it does not work out quite well, because we get to close to the entrance and immediately a young man wearing a black suit and a button in his ear comes out and tells us that we may keep your distance. He surely belongs to the bodyguards of the president, who resides here currently, as his presidential palace is being renovated.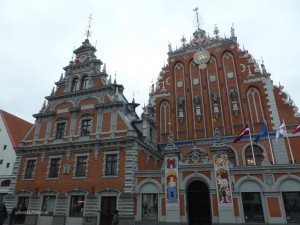 He's probably afraid that we want to protest against something here with a banner, so Maiya explains him in Latvian what is written there. Actually, we only kind of advertise…
On we go. Many old buildings have now been renovated. Frequently the city reminds me a little bit of the German city Lübeck, even of Bremen, as the Bremen Town Musicians that are a gift from the sister city, are standing in front of St. Peter's Church.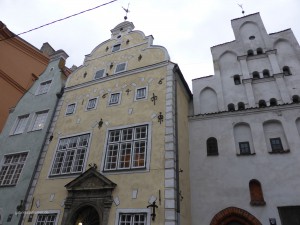 We stroll over several Christmas markets and are allowed to warm up again with a traditional Christmas punch .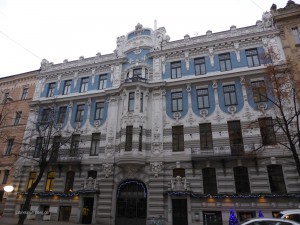 Then we walk over to the neighborhood, where the beautiful Art Nouveau buildings are situated. Then as now, the apartments are hardly affordable there. We marvel at the splendor of the buildings. During the Russian time they were not welcome, after all they showed capitalism of their former owners. Probably they did not want to knock them down , therefore they planted trees, so that people could not see them well.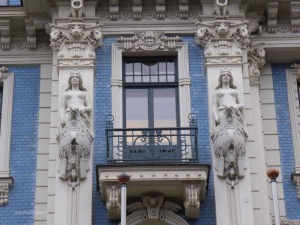 Neither were they allowed to be colored as they are nowadays. We are pleased that we are here in winter, because no leafy tree interferes with our view of the houses. This is definitely a plus point to visit Riga in winter. Unfortunately, the days are short and often the sky is still gray, but it's enough to take photographs.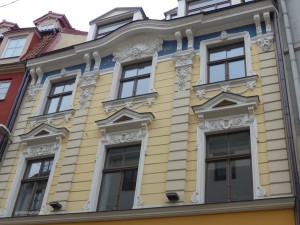 This is enough for us it now, because we are quite frozen. So Maija leads us back, we pass the Russian Orthodox Church, which is a magnificent monument.
In the evening we have a typical Latvian dish in the "Salve restorans", before we board the Air Baltic early in the morning to fly further on to Tallinn.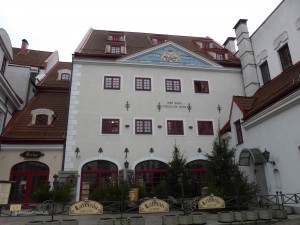 More travel information you´ll get on my facebook site or on instagram. See you there as well!