The Great Wall near Beijing
(Zur deutschen Version bitte hier entlang!)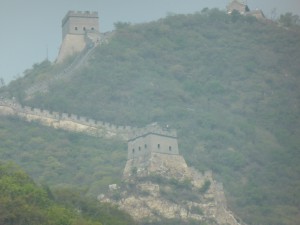 Again I´m on a trip with clients. It is the beginning of May and quite warm in Beijing. I´ve got the feeling that I could grab the air with my hands. The air is yellow, smog lies over the city. Many Chinese people wear a surgical mask when they are outside, now I understand why they do it.
Our daily program says that today we´re going to the Great Wall which is the correct translation.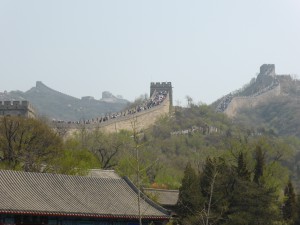 We have an early start from the hotel, because Beijing is so big and the streets are mostly crowded all day long. Our bus drags itself through the traffic jam until we reach the highway. It´s still full but we can drive faster.
Quite often we can see parts of the Great Wall. The wall is not just one long constant piece, but also consists of many bends, turnoffs and more or less small segments. Long parts are not accessible, too remote are they or nearly destroyed.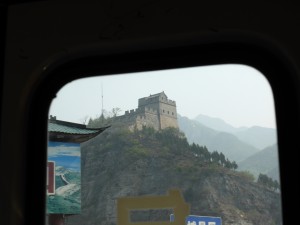 Finally we arrive at the huge parking lot. Uncountable cars and busses are already here. It is still morning. The air that we breathe as soon as we are outside the bus is like a hot wall. We take sun lotion and water with us.
Then we fall into line with the masses of people that head uphill to the entrance.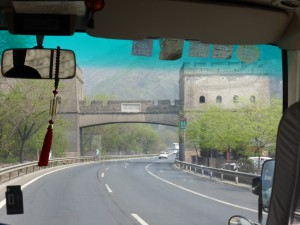 Our tour guide Ye Min, who wants to be addressed as Martin, gives us instructions, because we can´t visit the wall as a group. We have about 2 hours on our own, when he leaves us at the first staircase.
All nations are to be found here, but mostly Chinese tourists.
We are astonished about some ladies who try to climb the stairs with high heels. That doesn´t look too nice. Even some strollers are to be seen.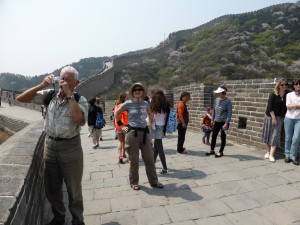 At the top I decide to go left. Not that there would be less people then on the other side. Never mind! I´ve got the feeling that thousands of other people are around me, but they get less and less the longer I walk. Instead the temperature is increasing. My face changes to an odd red color in spite of the sun lotion and my sun hat.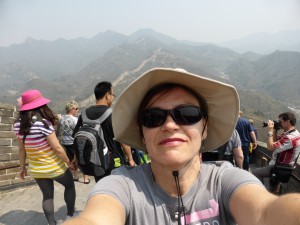 The view through the loopholes over the landscape is amazing. I take a lot of pictures during my slow walk forward. Nobody can move really fast here, the stones are polished by thousands of feet that walked over them during the past hundreds of years. I am very happy to wear trekking sandals and no shoes with heels. The ladies who wear less suitable shoes try to get some hold at the wall.
Then I arrive at the first bigger staircase. It looks like it is rising vertical, every single stair has got a different height. There is no handrail. I try to climb the stairs upright and try not to think of the way back. Others crawl up the stairs that are like polished as well.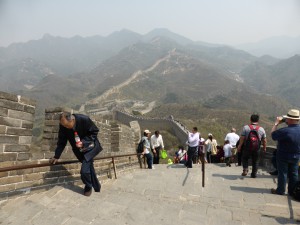 The people around me get fewer and fewer. It is really arduous to go uphill, the wall meanders steeply over the mountain. It is very hot. My bottle of water is long gone and after a glimpse on my watch I decide to go back. It goes downhill now, but it doesn´t make the walk a bit easier, the stones are really slippery. What are they like when it rains… Now it's my turn to walk near the wall to get just a bit of a hold.
Back at the entrance I see some more of my group. They didn´t walk that far. All of them have a bottle of water in hand and try to get into the shadow. I decide spontaneously to visit one of the many souvenir shops. Not only because they are air conditioned, but also to buy a T-Shirt. It is pink and says "I climbed the Great Wall". Yes, I did it and I must say it is even more gorgeous as I thought before.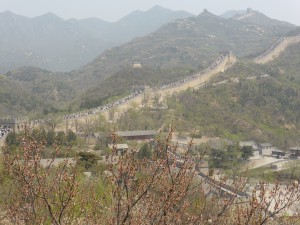 I don´t want to think about how many human lives had to die, building this wall over mountains, valleys and rivers; in the biggest heat and the greatest iciness.
Even if it is a myth that the Great Wall is visible from the moon, it is gigantic. It´s a pity that I could only visit such a small fragment but it is enough to get a proper impression of it.
Would you like some more information about my current trips, news or more photos? Then give me a "like" on my facebook site!